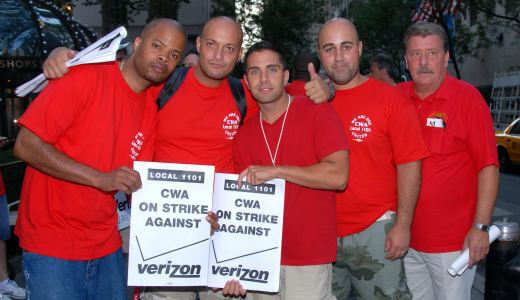 NEW YORK – 140 West Street turned red Thursday morning, red with Communications Workers of America T- shirts.
Wearing the shirts were Verizon workers, who have been on strike since Aug. 7. As they filled the street outside Verizon's West Street headquarters, horns honked in support, and picketers gave thumbs up and blew whistles!
Many of the women and men had their children with them, some experiencing the fight for justice for the first time.
The workers, who work in Verizon's land line operations, say they are fighting for a reasonable fair contract against a very profitable company who is trying to break the union, offering nothing but givebacks that would undo 50 years of progress. Union members have said, "Enough!"
In the crowd, 12-year Verizon worker Terry Cook had this to say about fighting for his job: "We're fighting for our rights, for our pensions, to keep our benefits, it's not about money at all, it's about keeping what we have."
"They (Verizon) are doing very well," Cook said. "We made this company what it is today. They need us and we are going to fight to the end for this."
As was reported in the New York Times, Verizon had $9 billion in profit in the first six months of this year in their wireless division and $606 million in their land line division. This $606 million figure is disputed as low by the CWA, which says the land line division's FIOS TV and Internet service is growing strongly.
One CWA worker said there's more at stake than just what happens to Verizon workers. "You let this go here it goes everywhere," he said.
Teachers and construction workers who are unemployed "should be here," he said. "If it doesn't stop here, this is it, this is high noon."
Verizon is a "prosperous company," he said. "They are about to wire up every building you see here with FIOS, they are going to use FIOS intranet that is more secure than the Internet for all these businesses. That is a service they haven't even rolled out yet! They are going start making billions more than ever. The FIOS network is going to have a bigger growth rate than the wireless."
"If they win here you can forget every other union, we have to stop it here, he said. "We need all the public support and all the other unions to support us."
City Council President Christine Quinn addressed the strikers, saying her father was a union worker and because of the union he has a secure pension and health care. "If you need us we're right down the street at 250 Broadway, City Hall," she said. "Stay strong, if you need us just call us."
Verizon has gone to court to file injunctions against the CWA for harassment; the decision details will be forthcoming. As for the company headquarters here at 140 West St., which has over 1,000 employees, 50 picketers are permitted to be at or close to the building while supporters must be 15 yards or 45 feet from each entry of the building.
"Replacement" workers and supervisors from other states have been brought in to the city and housed in hotels at the cost of hundreds of thousands of dollars, the union says.
Photo: CWA Local 1101/Dawn Sickles