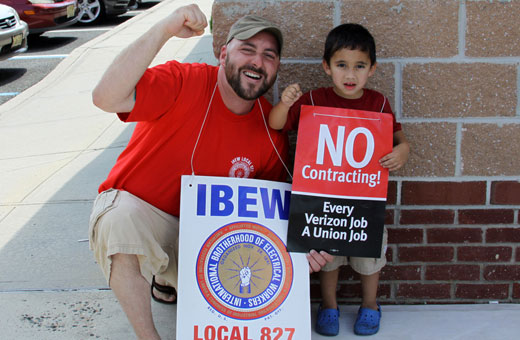 Union leaders say that Verizon management, taking its lead from right-wing Republican governors, is trying to kill public support for its 45,000 striking workers by portraying them as a comfortable and overpaid elite that lives better than most of the population.
Right wing governors first employed this tactic in Wisconsin, Ohio and New Jersey, when they described unionized firefighters, teachers and nurses in a similar fashion. Unions say that Verizon's efforts to smear its workers, coming right behind the attack on public workers, are proof of a concerted national effort to destroy the working middle class.
According to Bob Master, CWA District 1 legislative and political director, "This is an enormously profitable company, which we believe is trying to take advantage of an anti-union environment, and, replicate at a giant private-sector corporation what the governors of Ohio, New Jersey and Wisconsin have been trying to do to the public sector. Our members feel that we need to draw the line here."
Verizon's landline workers have been out on strike for more than a week now with strong and growing picket lines at worksites from New England to Virginia.
Verizon has issued a torrent of press releases and its officials have put out claims in the media that its unionized workers "average" $70,000 a year.
Union officials note that only a tiny percentage of workers earn that amount, and then only after putting in many hours of overtime.
Doug Anderson, a worker in Poughkeepsie, told the New York Times this weekend: "What we make is just a living wage in the New York area. On what I earn, my family can't afford to live where I work – Westchester County. And on what we earn it is hard to send a child to college."
Candice Johnson, a spokesperson for the Communications Workers of America, said the company has resumed bargaining but is still demanding $1 billion in concessions from the striking workers. "These demands would cost every family $20,000 a year. This is unacceptable from a company that is among the 10 wealthiest in America, that compensates the top five executives at a level of more than a quarter billion dollars over four years, that doesn't pay any federal income tax and still gets a tax rebate of $1.3 billion."
A posting today on the website of the International Brotherhood of Electrical Workers notes that Verizon, while it rakes in record profits, is pushing for adoption of a contract that would allow it to outsource jobs at will, slash benefits and destroy retirement security. "Verizon is trying to strip away 50 years of collective bargaining gains for middle class families," says the IBEW, in its statement.
The unions hope that such postings will convince the public not just that their workers aren't overpaid but that the unions themselves are a key ingredient in the creation of the middle class itself.
Unions also note that since Verizon cannot convince everyone that its workers are overpaid and greedy it has also tried to win support by claiming it is the victim of union-inspired violence. In the last week Verizon has made numerous allegations regarding sabotage of communications equipment by striking workers.
As a result of what the union calls "exaggerated court filings" judges have handed down injunctions limiting the number of picketers permitted at various locations. In New York the company filings claim a striker fired a BB gun at a non-striking worker and that strikers crowded around a manhole where non-striking workers were splicing a cable. The company alleged that the strikers refused to move when they were ordered to do so by police.
A local news report indicates that it is the striking workers themselves who may have the most to fear regarding strike-related violence.
In Amherst, N.Y. a scab is reported to have driven a car through picket lines, injuring at least two strikers.
The company has used the courts to limit picketing in New York, Pennsylvania and Delaware. Both the CWA and the IBEW have condemned the court restrictions on workers' rights.
"Workers have the right to communicate with the public about Verizon's demands and we maintain that union members should be able to picket about this dispute," Johnson said. She added that there have been more than two dozen reports of union members struck by vehicles on the picket lines. The vehicles, she said, were driven by scabs and managers.
Photo: At the Verizon picket line in Manalapan, N.J., August 9. Paul Striker