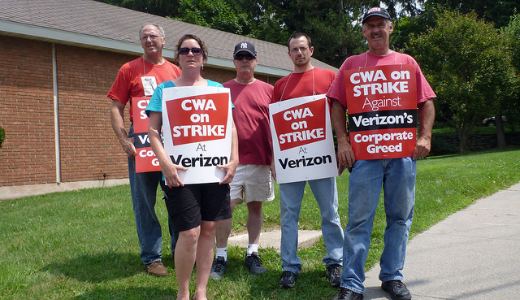 Verizon told its striking workers yesterday that it will halt their health insurance and all medical, vision and dental benefits if they remain out on strike after August 31. Union leaders accused the company of lining up with right-wing extremists out to eliminate workers' rights.
More than 45,000 Verizon workers continue to picket, rally and march at worksites from Maine to Virginia in a strike well into its second week. Striking workers and their families have begun receiving letters from Verizon warning them that it will stop all their health care benefits in less than two weeks.
Workers this week will miss their first paycheck as result of the strike, now in its 11th day. Pension and disability benefits were suspended as soon as the strike began.
"It's getting ugly. This is for real this time, and it keeps blowing me away with what they are doing," said Louie Scinaldi, president of Communications Workers of America Local 2202 in Virginia Beach, Va.
Strikers are winning support from unions throughout the country.
Gerald McEntee, president of the American Federation of State, County and Municpal Employees, said, "Like Wisconsin Gov. Scott Walker who attacked public workers in Wisconsin, Verizon's CEO, Lowell McAdam, is doing this to attack the middle class. He is refusing to share his company's success with those who made it possible."
Unions note that in the past four years alone, Verizon made more than $19 billion in profits – and paid its top executives more than a quarter billion dollars.
McEntee, who represents public employees, said the strike should be of concern to everyone in America. By going on strike, he said, "these courageous Verizon workers aren't just standing up for themselves, but for all of us.
"The vast majority of us who are lucky enough to have jobs are being underpaid while corporations rake in obscene profits. If we allow Verizon to lead a race to the bottom our country's middle class may not survive," said McEntee.
The CWA, which represents about 35,000 Verizon workers, has a fund worth more than $400 million to help its members through the strike. The union says it will pay for all necessary medical treatment for its members and their dependents if they lose their health care benefits.
CWA District 9 Vice Presiednt Jim Weitkamp told cheering crowds at the United Steelworkers convention in Las Vegas yesterday that "Verizon has aligned itself with the right wing in this country, which is determined to destroy collective bargaining in the United States. They have their hand in the pocket of every working class family in this country."
Support for the strikers is coming in from non-union sources as well.
Over 1,000 religious leaders have signed a petition to CEO Lowell McAdam, urging him to bargain in good faith with the CWA and the International Brotherhood of Electrical Workers.
Thursday night, members of Interfaith Worker Justice plan a candlelight vigil outside McAdam's Mendham, N.J., home.
"Even profitable companies are getting in on the act and demanding concessions from workers," said IWJ coordinator Jonathan Currie. "They are using the economic downturn as their excuse even thought their profits are in the billions and their executives earn in the millions."
There are signs that Verizon may have bitten off more than it can chew by sending thousands of untrained scabs – as replacement workers are known in the labor movement – and managers in to perform the jobs of striking workers.
IBEW Local 2321 in Massachusetts has been focusing on this issue and has been posting videos onto the Internet.
"We're seeing people without the right safety equipment, people starting jobs without having done the required pre-job safety checks and screwing up things that would get regular workers written up in a heartbeat," said Ed Starr, the local's business manager. "The majority of these replacements have no communications training and someone is going to get hurt bad unless Verizon settles this."
A YouTube video done by the local's members shows IBEW strikers having to step in on a job to prevent a manager and a scab from hurting themselves. The union local has been documenting unsafe working conditions on its Facebook page since the strike began.
Photo: Verizon workers on strike in Stamford, N.Y. Thomas Slatin // CC 2.0