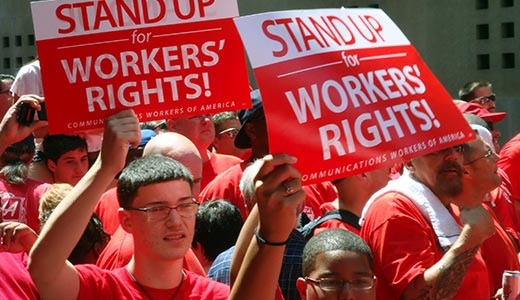 NEW YORK CITY – On the morning of July 30th tens of thousands of CWA members and their supporters rallied here outside the lower Manhattan headquarters of the giant phone company Verizon.
Although it was a hot and sunny summer Saturday a big crowd had gathered, filling the streets nearby the Verizon headquarters. In fact, more then 30 minutes before the start of the rally scores of workers, clad in red shirts, could be seen approaching the site from all directions.
Most of the demonstrators wore shirts with a CWA logo and information identifying their local. Emblazoned on the back of many of the shirts was the slogan, "Scabs Beware" and a skull and crossbones, a clear reference to the workers determination to strike if necessary when their contract with Verizon expires August 7th.
The CWA represents some 35,000 workers covered by the expiring contract.
Verizon, although highly profitable, has been taking a very hard line, demanding deep concessions in pensions, health care, benefits and working conditions. Contracting out is also an issue as the company has been trying to undermine its workforce by farming out work to contractors and exporting jobs offshore.
Speakers at the rally included Larry Cohen, CWA International President and Christine Quinn the speaker of the NYC Council. A highlight was when CWA District 1 Vice President, Chris Shelton, in his fiery remarks, referred to New Jersey's anti-union, extreme right governor as "Adolph" Christie.
Speakers and rank and file workers hammered away at the fact that Verizon, which earns billions in profits and whose chief officer makes $55,000 per day, is attacking the working conditions, health benefits and pensions of its unionized workforce.
In a sign of solidarity with CWA, members of other unions, mostly IBEW but also members of PEF, PSA and TWU joined the Verizon workers, in recognition of how important this fight is for all working people.
Photo: Judith LeBlanc/PW.