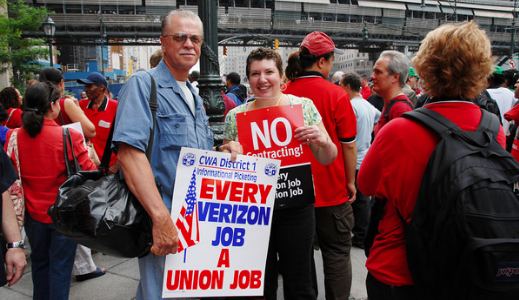 NEW YORK – Verizon Communications, which raked in $19.5 billion in profits over the last four years and paid its top five executives $258 million during that period, is demanding drastic givebacks from its 45,000 unionized workers on the East Coast.
Verizon, despite its status as one of the most profitable American companies, is demanding the concessions across the board – in workers' health care, benefits and pensions.
Unions are fighting the demands for concessions, pointing not just to company profits but to what they say has been unprecedented growth in the company's Verizon Wireless subsidiary, its cell phone operation and in the company's Internet services.
35,000 members of the Communications Workers of America yesterday voted overwhelmingly to authorize CWA leaders to call a strike as early as Aug. 7, when the current contract expires. CWA reported that 91 percent of the workers voted in favor of the strike authorization.
The other union involved, the International Brotherhood of Electrical Workers, which represents several thousand additional Verizon workers, also voted the same day to authorize a strike.
In addition to benefits and wages, a key issue for both unions is the refusal of Verizon to allow the unions to organize at its rapidly growing Verizon Wireless subsidiary. Most of Verizon's unionized employees currently work on phone landlines that the company, they say, is trying to dump, or in FiOS TV, which needs little maintenance after initial installation.
"They fight us about Verizon Wireless, which is a fight about the future," IBEW spokesman Jim Spellane said. "They made $19.5 billion in profits and paid their executives $258 million, yet they demand major concessions across the board while they offshore jobs to Mexico."
Unions see the demands for concessions as an attack against the very workers who have made the company the success that it is in today's communications market.
"CWA members are determined to fight back against Verizon's corporate greed and bargain a fair contract, one that reflects workers' contributions to Verizon's success," said CWA Region 2-13 vice president, Ed Mooney.
House Democratic Leader Nancy Pelosi is set to join the CWA by phone Aug. 4 for a virtual town hall meeting where she is to link Verizon's attempt to squeeze its workers to what she calls "the disastrous right-wing proposals Congress is considering that put corporate profits and luxury tax breaks ahead of working people."
Verizon, whose current CEO, Ivan Seidenberg, earns $55,000 a day, is demanding that workers pay into their health care premiums – as much as $3,000 for family coverage and that annual raises be ended. The company also wants to freeze pensions for current employees and eliminate them altogether for future employees. It also wants to limit sick days to five per year.
"This is an attempt," said Robert Master, a spokesman for the CWA, "to turn good paying middle class jobs into low-wage, less secure jobs by a company which has, despite a deep recession, made unprecedented profits."
The wireline division that Verizon says is doing so poorly had revenues of $41.2 billion last year. At Verizon Wireless, revenue was $63.4 billion.
Union members from all over the East Coast are planning to board buses for what they say will be an enormous rally this Saturday in New York City outside Verizon headquarters.
At yesterday's virtual town hall more than 5,000 union activists heard organizers from the New England and Middle Atlantic states discuss mobilization plans for the rally.
"These negotiations and the demonstrations are all about good jobs," said CWA District 1 Vice President Chris Shelton. "Companies like Verizon should be investing in rebuilding the American economy, not contributing to the destruction of good, middle-class jobs."
Photo: CWA members rally at the opening of bargaining talks in June at Verizon headquarters in New York City. (Dawn Sickles/CWA 1101)