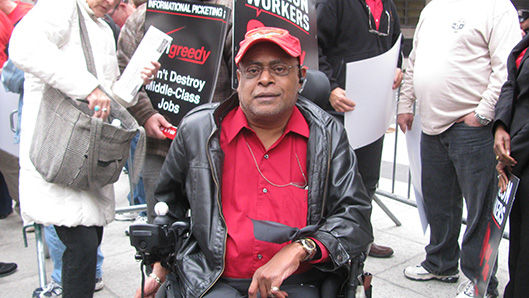 NEW YORK CITY – After several service problems with Verizon, customer Julia Gruberg gladly joined the picket line in front of the corporate giant's headquarters here Oct. 15. Gruberg had gone to Occupy Wall Street and heard about the protest there.
Carrying a sign saying, "We Are the 99%," Gruberg joined with hundreds of others marching from Zuccotti Park to tie issues of corporate greed with workers' rights.
"I just had a problem with Verizon. My charger broke," she said and described the run around that led to the pitch for a new more expensive phone.
"I said forget it. So I'm here. Plus they are taking away the workers' health care," she said.
The union that represents many of the Verizon workers, the Communications of America, also found common cause with the Occupy movement. Verizon workers, along with other union members, marched from the picket line to Zuccotti Park, chanting "All day, all week, Occupy Wall Street!" (Story continues after video.)
This is the most recent example of the labor movement finding ways to work with the fast growing, mass and youthful Occupy movement. "We are the 99%," a cornerstone concept of the movement, encompasses workers and their unions alongside small business people, students, the unemployed, professionals and a host of other, some unexpected, allies.
Wearing a "Ban Fracking" sticker, Martin Michaels, of Shandaken, N.Y., showed up at Zuccotti Park and then the picket line said for a lot of reasons he identifies with the new movement.
"I'm a recent college graduate, unemployed, and feeling a lot of angst like my cohorts," he said.
But there are other issues that motivate Michaels, who majored in international relations. "We Americans need to be accountable: bring the troops home and tackle environmental issues. We can't sit idly by. It will take the American people to bring an end to the wars abroad."
For a number of years, the labor movement has been looking to work with others who are not union members, building alliances with civil and immigrant rights groups, environmental and community organizations on issues, legislation and elections.
At the same time unions reach out to allies on a host of labor issues, like the most recent attacks on collective bargaining in Wisconsin, Ohio and other states.
CWA and the International Brotherhood of Electrical Workers, the other union at Verizon, were forced out on strike in early August when their contract expired and the company's proposal was all takeaways and rollbacks of hard-won financial and other benefits.
After the corporation promised to bargain in good faith, the workers returned to work, and the negotiating table, Aug. 22. That was just days before Hurricane Irene was due to hit the East Coast, and the corporation would never have been able to deal with its aftermath without its full staff of highly trained union workers.
However, after the crisis passed, Verizon returned to its previous mega-giveback positions.
"The community support during the strike was great. People brought food and water to the picket line," said Tony Martinez, union steward for CWA 1101 and 31-year Verizon technician.
Martinez is not a stranger to union-community work. He has advocated on behalf of the disabled, working on a company committee. Martinez is in a wheelchair.
When it comes to the Occupy Wall Street movement, Martinez and other Verizon workers interviewed all expressed enthusiasm and support.
"I love it. We love that we are meeting a lot of young people," Martinez said.
Debra Williams, whose been at Verizon for 32 years, said she thought the Occupy Wall Street movement is "great."
"I'm so delighted that the young people are finally getting involved. They are doing something for their country and for themselves," she said.
Michael Neggie, a Verizon field technician in Westchester County for 15 years, said the picket line and march were all about supporting Occupy Wall Street along with bringing attention to a specific example of corporate greed.
"They want everything back that we gained in the last 50 years," he said.
Photo: CWA's Tony Martinez joins the Verizon picket line and march to Occupy Wall Street. (Teresa Albano/PeoplesWorld.org)