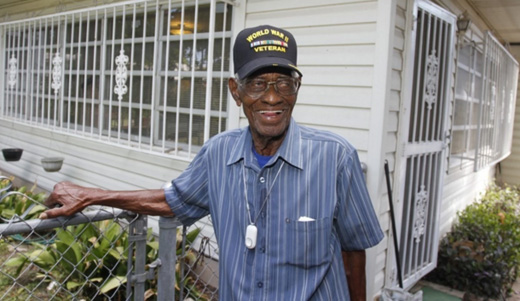 Veterans Day, formerly known as Armistice Day, was first established to celebrate the end of World War I, often called "The Great War." The day honored veterans of that particular time in history.
In 1954, however, things changed. World War II (1940-45) had required the greatest mobilization of soldiers, sailors, Marines and airmen in the nation's history. At the urging of the veterans' service organizations, the Act of 1938 (creating Armistice Day) was amended by striking out the word "Armistice" and inserting in its place the word "Veterans." With the approval of this legislation, on June 1, 954, November 11th became a day to honor American veterans of all wars.
Since that time there has been a continuing struggle to honor veterans not only on this holiday, but all year round, with proper benefits and opportunities. Despite having sacrificed so much, veterans, the majority of whom are working people, find themselves struggling for livable wages and a fulfilled life.
As the presidential race of 2016 dominates the news, we often hear the candidates making promises to citizens and boisterous claims of providing for the men and women in uniform. In particular the Republican party, which although often war-hungry, has not had a positive history of respecting the lives of those human beings who were on the front lines in. The GOP likes to portray itself as the "party of the military" and therefore of our veterans but glaring hypocrisy, and constant backtracking on their part, says otherwise.
As voters continue to think about for whom to cast their ballots it is important, on this holiday, to look at the lack of support the Republican party has given to the veterans.
Many may remember the ENLIST Act introduced in 2013. This Act was introduced by Rep. Jeff Denham- a Rrepublican. It proposed offering legal permanent resident status to undocumented people who served in the military.
Yet, Republican tea partier, Rep. Steve King, took to the House floor and vehemently shot down the bill. He claimed, "This bill, this badly named ENLIST Act, would put out the advertisement that says, sneak into America, sneak into the military… Citizenship must be precious, not handed out like candy in a parade. We don't ride along and throw out citizenship like you do M&M's or Tootsie Rolls or whatever it is we're tossing out in our parades."
That moment was just a reflection on the GOP's stance on immigration. Donald Trump's racist tirades against undocumented working people has been the most recent example.
Repeated cuts to benefits that help veterans have marked the GOP's record on veterans' issues. One of the most glaring examples of this has been the party's continued war gainst Food Stamp benefits.
As of 2013, 47 million Americans received food stamps under the Supplemental Nutrition Assistance Program (SNAP). What often isn't pointed out is that many of those who rely on public assistance are veterans. As reported by the Census Bureau's American Community Survey, 900,000 veterans nationwide lived in households that relied on SNAP. There have also been a number of other bills blocked by Republicans since 2008. Those include but are not limited to:
1. Wounded Veteran Job Security Act- a bill that prohibits employers from terminating employees who miss work while receiving treatment for a service-related disability.
2. Homeless Veterans Reintegration Program Reauthorization- a bill that would reauthorize programs in support of homeless veterans.
3. Disabled Veterans Home Improvement and Structural Alteration Grant Increase Act of 2009- an act that would help to provide proper home restructuring for veterans on disability.
4. Veterans Job Corps Bill- Voted down in 2012, Senate Republicans voted to block this legislation that would have created jobs for veterans. The bill would have created a veterans jobs corps which would have gotten employment opportunities for veterans in conservation, recreation, and resource management projects on public lands.
And the list goes on – not to mention the fact that in the recent GOP debates veterans' issues have hardly been mentioned. Back in September many veterans took to social media after the second debate to lament against the lack of questions on issues affecting those who have served. As one veteran pointed out, "Each candidate speaks how they'd use the military if they became POTUS, how will they care for the vets afterwards #CNNDebate #IAVAvotes."
That is a poignant question to reflect on as we honor the people in uniform who served and as we think on the future of this country and who will be leading it.
Photo: Jack Plunkett/AP