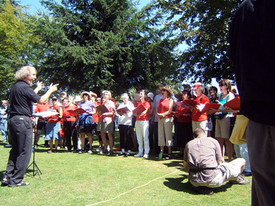 U.S. vets say they were 'betrayed and lied to' by Bush administration
PEACE ARCH, U.S.-Canada Border — U.S. and Canadian war protesters gathered here Aug. 13 to applaud U.S. soldiers who fled to Canada to avoid duty in Iraq and to demand an end to the war and occupation.
The rally on the Canadian side of Peace Arch International Park culminated the Veterans for Peace convention at the University of Washington in Seattle.
VFP President David Cline told the crowd, "It's great being up here at this Peace Arch Park. Peace has no borders. It's important to express our solidarity with U.S. soldiers who have come here. When a war is illegal, immoral and unjust, it is not honorable to fight in it."
Cline said he was wounded three times in Vietnam and later came to oppose the war, while others opposed it from the beginning. "It doesn't matter if you come to the table early or late," he said. "What matters is that you come to the table."
He thanked Canada for sheltering more than 50,000 Vietnam War draft resisters and urged the Canadian government to reverse its policy of denying asylum to soldiers who flee deployment to Iraq. "I appeal to Prime Minister Stephen Harper to stop following George Bush and start following your heart," Cline said.
In late July, Cline's group also called for an immediate cease-fire in the Israel-Lebanon conflict and denounced the Bush administration and Congress for opposing one. (See related story, page 3.)
Lee Zaslofsky, who fled to Canada in 1970, now heads the Toronto-based War Resisters Support Campaign. He read aloud a letter from U.S. soldiers appealing court rulings ordering them expelled from Canada. "We agree with former Prime Minister Elliot Trudeau that Canada should be a refuge from militarism," he said.
Kyle Snyder served with a U.S. Army Stryker Brigade in Mosul, Iraq, before fleeing to British Columbia in April 2005. Dressed in the desert fatigues of the 94th Brigade, he told the crowd, "I feel that I was betrayed and lied to by this administration. The Pentagon lists over 40,000 soldiers as AWOL since this war began. I'm here five minutes from the border and I can't go home to visit my family. That's absurd. I'm fighting for my country right now!"
Snyder told the World he is one of the few who were given refugee status and a work permit. He plans to seek work in the oil fields of Alberta. "I have the deepest appreciation for what the Canadians have done for me," he said. "Without their help I would be out on the streets."
Fernando Suarez del Solar, whose son died in combat in Iraq, had the upcoming Nov. 7 elections on his mind. "Sen. Joe Lieberman is defeated in Connecticut and four days later we have this big terrorist alert," he told the World. "I feel they are just playing with the people. Bush is saying: 'I have the power to protect you.' But the Lieberman defeat means the people are saying 'No!' to the war."
Susan Stout, a retired member of the Canadian Auto Workers Union, was handing out beautiful posters from the Paul Robeson Memorial Concert in Peace Arch Park on May 18, 2002. It celebrated the 50th anniversary of Robeson's 1952 concert. The Mine, Mill, and Smelter Workers recessed their convention in Vancouver that day and came to hear Robeson sing here because the U.S. government had revoked his passport. More than 30,000 turned out to hear Robeson's appeal for an end to the Korean War.
"I brought these posters here because I thought this crowd are the same kind of people who would have been here when Robeson sang," Stout said. "I think Canada should be welcoming U.S. soldiers who refuse to fight in Iraq the way we did during the Vietnam War and not keep these resisters waiting."
U.S. Army Sgt. Ricky Clousing, who has been AWOL for a year, convened a news conference outside the VFP convention at the University of Washington Aug. 11 to announce he would turn himself in at Fort Lewis that day. Standing with his parents near "Arlington West," a lawn covered with crosses and mock tombstones depicting the Iraq war dead, Clousing said, "I was with an infantry unit that kicked in doors to mosques and houses" in Iraq. The breaking point, he said, was watching an Iraqi motorist shot dead by a panicky U.S. soldier. "I was told I did not know the reality of war and this kind of thing happens."
The next day, Sarah Rich, mother of U.S. Army soldier Suzanne Swift, blasted the Army for jailing her daughter at Fort Lewis for refusing orders to return to Iraq. Speaking to a jam-packed news conference at the convention, Rich said her daughter was repeatedly subjected to sexual harassment by U.S. soldiers during her first deployment to Iraq.
"She was arrested, stripped, treated like a common criminal, while the criminals who assaulted her go free," Rich said. "Suzanne was my hero when she went to Iraq, my hero when she came home, and my hero when she went AWOL. Right now, soldiers are being raped. It's an epidemic. There are 22 task forces on military sexual assault, yet the perpetrators go free," she charged. "Free my daughter and stop military sexual assault now!"