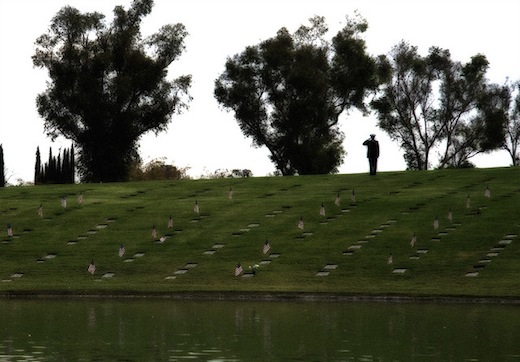 This editorial was originally published May 28, 2012.
Eighteen veterans each day kill themselves. 18. An average of 950 veterans each month attempt suicide. 950.
Only 1 percent of Americans have served in the military, yet former service members make up 20 percent of suicides in the United States. More veterans have committed suicide than the number of soldiers killed in combat.
Shouldn't this be considered a national emergency?
As President Barack Obama winds downs the Iraq and Afghanistan wars, and more soldiers come home and are discharged this tragic trend will only intensify.
Multiple deployments for service members, including national guardsmen, may be one of the major factors for the eye-popping statistics. Almost half – 800,000 – of the more than 2 million Americans who have served in Iraq or Afghanistan have been on multiple deployments.
Writing in The Daily Beast, former Marine Anthony Swofford says despite the lack of research to prove it, being in combat for long periods of time has a profound impact on the human psyche.
"[W]hen you teach a kid how to kill and send him to combat a few times, he will come home mightily changed, with a dependence on weaponry and a tendency to treat violence as a perfectly acceptable way of solving a problem," he writes.
In other words, war is not only Hell, it's a death sentence, even after combat.
There are other reasons cited: post-traumatic stress disorder, traumatic brain injury, economic and financial stressors at home, including unemployment, feelings of uselessness, access to weapons, the military's culture and reluctance to acknowledge psychological problems from war, missing the feeling of cohesion from being with your unit, etc.
For women veterans, the suicide rate is three times more than their civilian counterparts. Women service members have the additional burden of being at least three times more likely to be raped, sexually assaulted or harassed than other American women.
Although far from perfect, the Veterans Administration has responded to the crisis. In the first place, the VA set up a national suicide hotline that receives about 10,000 calls a month from current service members and veterans. That number is 1-800-273-8255.
Tragically, but not surprisingly, in the much-ballyhooed Republican budget with Rep. Paul Ryan's name on it and supported by GOP presidential candidate Mitt Romney, veterans are totally missing. The word "veteran" doesn't even appear, according to Veterans For Common Sense, a group that also lauded Obama's commitment to veterans, outlined in his budget.
With the Republicans' push for austerity – cutting all programs that help people – the VA will continue to be understaffed and underfunded. Veterans report that VA caseworkers see 20-30 people per shift, and there are no separate facilities for women veterans.
Veterans themselves are organizing to deal with suicides and other issues through support groups, the arts, and antiwar, political or social groups. All approaches are needed to end this national shame.
As politicians make their way through the Memorial Day parades that honor women and men who have served, remember: veterans need more than flag waving. Remember this November who the hypocrites are and who keeps their promises, including to end wars the Republican flag-wavers got us into.
Photo: Ceremony at Riverside, Calif., National Cemetery. (Josh LeClair/CC)