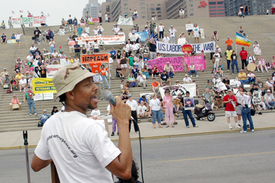 ST. LOUIS — As the heat outside broke records, over 400 veterans and peace activists from across the country pledged to create "record-breaking peace" at the 22nd Annual Veterans for Peace National Convention, held here Aug. 15-19. "Vets know firsthand the cost of war. We know that this war needs to end," Chuck Smith of the St. Louis area VFP told the audience at the opening ceremony.
While the convention brought together veterans from World War II, Korea and Vietnam, the war in Iraq was the main focus. To date over 3,700 U.S. soldiers have been killed and some estimates say over 1 million Iraqis have died.
Conscientious objector Camilo Mejia, who served six months in Iraq with the Florida National Guard, told the World, "There is no greater argument against war than the experience of war itself." He added, "In the military you're not free to decide for yourself what is right and wrong. The fog of war is very real. Your main concern is staying alive."
After returning home, Mejia refused to return to combat. He was charged with desertion and sentenced to a one-year prison term. "I couldn't return knowing that we are committing war crimes," he said. "This war is criminal. But I'm no longer a prisoner of fear. I have hope that we can end this war."
Presidential candidate Dennis Kucinich told the convention, "Those who serve today, serve with honor. Those who sent them have no honor. The Bush administration accepts war as an instrument of policy, but it is obvious who is paying the price. Their right-wing dogma has made us less safe." He added, "They initiated this war without a plan for leaving, because they don't intend to leave."
"The surge isn't working — it's contributing to the future of the insurgency," Col. Janis Karpinski told an Aug. 15 kickoff press conference. Karpinski, who served over 28 years in the U.S. Army, was given command of the 800th Military Police Brigade in 2003 and supervised 15 detention centers. "Anybody defined as a terrorist, associate of a terrorist or who has information related to terrorists" is held "without trial, as long as the military wants, without any rights," she said, adding that military intelligence officers encourage torture and humiliation of detainees.
After the abuses at Abu Ghraib became public, Karpinski was demoted from brigadier general to colonel. Noting that every one of her superiors "walked away blameless," Karpinski called her demotion political retribution for her public stance against torture.
"To stand for peace when warmongers are in charge is an act of courage," Alderman Terry Kennedy said as he greeted the convention. Kennedy, who is working to introduce an antiwar resolution into the St. Louis City Board of Aldermen, told the World, "This is one common struggle for peace, justice and equality. However, we need to push progressives into elected positions if we are going to make real change."
Workshop topics included Iran, soldiers' rights, media manipulation for war, imperialism, post-traumatic stress disorder, sexual assault in the military, spreading the peace movement and the war's impact on the family.
In a workshop called "Windows on Iran," Washington University professor Fatima Keshavarez said an "attack on Iran will give hardliners the excuse they need to tighten their grip." She added, "The nuclear crisis is a fabrication. The Bush administration is trying to prepare the public for war with an aggressive campaign of disinformation. Iran wants a quiet Iraq with a solid economy. Unrest in Iraq is a nightmare for Iran, which loses 250-300 soldiers every year defending its border."
Casey Friedrich, a student from Carbondale, Ill., whose brother is stationed in Kuwait, told the World, "This administration lied and continues to lie. Our tax dollars should be spent on education, health care, VA benefits and building bridges instead of war."
On Aug. 19, some 500 VFP and local peace activists marched from the convention center to the St. Louis Arch. On the Arch steps, VFP executive director Michael McPherson said, "This is the core of the peace movement, but we have to support each other. We have to build relationships. We can't end this war alone. Let's continue the fight and bring the troops home."
tonypec @cpusa.org