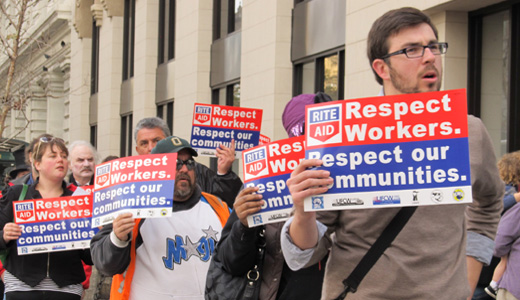 It wasn't easy doing your job in that massive warehouse. They kept installing more of those monitors. Their zoom lenses counted the number of moves you made each hour, each minute and, eventually, each second. Their computers generated profiles of how many moves you should be making per day if you were doing your job the right way.
And those damned monitors weren't even the worst thing. The unbearable summer heat, often in excess of 100 degrees Fahrenheit, made it even tougher to keep up with what the boss's machines said you should be doing.
This is not a description of a factory in Brave New World but a description by workers and union leaders of daily life at Rite Aid's massive Southwest Distribution Center in Lancaster, Calif.
Now workers there are celebrating what they hope will be the end of that nightmare. They declared victory on Sunday, May 1, in their five-year battle when a negotiating committee of their rank and file signed a tentative agreement with management. All 500 workers at the center will vote on ratification of the deal May 12.
The huge Mohave Desert warehouse provides the stock for Rite-Aid stores all over southern California.
Workers decided in March 2006 that they wanted to form a union after having contacted the International Longshore and Warehouse Union. ILWU's Local 26 president, Luisa Gratz, went to work almost immediately on helping people at the warehouse address the production standard and heat problems.
Rite Aid went to work almost immediately on developing an aggressive campaign to block the union organizing drive.
The company hired union-busting consultants and fired workers who supported the union. Even though the workers won union recognition, the company pretended it did not exist. They carried out layoffs without consulting the union and during negotiations for a contract they delayed substantive talks for years.
"This was a company that could develop sophisticated computerized methods of determining production standards but did not do anything to prevent workers from having to carry on in unbearable heat," said Craig Merilees, ILWU's communications director.
Workers fought back and won, Craig said, because of a multi-layered and creative campaign.
The negotiating committee, he said, was made up of rank-and-file workers who were assisted by union officers. "We won this victory, even though it took longer than it should have, because we were all really involved in the fight," said Carlos "Chico" Rubio, a 10-year warehouse veteran who was on that negotiating committee.
Teams of workers, over the last five years, have visited shareholders and demonstrated at annual shareholder meetings in New York and Harrisburg, Pa. "Some of the shareholders put pressure on company management to solve the problems," said Merilee.
The union also succeeded, on April 1 of this year, in launching a boycott at two Rite Aid stores in San Pedro, Calif. Their "strip the scripts" effort succeeded in getting the public to pull hundreds of prescriptions they had on file at the pharmacies.
Merilees also had praise for Rite-Aid workers around the country who lent support. "They came from the midst of their struggles in Ohio," he said, "to back us up here."
Union officials were asked how the tentative contract would solve some of the big problems at the warehouse.
"Workers will be able to challenge those production standards," Merilee said. "They will be able to bring in their own independent experts to show where those standards might be unreasonable."
What about the unbearable heat?
"The tentative contract sets guidelines that call for better ventilation and installation of coolers," he said. "When temps go above certain levels, it calls for increases in the number of breaks workers can take."
The new contract also provides wage increases for the next three years, prevents subcontracting of work that was often done to replace regular employees and new systems to resolve disputes.
Image: Demonstration at the downtown Oakland Rite Aid on December 2010 National Day of Action. Photo by Marilyn Bechtel/PW