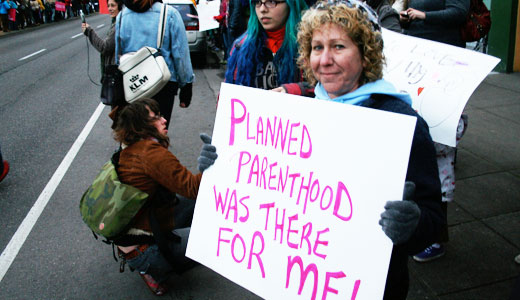 In a victory for women's health and reproductive rights, the Susan G. Komen for the Cure Foundation has reversed its decision to cut off funding for Planned Parenthood's breast cancer prevention services.
The reversal came after a firestorm of protests over the cutoff, including charges that it was a cave-in to Republican/right-wing pressure. The outrage went "viral" on Facebook, Twitter and other online social media. Twenty-six U.S. senators called on Komen to reconsider its decision, USA Today reported.
In addition, Komen affiliates around the country expressed dismay over the funding cutoff.
In a statement posted on its website today, Komen founder and CEO Nancy Brinker apologized to the American public for "recent decisions that cast doubt upon our commitment to our mission of saving women's lives."
Brinker said, "We will continue to fund existing grants, including those of Planned Parenthood, and preserve their eligibility to apply for future grants, while maintaining the ability of our affiliates to make funding decisions that meet the needs of their communities."
The Komen Foundation – known for its pink-ribbon symbol – has funded Planned Parenthood's breast cancer programs for years, including close to $700,000 last year. Planned Parenthood is the nation's leading provider of health services to women, especially lower income and young women. It emphasizes that its services are primarily preventative, including providing nearly 750,000 breast exams each year.
A Komen board member had told the New York Times on Wednesday that the decision to end funding for Planned Parenthood was made because of fear that an investigation of Planned Parenthood by Florida Republican Rep. Cliff Stearns would hurt Komen's credibility with donors. Stearns' investigation is suppposedly aimed at determining whether Planned Parenthood has used federal money to fund abortions. But it is seen as part of a wider right-wing campaign to disrupt and destroy Planned Parenthood.
In her statement, Brinker said the foundation's aim had been "to fulfill our fiduciary duty to our donors by not funding grant applications made by organizations under investigation." She said Komen would "amend its criteria to make clear that disqualifying investigations must be criminal and conclusive in nature and not political. That is what is right and fair."
Planned Parenthood President Cecile Richards hailed Komen's decision to reinstate funding, crediting "the outpouring of support for women in need of lifesaving breast cancer screening." She called it "a testament to our nation's compassion and sincerity."
"During the last week," Richards said in a statement today, "millions spontaneously joined a national conversation about lifesaving breast cancer prevention care and reinforced shared values about access to health care for all. This compassionate outcry in support of those most in need rose above political, ideological, and cultural divides, and will surely be recognized as one of our nation's better moments during a contentious political time."
She noted that "In particular, Planned Parenthood helps the Komen Foundation reach vulnerable populations – low-income women, African-American women, and Latinas – especially in rural areas and underserved communities where Planned Parenthood health centers are their only source of health care.
"With Komen Foundation grants, over the past five years, Planned Parenthood health centers provided nearly 170,000 clinical breast exams and more than 6,400 mammogram referrals. With the outpouring of support over the past week, even more women in need will receive lifesaving breast cancer care."
Photo: S. Mirk // CC 2.0