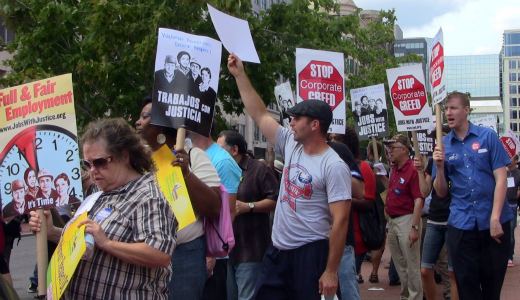 WASHINGTON – These video highlights of the 2011 Jobs with Justice national conference illustrate the grassroots fight back developing. Labor, community, faith, women, youth and environmental activists discussed, debated and got fired up for the fights ahead.
Labor Secretary Hilda Solis talked about the fight for union rights and justice. CWA president Larry Cohen called everyone to action in support of the 50,000 striking Verizon workers. Sarita Gupta led Jobs with Justice in support of the United Food and Commercial Workers union's work to help Walmart workers organize for respect and better pay and conditions on the job. And Rev. Calvin Morris of the Community Renewal Society was honored for his tireless work for worker and human rights.
Jobs with Justice 2011 Conference Highlights from Scott Marshall on Vimeo.
Photo: Scott Marshall/PW