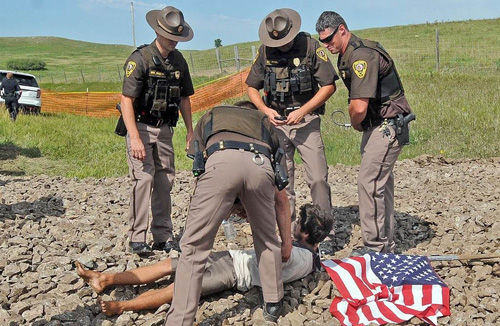 In a scene reminiscent of a 1960s civil rights struggle, Native Americans and other protectors of the land and water in North Dakota were met with private security guards, snarling dogs and pepper spray during a peaceful protest Sept. 3 near the Standing Rock Sioux Reservation. The Sept. 3 incident, reported by Democracy Now!, occurred as the demonstrators, who refer to themselves as protectors, marched to a construction site of the $3.8 billion Dakota Access oil pipeline, slated to cross four states, North Dakota, South Dakota, Iowa and Illinois, threatening Native sacred sites and the Missouri River watershed.
People's World obtained footage of the confrontation shot by Wushu Green of the Colorado River Indian Tribes and from Parker, Ariz.
Four private security guards and two guard dogs received medical treatment, officials said. A tribal spokesman reported six people – including a child – were bitten by the dogs and at least 30 people were pepper-sprayed.
Sacred places containing ancient burial sites, places of prayer and other significant cultural artifacts of the Standing Rock Sioux Tribe were destroyed by Energy Transfer Partners, Tribal Chairman David Archambault II said. Standing Rock Sioux and their supporters have been protesting the pipeline since April. Since the U.S. Army Corps of Engineers issued construction permits in July, the protests have grown, attracting activists younger and older, especially Indigenous people from around the world.
Videographer Green described the attack in a Facebook post. He said the march to the construction site, led by American Indian Movement veteran Dennis Banks, was peaceful. Green said the protectors were about to go back to the camp where they have been staying when an elder came up and said the company was bulldozing about a half mile up the road. Some 300 men, women and children begin to march to that site, Green reported.
"We sing and yell at the dozers. And the fence goes down. Out of nowhere, the mercenaries pull out dogs. Some jump in front of the dozers, some at the mercenaries. They stop construction and begin to move back and stop construction and the people realize that what they were rushing to bulldoze was a sacred burial site that was roughly surveyed to be presented in court. What evidence [there] was is now gone or removed. Mace was to follow," Green said.
The Associated Press reports that the Standing Rock Sioux have gone to court to challenge the Army Corps of Engineers' decision to grant permits for the project, and a federal judge will rule before Sept. 9 on whether construction can be halted.
The tribe fears the pipeline will disturb sacred sites and impact drinking water for thousands of tribal members on the reservation and millions farther downstream, The AP said.
The protest Saturday came one day after the tribe filed court papers saying it found several sites of "significant cultural and historic value" along the pipeline's path.
Tribal preservation officer Tim Mentz said in court documents that the tribe was only recently allowed to survey private land, where researchers found burials, rock piles called cairns and other sites of historic significance to Native Americans.
Standing Rock Sioux Chairman David Archambault II said in a statement that construction crews removed topsoil across an area about 150 feet wide stretching for 2 miles.
"This demolition is devastating," Archambault said. "These grounds are the resting places of our ancestors. The ancient cairns and stone prayer rings there cannot be replaced. In one day, our sacred land has been turned into hollow ground."
On Tuesday, a federal judge granted part of the tribe's emergency request to halt construction of a section of oil pipeline in North Dakota but not in the same area that was bulldozed Sept. 3.
Melanie Bender and Chauncey K. Robinson contributed to this story. 
Photo: This peaceful protest against an irresponsible and destructive act has been met with unnecessary aggression.  |  AP