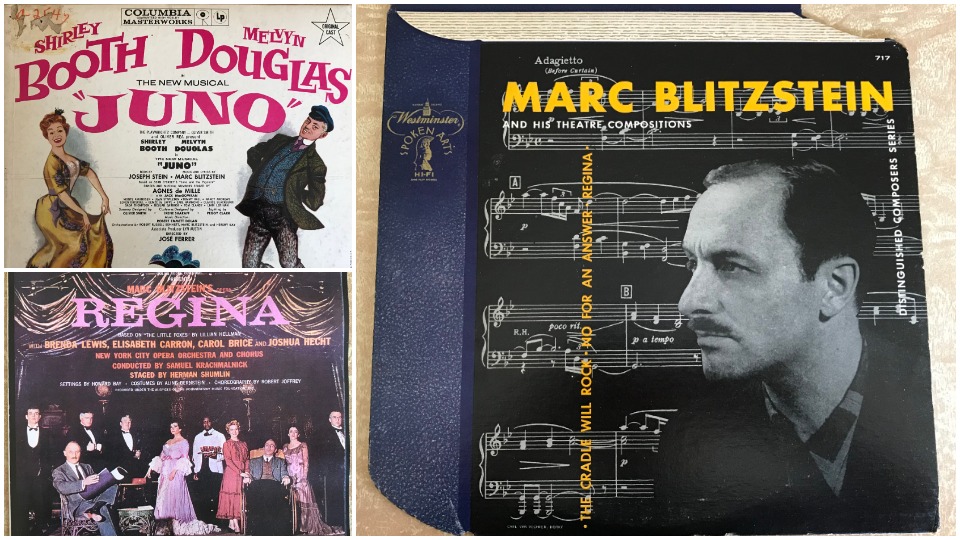 American composer Marc Blitzstein (1905-1964), one of Leonard Bernstein's early mentors and the celebrated English-language translator of The Threepenny Opera, is the subject of University Opera at the University of Wisconsin-Madison's first project of the 2020-21 season. Owing to the COVID-19 pandemic, it is being produced in video format and will be available for viewing by the general public free of charge on October 23.
Author Eric A. Gordon, who wrote the first biography of Marc Blitzstein and now serves as cultural editor and staff writer for People's World, says, "I've been following the development of this project and I can say it represents a milestone in the worldwide appreciation for Blitzstein. Viewers will hear some more familiar songs by the composer, such as 'Nickel Under the Foot,' 'The Cradle Will Rock' and 'Emily,' but also a lot of obscure, wonderful numbers that have never been broadcast before, such as 'Send for the Militia,' 'Expatriate,' 'The Russian Language/Mamasha Goose,' 'Vanzetti's Last Statement' from the unfinished  Metropolitan Opera commission 'Sacco and Vanzetti,' several erotic Walt Whitman settings, and so much more."
I Wish It So: Marc Blitzstein—The Man in His Music will be released on the Mead Witter School of Music YouTube channel on October 23 at 8:00 p.m. The link to the site is here. David Ronis, director of University Opera, will direct the production, and Thomas Kasdorf will be the musical director.
Marc Blitzstein's life story parallels some of the most important historical and cultural currents in American history of the mid-20th century. Known for his musical stage works—most notably The Cradle Will Rock (1937), his opera Regina (1949), and his translation of Kurt Weill and Bertolt Brecht's The Threepenny Opera—Blitzstein was an outspoken proponent of socially engaged art. Like many artists of his time, he joined the Communist Party USA. In harmony with his strong anti-fascist views, he enthusiastically served in the U.S. Army during World War II—his Airborne Symphony came out of that experience.
In 1958, years after he had given up his Communist Party membership, Blitzstein was called before the House Committee on Un-American Activities, where he "named no names." Extremely gifted yet underappreciated, he was a close friend not only of Bernstein but of others in a close circle of composers including David Diamond and Aaron Copland. Although relatively open about being gay, he married Eva Goldbeck in 1933. Sadly, she died three years later of anorexia. Blitzstein's own death was likewise tragic. In 1964, while in Martinique working on a double bill of one-act operas based on Bernard Malamud stories, having taken a pause from the Sacco and Vanzetti opera, he was robbed and badly beaten by three sailors in a "gay-bashing" incident. He died the next day, at 58, of internal injuries.
Although throughout his life and afterwards, Blitzstein's work was championed by Bernstein and others, the composer, his stunning music and beautiful lyrics, many of a topical nature, never received quite the attention they deserved. Many attribute that neglect to Blitzstein's socially engaged outlook, as well as to his failure to adopt the academically and critically favored 12-tone idiom then in fashion.
I Wish It So is a unique production assembled by David Ronis as a biographical pastiche. In telling the story of Blitzstein's life, Ronis recontextualizes as many as 23 songs and ensembles from his oeuvre, juxtaposing them with spoken excerpts from his working notes and letters, and tying it all together with an informative and moving narration. The result is a dramatic, evocative, and enjoyable portrait of Blitzstein's life and his art.
Research on the project was completed at the Wisconsin Historical Society, where Blitzstein's archives are housed in the university's Wisconsin Center for Film and Television Research. University Opera acknowledges the help of Mary Huelsbeck at the Center, the Kurt Weill Foundation, and author Eric A. Gordon for their assistance.
The show features five accomplished UW-Madison graduate students: Sarah Brailey, Kenneth Hoversten, Justin Kroll, Lindsey Meekhof, and Steffen Silvis. The video design will be done by Dave Alcorn with costumes by Hyewon Park. Others on the production staff include Will Preston, rehearsal pianist; Elisheva Pront, research assistant and assistant director; Dylan Thoren, production stage manager; Alec Hansen, assistant stage manager; Teresa Sarkela, storyboard creator; and Greg Silver, technical director.
The video will be accessible for 23 hours only starting at 8:00 pm Central Time on Friday, October 23. Although there will be no admission price for access, donations will be gratefully accepted. A link for donations will be posted with the video.
University Opera is a cultural service of the School of Music at the University of Wisconsin-Madison whose mission is to provide comprehensive operatic training and performance opportunities for its students and operatic programming to the community. For more information, please contact opera@music.wisc.edu. Or visit the School of Music's web site at music.wisc.edu.
This is one event to mark on your calendar now for a very rare treat.