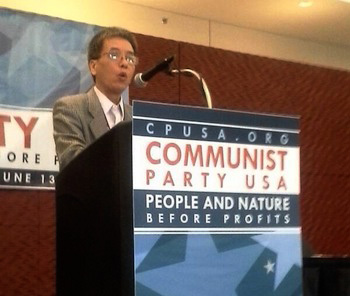 CHICAGO – At the June 13-15 Communist Party USA 30th national convention here, Bui The Giang, representing the Communist Party of Vietnam, said China continues to violate international law despite his country's efforts to negotiate a dispute taking place in Vietnam's East Sea. On May 2, China sent a deep-water oil rig into Vietnamese marine territory, along with some 80 ships, including seven military vessels, infuriating Vietnam, which has been trying to resolve the crisis diplomatically.
Giang told peoplesworld.org in a June 15 interview that Vietnam has been forced to publicly protest as the Chinese "refute everything we have suggested." It has been with "deep regret," Giang said, that Vietnam has been forced to ask the international community to raise its voice to protest what he called China's unilateral and illegal actions.
"We have tried to bring them to the negotiation table. We have opened all possible channels to them. But so far the response from China has been very negative," Giang said.
Vietnam is demanding China end its "illegal act," withdraw the oil rig and ships and cancel all drillings in the area. Otherwise China could return and claim the wells "are parts of their territory," Giang said.
The area in dispute, experts say, is clearly on Vietnam's continental shelf, which according to the 1982 United Nations Convention on the Law of the Seas, grants Vietnam exclusive rights to all mineral and hydrocarbon resources there. Yet China claims it has a right to drill for oil based on its occupation of the nearby Paracel Islands. Vietnam vigorously disputes this and also claims these islands.
Washington D.C.-based think tank Center for Strategic and International Studies published an analysis that said China could "make a legal case, however flimsy, for control over the continental shelf on which [the oilrig] HD-981 sits. But that area is clearly in dispute. To unilaterally drill on it is a violation of UNCLOS's admonition that states in a dispute, 'in a spirit of understanding and cooperation, shall make every effort to enter into provisional arrangements,' and shall not 'jeopardize or hamper the reaching of [a] final agreement.'"
The recent announcement by President Barack Obama of a "pivot" towards Asia, with a ramped up U.S. military role and support for Japan and the Philippines against China's claims in the South China Sea, has undoubtedly spurred China to assert its economic and military might in the region. However, this seems to be working to the detriment of peaceful relations with its southerly neighbor, Vietnam. It's an indication of how the U.S. "pivot" could spell disaster, leading to more and more conflicts.
To say the relationship between the two socialist states, Vietnam and China, and their Communist parties is complicated may be an understatement. Yet, Giang said, Vietnam has worked hard to maintain good neighborly and comradely relations with its powerful northerly neighbor, despite the fact that China invaded Vietnamese territory multiple times throughout history.
"We were caught by surprise," Giang said of this latest incursion.
"Since normalization [of relations] in November 1991 … we have done whatever we can to maintain and improve relations with China despite every now and then intrusions across the border and conflicting claims over the seas and islands," Giang said.
"And last year, when the Chinese prime minister visited Vietnam, we thought that it was the best time in relationships between the two countries for the last 30 plus years. Therefore, out of the blue, when this took place we were caught by surprise," he said.
Giang said the Vietnamese people's reaction has been one of anger. Because the Vietnamese government and Communist Party have always said "China is our friend" there was a lot of trust in them, he said.
The anger spilled over into protests, in which a few turned violent, resulting in at least one death before the police could step in, Giang said. But the protests have created problems for Vietnam, which relies on foreign investment to help boost its economy.
Giang said that it is not only the illegal drilling for oil that has angered people, but also attacks on Vietnamese ships, including a fishing boat. "They have acted very aggressively against Vietnamese civilians vessels operating in theses waters. They even sank a Vietnamese fishing boat with 10 fishermen aboard. Without the rescue of other Vietnamese fishing boats around the area then the 10 people might have been killed," he said.
"This is inhuman. It's against the ideals of the Communist Party and contrary to the nature of any socialist country. We cannot accept this," he said.
Vietnam has turned to the international community for help in urging China to follow international law. "They said we are gathering support to be against them. Let me be very clear on this point: We are not against China and we are not against the Chinese people. We want, have wanted and will continue to want to live together peacefully. We have no reason whatsoever not to be on good terms with them," Giang said.
"We can only hope that with protest from Vietnam and the international community the Chinese leadership will see common sense and act accordingly," he said.
Photo: Bui The Giang, director-general of CP of Vietnam's Department for West Europe and North America, speaks to the delegates and guests attending the Communist Party USA's national convention, June 13-15, in Chicago. (PW/Teresa Albano)