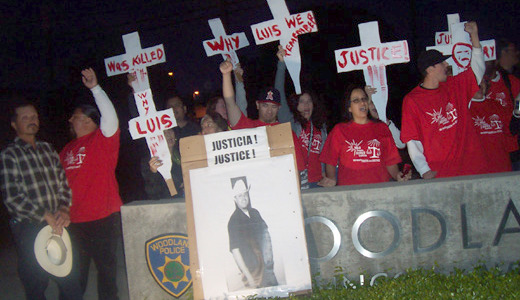 WOODLAND, Calif. – On April 30, the eve of International Workers Day, about 25 people gathered on a highway overpass here on the anniversary of the police killing in broad daylight of a young immigrant farmworker, Luis Gutierrez Navarro, 26.
Prayers, songs and chants came from the vigilers surrounding Jose Santos Gutierrez, father of the victim, who held up a large photograph of his murdered son.
The vigil then moved to the nearby Woodland Police Department, where the Yolo County Justice Coalition had requested a meeting with a police representative. But no one was there to meet with them.
A year ago, Luis Gutierrez had been walking home to his parents' house after passing the written section of his drivers' license examination, when he was accosted by three Yolo County sheriff's deputies, part of the county's Gang Suppression Unit. According to witnesses, the three were in an unmarked car and wearing clothing that marked them as gang members, with their badges concealed.
Gutierrez ran from them, and was shot several times.
When community protests at this police killing began, the deputies claimed that Gutierrez was a drug dealer, a gang member, and had attacked them with a knife. None of this was ever proven, although several Woodland-area youths were pressured by the Gang Suppression Unit to testify to its truth.
Over the year, protest meetings and marches of several hundred people have been held, organized by the Yolo County Justice Coalition, and backed by the Sacramento chapter of the Labor Council for Latin American Advancement (LCLAA), the West Sacramento chapter of the League of United Latin American Citizens (LULAC) and other organizations.
The demonstrations called for investigations by the Woodland City Police Department, the Yolo County District Attorney, the California attorney general, the federal Human Rights Commission and the FBI. To date, no witnesses have been contacted by these authorities.
However, an independent citizens' panel headed by former State Supreme Court Justice Cruz Reynoso has held three sessions of hearings, at which witnesses have testified, not only on the fatal Gutierrez shooting and its aftermath, but also on other illegal actions by the Gang Suppression Unit, including the invasion of a Latin American citizen's home and the holding of a gun to the head of his nine-year-old daughter.
"What's happening in Arizona is nothing new, except now it is legal," said Al Rojas, vice-president of the LCLAA chapter. "In Yolo County, the sheriffs don't need racial profiling legalized. They get federal "gang suppression funds" to assassinate on the basis of racial profiling."
Law enforcement departments, strapped for funds by the budget crises, are reaching out for federal grants, Rojas said. "The federal grant contracts actually encourage them to increase the number of arrests and gather physical data targeting people of color," he added, citing the 97.6 percent conviction rate boasted by Jeff Riesig, Yolo County district attorney.
Photo: A scene from the vigil for Luis Gutierrez Navarro. (PW/Gail Ryall)