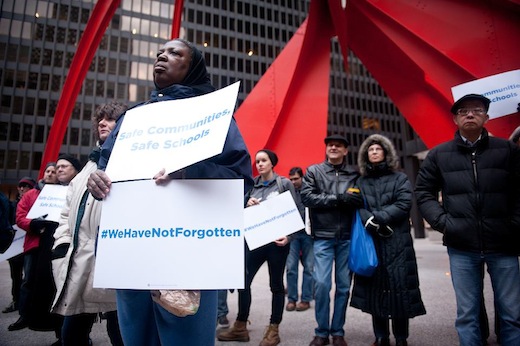 CHICAGO – With signs "#WeHaveNotForgotten" and "Safe Communities, Safe Schools" in hand, residents here lit candles April 13 to commemorate the four-month anniversary of the mass murder at Sandy Hook Elementary School in Newtown, Conn., and press Congress for action on background checks and other "common sense" gun restrictions. Similar vigils were held around the country.
Nellie Sires, lead organizer for Organizing for Action, told the crowd that "we have not forgotten" the victims, whether from Chicago, Newtown, Aurora, Colo., or the many other cities and towns plagued by the gun violence epidemic. Sires said the issue is "complex" but the bipartisan Senate Bill 649, named the Safe Schools, Safe Communities Act of 2013, is a step in the right direction.
Joining the OFA organizer were speakers from community groups, churches, law enforcement and a survivor of one of the bloodiest mass shootings in the United States: Virginia Tech.
"The bullet went into my right leg, came out, went in, still carrying it here in one piece, it missed all veins, arteries and bones. He was shooting hollow points that day and I was fortunate that it didn't explode and stayed in one piece," said Garrett Evans, a survivor of the Virginia Tech massacre.
"We need a background check. That's the reason I was shot. There was no background check. The guy who shot us had a history of mental illness, and since he wasn't red-flagged he was able to buy a gun off the Internet," Evans said.
SB 649, sponsored by Sens. Joe Manchin, a Democrat from West Virginia and Pat Toomey, a Republican from Pennsylvania, would close loopholes on background checks for gun purchases by including mandatory checks for gun shows and online sales. The National Rifle Association bitterly opposes the measure, despite 90 percent support from the American public and 74 percent from their own membership.
Evans said when he spoke to First Lady Michelle Obama recently he had a message for her husband, "Don't be afraid of the NRA." Evans had the same message for Congress.
But it seems Senators from both sides of the aisle aren't heeding Evans' message. New reports indicate that three key senators, Kelly Ayotte, R-N.H., Heidi Heitkamp, D-N.D., and Mark Pryor, D-Ark., announced today that they will vote against the gun safety measure.
Photo: Gun violence vigil participants listen to speakers while standing in front of the Alexander Calder sculpture, Flamingo, at Chicago's Federal Plaza, April 13 (via Barack Obama Facebook page).