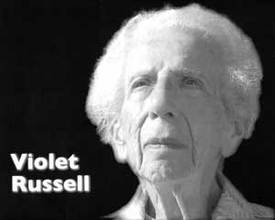 "Strength, grace, courage." That is how Violet Russell and 12 other women are described in a 2008 calendar honoring "Rosie the Riveter," women who worked in armaments production in Washington State during World War II.
Russell, a fervent anti-fascist, was employed as an inspector in various departments of Boeing aircraft plants throughout World War II, the war to defeat fascism. She died June 6 at age 92.
Her parents came by steerage from Czarist Russia, fleeing anti-Semitic pogroms in the Ukraine. Dirt poor pioneers, they eked out a living in part by making and selling umbrellas. They settled in the Home Colony, a utopian socialist community near Tacoma where Russell was born in 1915.
The colony, one of several utopian communities in the Puget Sound region, offered a vibrant mix of radical thought and culture with many communist, socialist, and anarchist leaders visiting the town. A frequent speaker was William Z. Foster, the legendary leader of strikes in the meatpacking and steel industries who later served as national chairman of the Communist Party USA.
Russell soaked up these revolutionary ideas, becoming a partisan of the working class and a staunch believer in the class struggle and socialism. She found a political home for that outlook in the Communist Party, joining in 1940 and remaining a member in good standing until her death.
She worked her way through the University of Washington, graduating with degrees in bacteriology and zoology.
After World War II she continued her employment as a bookkeeper, followed by two decades of work in cancer research at the University of Washington. Her elder sister, Dr. Rose Payne, a research biologist at Stanford University, broke new ground in research in tissue compatibility helping advance the practice of organ transplants. She died in 1999.
The calendar, produced by Washington Women in Trades, and funded by many Puget Sound unions, features Violet Russell for October. Her birthday was Oct. 25. Photo captions report that while working at Boeing she met and married her husband, George who shared her allegiance to organized labor. "Vi was no stranger to union activism," it continues. "She was enthusiastic and involved." The Boeing workers, represented by the International Association of Machinists, are now voting on a new contract after a long strike battle with the company.
Russell was an active participant in the Washington State Alliance of Retired Americans (WSARA), AFL-CIO, Seattle Women Act for Peace and the Coalition of Labor Union Women. In her union, State Employees Local 1488, she was a political action spark plug, managing the union's phone tree until the final months of her life.
Much of that phone-banking was in support of Democratic presidential candidate Hillary Clinton and now Barack Obama. In her final interview with Seattle Woman Magazine last spring, she exulted, "Who would have imagined we'd have a Black man who is aspiring to be president!"
She regarded as her crowning achievement her work in the campaign that established the state's first minimum wage law.
Her husband died in 1981. She is survived by her son, Alan; by a stepdaughter, Elaine Russell; and by two grandchildren. A memorial celebration of Violet Russell's life will be held 2 p.m. – 4 p.m., Saturday, Dec. 6 at the West Seattle Senior Center, 4217 Southwest Oregon St. Will Parry, a leader of WSARA will play the guitar and sing union songs. Refreshments will be served.