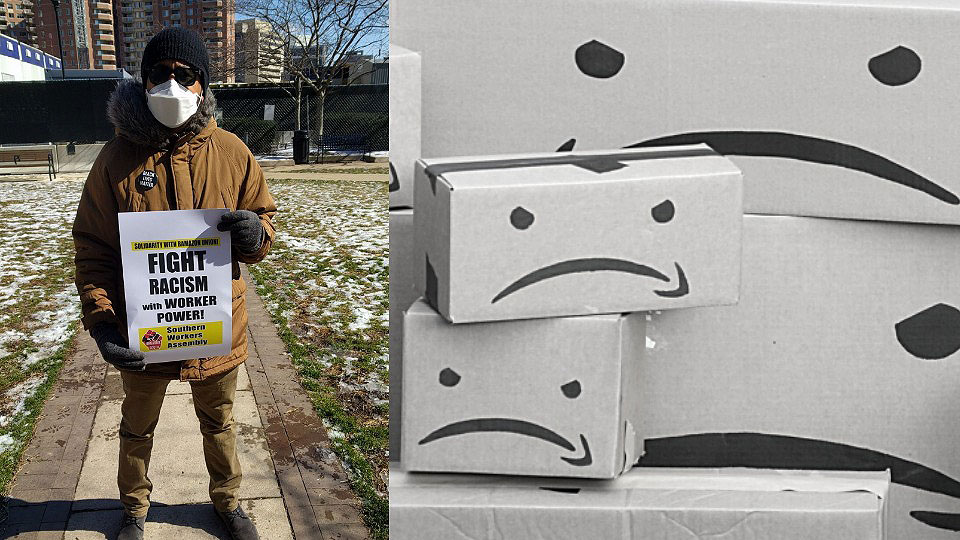 ARLINGTON, Va.—On Saturday, Feb. 20, the Southern Workers Assembly coordinated over 40 solidarity events around the country in support of the workers at the Bessemer, Ala., Amazon facility who are currently in the midst of a vote to unionize their workplace. The unionization campaign there, called the BAmazon Union, is organized by the Mid-South Council of the Retail, Wholesale, and Department Store Union (RWDSU).
Several events were held in Virginia to back the Bessemer workers, one next to the site of the future Amazon HQ2 in Arlington, and two others at Amazon distribution centers in Clearbrook and Chesapeake.
The Arlington event was organized by the campaign for Karishma Mehta, a progressive candidate running for the 49th District of the Virginia House of Delegates, which covers part of Arlington. Volunteers from the Mehta campaign worked with the Metro D.C. branch of Democratic Socialists of America. Matt Rogers, a candidate for the 47th District, also covering part of Arlington, participated and spoke to the crowd of around 20 people.
Also in attendance were members of the D.C. IWW, the Washington D.C. club of the Communist Party USA, and the Virginia Young Communist League (YCL).
In Clearbrook, members from the IBEW and AFSCME unions joined local left-wing activists in an informational picket distributing leaflets on the BAmazon campaign to Amazon workers going in to and out of the distribution facility there. Due to the snow, the exact demarcation of the Amazon property line was obscured, so Amazon security asked the campaigners to move off the property without incident.
They relocated and were able to continue giving leaflets to stopped cars. Around 20% of the vehicles asked for information, and a couple even tried giving donations to the campaigners directly. While appreciated, donations were refused, and supporters were advised to contact the BAmazon campaign to find out more ways to help.
Most of the workers who received leaflets at both locations were unaware of the campaign in Bessemer, which was expected, but many indicated they intend to keep up with the issue, and some expressed an interest in unionizing their own workplaces.