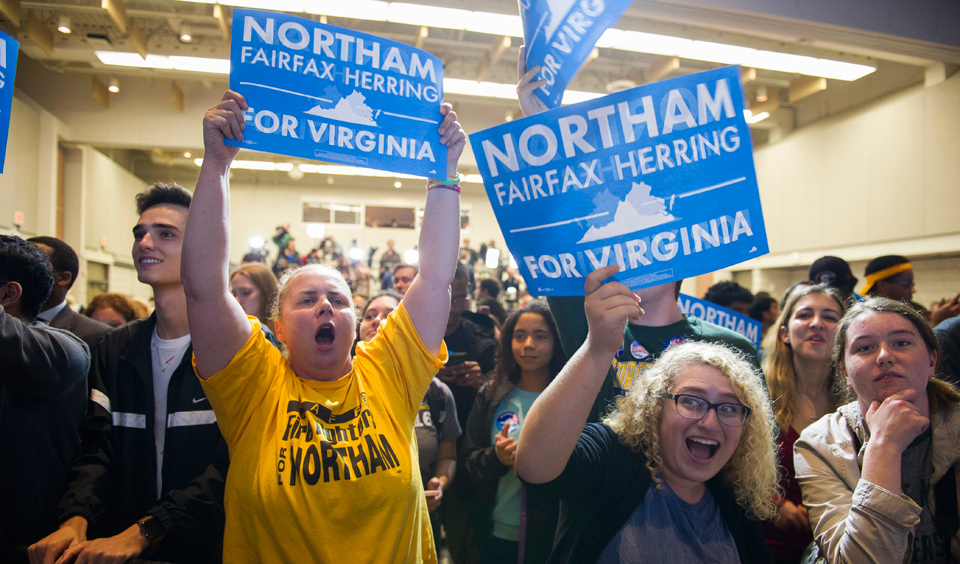 It was a bad night for Trump last night as Democrats, led by Ralph Northam, rolled into Virginia's three top statewide offices. It happened in large part because grassroots progressives, running as Democrats, swept out so many incumbent Republicans in the State's House of Delegates that they obliterated the GOP's hold on that body altogether.
The victory for progressives, who have long argued for an end to the Democratic Party practice of ignoring local districts long held by Republicans, came because they challenged the GOP almost everywhere across the sate, throwing open the halls of power to unprecedented numbers of minorities and women. Two times the number of Democrats contested GOP statehouse seats this time as opposed to 2013. Of the 16 seats captured by Democrats as of press time, 12 were won by women.
The grassroots victories across the state were so large that it could reasonably be argued that a reverse coattails effect had taken place with the top of the ticket actually benefitting from excitement and voting that took place on the ground.
Progressives have Trumpites running scared because all over this state they ran on platforms rejecting the Trump agenda and calling for things like universal healthcare, free college education, higher wages, and massive job creation programs.
Unity was an important factor, too. Progressives initially backed a different gubernatorial candidate in the primary but got on board in the general election to support the more moderate Ralph Northam.
Labor and progressive activists went into this election with some trepidation. Although the Democrats now control all three state executive offices, turnout in Virginia is usually low in years when there is no federal election, and Republicans, who controlled the legislature, have been working hard at various methods of tamping down the Democratic vote, including legislative district gerrymandering and vote suppression.
But when the dust cleared on Tuesday, it was evident that the Democrats had triumphed and the Republicans had to limp away bleeding in an election that all sides see as having major national implications.
The current Democratic governor, Terry McAuliffe, is popular, but the Virginia constitution does not allow him to succeed himself. In the June 13 primary, centrist Ralph Northam beat ex Congressman Tom Perriello, who had been supported by more left-leaning Democrats of the Bernie Sanders orientation.
Although all sectors of the Virginia Democratic Party, including Perriello, came together to support Northam, there was nevertheless worry about his candidacy. He was seen as a lackluster campaigner and public speaker, and a couple of controversies created great moments of worry. First, Northam's literature failed to show a picture of the Democratic Party candidate for lieutenant governor, Justin Fairfax, who is African-American. This was done because the piece was to be put out by the Laborers' International Union, which endorsed Northam but did not endorse Fairfax (though the rest of organized labor endorsed the whole state Democratic ticket). The reason was that Fairfax has opposed plans for a pipeline that the union wants to see built because of job creation hopes. But in an election in which the turnout of African Americans was seen as being absolutely crucial, many saw removing the only African-American statewide candidate from the literature as a clumsy move.
At the end of the campaign, Northam made a statement that he would support a ban on sanctuary cities in Virginia. Through the campaign, the Republicans, especially their gubernatorial candidate Ed Gillespie, have been harping on the danger supposedly presented by "illegal immigration" in the state. Northam's move was seen by progressives as an opportunistic concession to pressure from the right, which could also have affected Democratic Party turnout.
The Republican candidates—Gillespie for governor, Jill Vogel for lieutenant governor, and John Adams for attorney general—all campaigned on Trump-inspired, right-wing platforms, with attacks on immigrants and the rights of women and LGBTQ people, and defense of the Confederate "heritage" of Virginia, including the statues of Confederate generals.
In the governor's race, Northam bested Gillespie by a margin of 1,404,951 votes, or 53.9 percent, to 1,180,415, or 45 percent, with a minor candidate getting the remaining 1.2 percent.
Fairfax beat Jill Vogel by 52.7 percent to 47.3 percent, and will be only the second African American to hold statewide office in Virginia's history. Before him, Douglas Wilder served as governor from 1990 to 1994.
And incumbent Attorney General Mark Herring, who had sued the Trump administration because of its travel ban and cutbacks on health care, beat Adams by a majority of 53.3 to 46.7 percent.
All this was very gratifying to the Democrats and their supporters, but the biggest surprise to many was that the Democrats racked up huge wins in the House of Delegates, without losing a single seat of their own. The grassroots activists who were responsible for the victories, however, were far less surprised.
As of press time, five seats of the 100 remain too close to call, with Democrats ahead in two of them and Republicans in three. But Democratic wins are confirmed in 48 seats, up from the current 34, while the Republicans have won only 47, down from 66.
The Democrats who won include a slew of candidates supported by progressive grassroots groups such as the Bernie Sanders-linked outfit, Our Revolution. Two Latina women were elected, the first in the Virginia legislature: Hala Ayala (53-47 percent) and Elizabeth Guzman (54 to 45 percent). An Asian-American woman, Kathy Tran, also in Northern Virginia, won by 62 to 38 percent. Another African-American woman, Jennifer Carroll Foy, was elected by 63 to 37 percent in the Second Delegate district in Northern Virginia, where this writer lives and votes.
For the first time ever, a transgender woman, Danica Roem, won a Virginia delegate seat, defeating Republican incumbent Rob Marshall, one of the worst gay-baiters in Virginia politics. During the campaign, Marshall always referred to Roem as "him" or "he." There will be no "bathroom bill" in the Virginia legislature now. Roem's margin was 54 to 46 percent. Her campaign placed a heavy emphasis on rebuilding infrastructure, particularly highways running through her district.
And in yet another Northern Virginia district, an openly declared socialist, Lee Carter, a 30- year old ex-Marine who belongs to Democratic Socialists of America, handily beat the Republican Whip of the House of Delegates, Jackson Miller, 54 to 46 percent.
Going into the 2017 election season, the big worry for the Democrats—and for the labor, minority, women, LGBTQ community, and other sectors—was that a Republican win could bring disaster to their essential interests. They feared losses due to low turnout.
For example, the last state House election in 2015 saw a turnout rate of only 29 percent of registered voters, which left in its wake a House of Delegates with a huge Republican majority of 66 to 34. As a result, even with Democrats holding all three state executive offices, little could be accomplished on key issues of concern to working class Virginians, most notably health care and Governor McAuliffe's proposed expansion of Medicaid under Obamacare.
The worries for 2017 turned out to be unfounded. Initial reports are that Tuesday's election had the highest turnout for a Virginia state election in 20 years, at 49 percent. Turnout appears to have been particularly high in areas with large minority group, especially African American, populations. This happened in spite of various vote suppression efforts by the Republicans, and, in heavily Democratic Northern Virginia, a cold rain that began to fall in the afternoon. The Democrats triumphed in Northern Virginia, in Richmond (the state capital), in areas with large African-American populations such as Danville and the Tidewater region, and in medium-sized cities, especially college towns.
For Virginia residents, these election results mean that perhaps key issues of concern such as improving health care for low income people may now be out of the deep freeze. Anti-immigrant, anti-woman, anti-LGBTQ, and environmentally destructive legislation will be far less likely to advance, and more likely to be vetoed if somehow it passes.
Most analysts are attributing the Democrats' victory in Virginia to voters' rejection of the Trump administration's right-wing policies and strident rhetoric. The use of fear tactics by the Republicans, especially Gillespie's racist immigrant-baiting, may have backfired. This will have repercussions in both Virginia and the nation.
There is an election for the federal Senate seat currently held by Tim Kaine, D-Va., next year. Right-wing Confederate sympathizer Corey Stewart, the current Chair of the Prince William County Board of Supervisors, who was beaten by Gillespie in the Republican gubernatorial primary, is campaigning hard for the seat, emphasizing his pet themes of bashing Latino immigrants and defending the "sacred heritage" of Virginia, namely the statues of Confederate generals and politicians. Stewart, it will be recalled, was one of the people whose involvement in this summer's fascist riot in Charlottesville was most outrageous.
But Prince William County itself went heavily Democratic (61 percent Northam, 38 percent Gillespie) on Tuesday (as did Charlottesville, by a margin of 85 percent for Northam and 14 percent for Gillespie). The next county elections in Prince William are in 2019, and work is already underway to oust Stewart.
Finally, the big lesson is that grassroots organizing is key. The candidates supported by progressive grassroots organizations, including Our Revolution, played a major role in getting out the vote.
Maybe this will inspire emulation nationally in 2018.