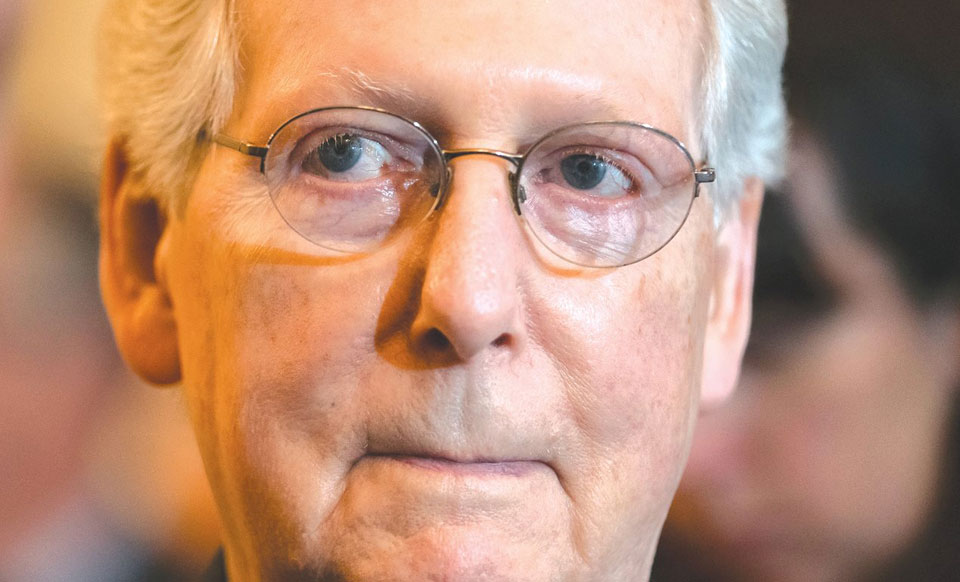 WASHINGTON—New data on both coronavirus deaths and rising numbers of people getting unemployment compensation checks again point up how the U.S. Senate's ruling Republicans are dithering over helping them even as national misery rises.
And even if lawmakers finally pass a stripped-down economic aid bill, there will still be a  one-week gap, from Dec. 26-Jan. 1, before federal jobless aid resumes, according to all versions floating around Congress. Those federal-only unemployment programs cover some 14 million people, National Public Radio reported.
That figure understates the suffering. The Bureau of Labor Statistics reported Dec. 17 that 20.647 million people already receive state or federal jobless aid as of Nov. 28, including 1.603 million who started getting the funds just that week.
That group doesn't include the 2.762 million more—1.39 million in the week ending Dec. 12 alone–who have sought state and federal aid since the end of November. Add the two biggest numbers up and one of every six U.S. workers is seeking or getting unemployment compensation.
The situation is even worse in some of the nation's poorest neighborhoods, such as the South Bronx, which faces 26% joblessness, MSNBC reported, or the Chicago West Side neighborhood of Austin.
Those aren't the only horrifying numbers. The U.S. set a new daily death record from the coronavirus pandemic, on Dec. 16, of 3,656. Almost a quarter of a million people tested positive that day, too.
As of 10 a.m. on Dec, 17, 17 million people have tested positive since the pandemic was officially declared on March 13. Almost one of every ten "positives" occurred in just the top five counties for the illness: Los Angeles, Cook (Chicago), Maricopa (Phoenix), Miami-Dade, and Harris (Houston). L.A. alone has had 566,005 people test positive. New York City's four large counties had more than 336,500.
Of the ill nationwide, 307,543 have died. That's more than all U.S. combat deaths from World War II and equal to everybody living in Cincinnati, plus 3,500 people in its suburbs.
And analysts are predicting the plague will only worsen, as more of the millions who disregarded stay-at-home urgings over Thanksgiving test positive, due to the two-week incubation period for the virus. The analysts expect another surge following holiday travel around and between Dec. 25 and Jan. 1, too.
Meanwhile, lawmakers continue discussing pandemic economic-related aid, with the proposed total seemingly shrinking by the day. The latest figure is $748 billion in a main aid bill that would run from Jan. 1-April 30.
It would dole out $300 billion to small businesses—and, this time, with a 30-worker limit per business—plus money for airline workers ($17 billion), Amtrak ($1 billion) and the Postal Service (a new $10 billion line of credit, with no strings attached).
It also would have $180 billion for those restored federal jobless benefits—at $300 weekly, not $600—$15 billion for mass transit, $54 billion for K-12 schools, and $25 billion for in rental aid, available after a month-long extension on the current ban on evictions and foreclosures.
But that measure would stiff state and local governments, who have seen their revenues tank since the coronavirus-caused depression and closures began. Democrats want to allot $160 billion. Senate Majority Leader Mitch McConnell, R-Ky., wants to let them go broke—unless he gets his favorite plaything, a ban on anyone suing businesses who don't protect workers or customers against the virus.
And that includes banning lawsuits under major labor laws, such as the minimum wage, overtime, and the Occupational Safety and Health Act.
"The issue of liability and immunity from liability…has been raised by Senator McConnell for months," Senate Minority Whip Dick Durbin, D-Ill., told his colleagues on Dec. 16. "He basically said nothing will move until he gets (that) a provision, which I find objectionable…originally offered by Senator (John) Cornyn," R-Texas.
"Here is what it comes down to: Should people be able to go to court if they believe they have been harmed or that members of their family have died as a result of the wrongdoing of people during this COVID-19 pandemic? Some argue businesses should not have that possibility hanging over their heads, and that is what Sen. Cornyn used, which makes it almost impossible for anyone to recover for any losses during COVID-19.
"Others believe we need to show an even-handed approach to this on both sides: If we are going to be fair to businesses that are legitimately, in good faith, trying to protect their employees and customers, we should also leave the possibility open that those who are responsible for their actions need to be held accountable in court. I think it is a simple and basic provision that there be equity on both sides."