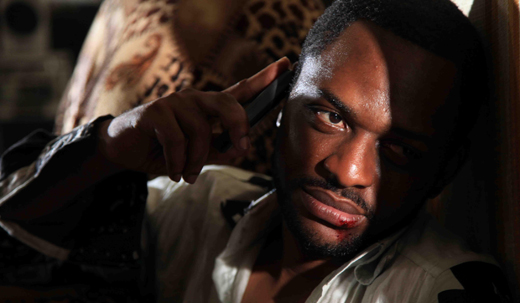 Movie Review: "Viva Riva"
Written and directed by Djo Tunda Wa Munga
In Lingala and French with English subtitles
96 minutes, 2010, Rated R, www.vivarivamovie.com
The Black exploitation films that burst upon the screen in the 1970s with flicks such as Shaft and Super Fly have largely faded away here in America, with the exception of spoofs such as Eddie Griffin's 2002 Undercover Brother. But judging by writer/director Djo Tunda Wa Munga's award-winning Viva Riva! the genre is alive and well in the Democratic Republic of the Congo, where this high-voltage urban gangsta flick full of sex and violence was shot and set.
Don't expect Tarzan and Cheetah swinging from trees in the jungle; there isn't a rain forest in sight here. The only thing worse than the West's modern cities are the underdeveloped world's overpopulated, impoverished metropolises where basic utilities often don't work – think traffic jams with no power for the stoplights – as in the DRC's capital of Kinshasa.
The plot of the stylishly shot and edited Viva is simple enough: Returning from Angola to Kinshasa, a handsome, charming young man named Riva (the likable Patsha Bay Mukuna, a musician making his acting debut), determined to get rich quick, rips off his Angolan boss Cesar (Angolan actor Hoji Fortuna) in order to make his "big score." The sadistic criminal overlord Cesar doesn't take kindly to his former underling's theft and is hot on his trail, wreaking mayhem and murder in his wake as he relentlessly tracks Riva down.
Along the rollicking way, big-spending Riva is smitten by the redheaded Nora, portrayed by the exquisite Manie Malone in her feature debut. Unfortunately for Riva, Nora appears to be the kept woman of another thug, Azor (the menacing Diplome Amekindra), who keeps her as an ornament to burnish his image.
There's genuine chemistry between Riva and Nora, and in a pic full of sex, they have extremely erotic scenes. The sequence where Nora tells Riva to give her a "real kiss" is truly arousing, as is their bathtub lovemaking interlude, clearly paying homage to the famously hot aquatic scene between Ron O'Neal and Sheila Frazier in Super Fly. If anything, Viva's watery rapture is even steamier. Viva's cinematic references are part of the flick's good fun appeal. In addition to Blaxploitation pix, Belgian-trained Djo Tunda Wa Munga gives super-sly winks to 1931's Little Caesar, 1959's Breathless, and 1972's The Harder They Come (and speaking of reggae, Riva also has a throbbing soundtrack, for like Jimmy Cliff, Mukuna, as said, is also a musician).
With its relentless criminality and candid sex, Viva Riva! is more "dick flick" (to coin a phrase) than "chick flick." The frank sexuality also includes lesbian trysts between a corrupt female military officer and a bargirl.
Some may consider Viva's brutality and promiscuity playing into stereotypes of Blacks in general, and of Africans in particular. But beneath the shoot-'em-up sensibility, a critical eye is clearly at work, skewering the former Belgian colony, which further declined after the assassination of nationalist leader Patrice Lumumba, and under his despotic successor, Mobutu. And Viva won the 2011 Pan African Film Festival's Best Feature Film prize, the African equivalent of the Academy Awards.
Viva's second most interesting character may well be Anto, a streetwise kid well played by Jordan N'Tunga, who befriends Riva. His final, haunting scene suggests that something went terribly wrong in his generation's childhood, their innocence lost and corrupted. Perhaps it's a metaphor for post-colonial Africa, where a hard fought-for independence has not produced the liberation the masses aspired to.
Munga has said, "The film delves into its depiction of tough situations so forthrightly that we hope it will help sweep away some of the old-school perceptions of Africa and African art." And its universal theme can be summed up in three words: "Crime doesn't pay." As Nora warns, money poisons everything.
Perhaps. In any case, look for the preternaturally beautiful Ivory Coast-born Manie Malone to sweep viewers off their feet and to make a career breakout if she has decent management. (You heard it here first, folks.)
On one level this subtitled movie is for gangsta and Blaxploitation fans, but serious cineastes will see in it where African cinema is currently heading. The realistic Kinshasa setting is a contemporary reflection of 21st-century Africa. Instead of the usual cast of sympathetic white characters featured in movies about sub-Saharan Africa, now the indigenous people are in front of the camera. And behind it as well, more and more (by some accounts Nigeria's Nollywood has the world's third-largest movie industry). Viva is at the cutting edge of Africa's new cinema. Call this refreshing if jolting wave Get Out of Africa.
Viva Riva! has verve. Viva Viva Riva!
Photo: Riva (Patsha Bay Mukuna)