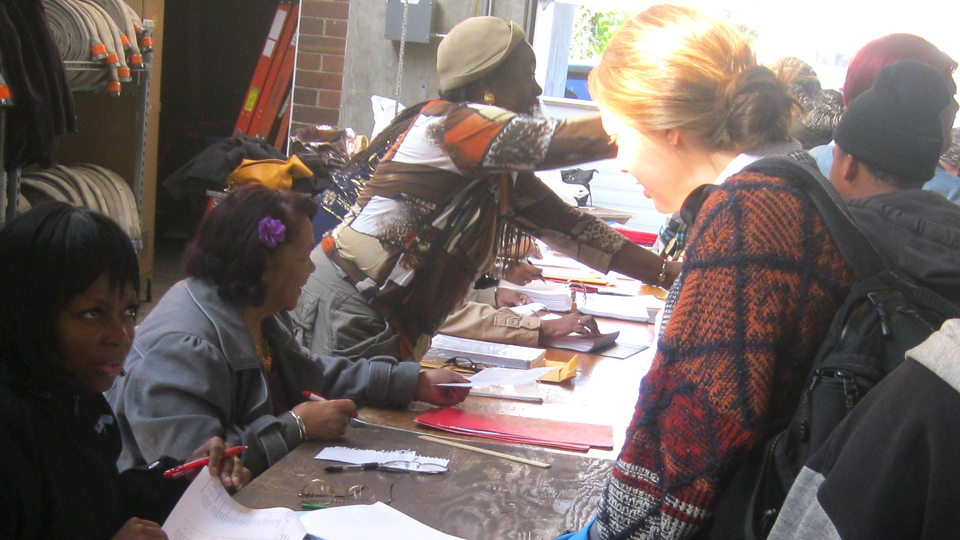 WASHINGTON – If you feel you must read this article, do it quickly. You're urgently needed to get out the vote for Hillary Clinton and the Democratic House, Senate and gubernatorial candidates in your state – especially because right wingers have been playing dirty tricks to suppress voting.
As Martin O'Malley, former governor of Maryland, says in a recent e-blast:
"Plainly stated, this election is a choice between freedom and fascism. And I do not use those words lightly.
"Hillary Clinton advances a positive, inclusive vision for our country. An America where we respect the dignity of one another … An America where we acknowledge … the injustices we still must overcome and the better country we should always wish to be.
"Donald Trump … preys on economic fears and old hates. … Encourages his supporters to resort to violence."
And worst of all, Trump "fans the coals of a militant white nationalism," O'Malley concludes.
Dirty tricks
Right wingers have been working for years to rig this election. And the closer we've gotten to November 8, the more overt their dirty tricks have become.
First, in 2013, a right-wing dominated Supreme Court weakened the Voting Rights Act. That made it easy for right wingers who control 22 states to pass laws that disproportionately disenfranchise Democrats. They've made it more difficult for low income voters and members of minority groups to cast ballots, closed almost 1,000 polling sites and cut back early voting in Democratic-leaning areas. They've made it more difficult for new voters to register, passed discriminatory voter ID laws and have taken hundreds of thousands of people off voting lists.
Then, a few months ago, Trump began inciting followers, in effect, to try to make African Americans and Latinos fearful of going to vote. A short time ago, an African American church was burned in Mississippi. "Vote Trump" was scrawled on its walls.
Lastly, just 11 days before the election FBI Director James Comey, in defiance of FBI practice, dramatically announced the "discovery" of more e-mails associated with Hillary Clinton.
Comey has sterling right wing credentials. In1996, he served as deputy special counsel to the anti-Clinton Senate Whitewater Committee. After that, he was the top assistant to George W. Bush's Attorney General John Ashcroft and helped develop a "legal" justification for torture.
His email announcement was just what Trump needed to take the spotlight away from mounting evidence that he is an habitual abuser of woman.
Comey waited until last night, a Sunday night, when most media outlets are quiet, to announce he has "determined" the "new" e-mails, like the other ones, show that Clinton is not guilty of breaking any law.
Comey's ploy worked.
Clinton's lead over Trump in the polls dwindled to between two and four percent. Hope of winning a Democratic majority in the Senate has not disappeared, but is has become a much tougher battle.
A Democratic sweep is still possible, but it will take a major get-out-the-vote push today and tomorrow.
Clinton: Ready and able
In the mid-1990s I was a political appointee in the Clinton Administration, a speechwriter for the Department of Education. I saw up close how brilliant and knowledgeable Hillary Clinton is.
Decisions in Bill Clinton's administration were made by committees, and Hillary Clinton was everywhere. She had an office in the West Wing and was an independent authority in many areas, especially in designing a healthcare reform program.
After that, she served as a senator and secretary of state. She is ready and able to be President.
Progressive activists across the country still have two days to show voters that she has the skill and experience it takes to develop programs to address climate change, to pass comprehensive immigration reform, to reform our criminal justice system, to protect LGBTQ rights, to make college affordable for all, to take further steps toward universal health care and to raise the minimum wage.
Donald Trump has the skill and experience it takes to enrich Donald Trump.
Senate races neck and neck
The most urgent reason to elect Hillary Clinton is that she could wrest the Supreme Court out from under the right wing, which will go a long way toward tearing down one of the walls that have been blocking progress toward building a more equitable nation.
That leaves the House and Senate. To pass legislation that serves working people, President Clinton-to-be will need their cooperation.
To gain a majority in the Senate, assuming Clinton wins, Democrats must win four more seats than they now hold (Vice President Tim Kaine could always break ties). For the House to become majority Democratic, 30 seats must change from Republican to Democratic.
The big Republican donors, such as the Koch brothers, have been pouring millions into House and Senate races, figuring that by keeping them in their grip, they can continue to get what they want out of government, just as they have been doing for many years.
As a result, most Democratic challengers have found that defeating Republican incumbents has been tough going; and it got even tougher after the Comey dirty trick.
Furthermore, in Nevada, Democrat Cortez Masto is tied in the polls with Republican Joe Heck for the seat being vacated by Democratic Senator Harry Reid. If Masto loses, the Democrats will need to switch not four, but five seats to gain a Senate majority.
As of now, there only two states in which the Democratic challenger is comfortably ahead of the Republican incumbent: Illinois and Wisconsin. (Democratic challenger Evan Bayh was ahead of incumbent Republican Todd Young in Indiana, but now Bayh is trailing by five points.)
There are, however, five states in which Democratic challengers have come from behind to be virtually tied with incumbents: Pennsylvania, North Carolina, New Hampshire, Missouri and Florida.
As for the House, there's virtually no chance that Democrats could win the 30 seats needed to become the majority party, especially since many Republicans have gerrymandered themselves in place. However, if some energetic progressives replace some Republican incumbents they would be in an excellent position to challenge the hegemony the right wing now holds over the U.S. government. There are several races in which this might be possible in New York, Virginia, Nevada, Maine, Colorado, Montana and California.
Governorships
In many ways, state government is where the real action has been for about a decade on issues such as voting rights, women's rights, LGBTQ rights, gun control, minimum wage, health care and more.
In North Carolina, Democratic challenger Roy Cooper has come from behind to be virtually tied in the polls with Governor Pat McCrory, one of the nation's leaders in fighting against equal rights for members of the LGBTQ community and a leading advocate of voter suppression.
Perhaps the most important race for governor is taking place in Missouri. If Eric Greitens, a right wing Republican, wins, the Show Me state will become an anti-union "right-to-work" state. His challenger for the seat being vacated by term-limited Democrat Jay Nelson is State Attorney General Chris Koster, who has pledged to continue Nelson's record of vetoing the "right-to-work" bills constantly being passed by Missouri's Republican-run House and Senate.
Building a movement
As progressive activists, we're all being driven nuts by the polls.
Now's the time to remind ourselves that we've dedicated ourselves to building for tomorrow and today's polls be damned.
Our job for the next two days is do everything we can to get out as many people as we can to vote for Clinton. It's not just a GOTV drive, it's part of building an on-the-ground progressive movement that can organize to work toward fulfilling the goals outlined in the Democratic Party platform, goals aimed at making both our economy and our government work for all of us.
If Clinton wins, such a movement will have an opportunity to grow much like the labor movement grew under Roosevelt.
That's why you need to stop reading this, turn off the computer, put the mobile phone away and start knocking on doors or helping out in a phone bank.
Now.