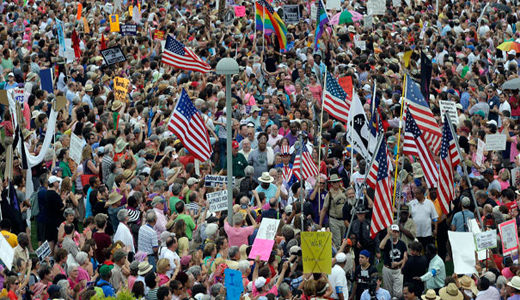 On Tuesday, Nov. 4, we urge everyone to vote. The nightmare scenario of a Republican takeover of the U.S. Senate and its companion nightmare involving possible GOP victories in key state elections can be avoided.
The simple truth is that there is a progressive majority in this country. It's the majority that elected and reelected the nation's first African American president.
"It is increasingly difficult for Republicans to win on the basis of the issues," John Bachtell, chair of the CPUSA, wrote in a recent article. "Majorities now support a higher minimum wage, taxing the rich, marriage equality, immigration reform, reproductive rights and equal pay for women, action on climate change, and student debt relief."
The right wing has spent many millions of dollars in its effort to buy this election. The only way that anti-worker candidates become the majority in the Senate or take over in the states tomorrow, however, is if those progressive majorities stay home. If the progressive majority doesn't come out to vote the anti-worker candidates win.
So come out to vote and make sure you bring with you as many of your family and friends as possible.
If they are hesitating ask them whether they want to see Mitch McConnell leading a Congress that is passing bills that ease the way for further shipment of our jobs overseas.
Ask them whether they want to see passage of bills aimed at ending Social Security and Medicare as we know it or if they want to see laws that give corporations and the wealthy even more tax breaks.
If you are in a state where the governor's mansion is up for grabs ask those who are planning on staying home whether they want a governor who, like Scott Walker, signs laws that strip us of our collective bargaining rights or privatize our public schools.
Ask them whether they want to see those governor's sign laws that prevent town, cities and counties from raising the pitifully low minimum wage or sign laws that roll back state minimum wage laws now in existence.
"Without strong voter education, and get-out-the-vote programs, blacks, workers, and all ordinary Americans will be shoved backward like no other time in the modern era," longtime union activists and leaders Norman and Velma Hill wrote recently in the Pittsburgh Courier, one of the nation's leading African-American papers.
Although the words were directed to the Courier's readers, they apply to all of us. "This year, more Democratic than Republican Senate seats are up for grabs…And if the GOP gains the Senate, Republicans will have a good chance to grab the White House and the full Congress. That would be a trifecta of bad bets."
This election is not about the president, as the GOP with its ongoing and now-failed attack on Obamacare, has tried to make it. This election is a fight between the one percent who could care less about the needs of the 99 percent and those who seek a bright future where economic justice and civil and human rights are the rule.
Voter turnout is the only thing that can counter the enormous sums spent on this election by the GOP. So please, go out and vote like your life depends on it. Because it does.
Photo: Moral Monday protest in North Carolina. The movement, a powerful coalition of labor, civil rights and allied groups, has been fighting the right on many fronts including its push to throw voters off the rolls. AP