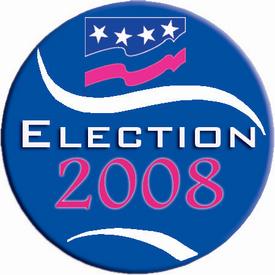 CHICAGO — Turning its attention toward the November general elections, Barack Obama's presidential campaign kicked off a massive 50-state voter registration campaign on May 10.
Thousands of volunteer activists, including many first-time volunteers, gathered in more than 100 locations across the country to launch the "Vote for Change" campaign. The goals, according to national co-chair Rep. Melissa Bean of Illinois, are to "get millions of new voters registered and engage and motivate millions who are registered but don't participate. This is about the change we will bring, not what Sen. Obama will bring alone."
With polls showing an overwhelming rejection of the Bush ultra-right agenda, the kick-off signaled the Obama campaign's intent to expand the electoral map and challenge Republican nominee John McCain in states thought to be reliably Republican, while expanding Democratic majorities in the U.S Senate and House. The campaign aims to partner with local political and community organizations and elected officials around the country.
Nearly 300 volunteers gathered in Plumbers Hall here to become deputy voter registrars before heading out to register new voters. They were pumped up by area elected officials including Mayor Richard Daley and Rep. Danny Davis (D-Ill.).
It is estimated that 3.5 million new voters have been registered so far in the primaries. This includes 200,000 new Democratic voters in Pennsylvania, 165,000 in North Carolina and 110,000 in Indiana. Registration is up particularly among African Americans, Latinos, women and rural and city dwellers.
Carmen, a blogger at the Washington Post website "The Trail," reported from Los Angeles, where she helped register voters, "It was amazing to see 400 others in a parking lot at 9 a.m. on an unusually chilly Los Angeles morning. It was truly inspiring."
Over 50 local volunteers showed up for the Chattanooga, Tenn., kick-off and then registered 140 new voters.
At the Nebraska event, Sen. Ben Nelson noted, "Apparently there are 14,000 more Democrats since before the caucus." Volunteers like Patrick Cavanaugh hit the streets there, armed with voter registration forms. "Every vote does count and we want to make sure we include everybody in the process," said Cavanaugh.
In Birmingham, Ala., two dozen Obama volunteers went to store parking lots and city neighborhoods to register 92 new voters. "We had one person born in 1942 who had never registered to vote before in a presidential election, which shows you the excitement Barack Obama is generating among new voters," said volunteer Melissa Thomas.
A multiracial group of several dozen canvassers met at the Busboys and Poets Café in Arlington, Va., before heading out. "If Obama is elected, Lord have mercy, this country is going to change," said volunteer Gene Kippins, as they canvassed a housing project. "This country is going to be the country our forefathers intended it to be."
While the campaign intends to bring millions of new voters into the process for November, the Democratic primary is still an ongoing battle that isn't being ignored. Chicago's rally speakers emphasized staying positive and uniting to beat McCain.
Responding to charges Obama lacks experience to be the president, Illinois State Senate President Emile Jones told the Plumbers Hall gathering, "I didn't know that Sen. Obama had more experience than one of our greatest presidents — Abraham Lincoln — before he was elected president."
In a subtle rejection of Sen. Hillary Clinton's move to racially polarize the electorate by claiming only she could attract working-class whites votes, Jones said Obama has refused to be pulled into the mud and muck of negative campaigning. "Barack has always kept the campaign at a high level, because he trusts the people," Jones said.
He recounted an experience when he traveled with Obama in southern Illinois during his campaign for the U.S. Senate in 2004. They went to a farm near rural Gillespie where Jones, Obama and an aide were the only African Americans in a crowd of 3,000 residents. Obama received an incredibly warm reception and, deeply moved, an 84-year-old woman told Jones, "I hope I live long enough because this young man is going to be president and I want to be around."
Asked about the use of racism by the Clinton campaign, Bean told the World, "I don't want to comment on Sen. Clinton's motivation. She can speak for herself. We have to keep focused on keeping involved in the process."
The Vote for Change campaign is also a response to the recent U.S. Supreme Court ruling upholding Indiana's restrictive voter ID law. The law, along with similar efforts in other states spearheaded by Republican right-wing forces, is widely seen as aimed at disenfranchising millions of voters, using a groundless claim of voter fraud by immigrants. It is seen as reflecting an acknowledgement by the Republican right that it cannot win on the issues but only through mass voter suppression.
Other national Vote for Change co-chairs include Change to Win Chair Anna Burger, Los Angeles County Federation of Labor President Maria Elena Durazo, the Rev. Joseph Lowery, Rep. Linda Sanchez (D-Calif.), Massachusetts Gov. Deval Patrick and musicians Melissa Etheridge, Dave Matthews and Usher Raymond IV.
jbachtell@rednet.org