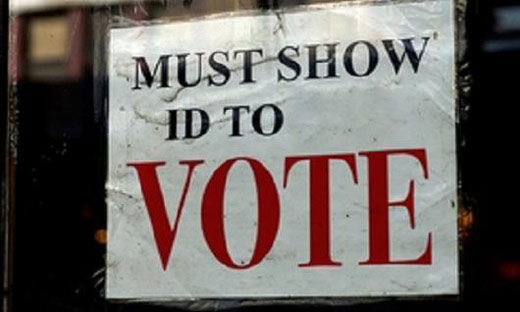 MILWAUKEE (PAI) – There's an 86-year-old man in Milwaukee who has voted in past years, but who might not be able to vote in the November 4 election.
That's because he lacks the proper photo ID – or any at all – and now he needs a birth certificate to get one, says Sheila Cochrane, Secretary-Treasurer of the Milwaukee Area Labor Federation and leader of its voter registration and mobilization efforts.
The man was born at home and his mother never officially registered his birth, so doesn't have that certificate, either. All he's got is a Social Security card. And under Wisconsin's new "Voter ID" law, that's not good enough. Will he be able, even with the fed's help, to get a photo ID, register and vote, all within 30 days? "I have no idea," Cochrane replies.
The Milwaukee man's dilemma is repeated nationwide. It affects 700,000 people in Texas alone. And their exclusion from the voting rolls this fall may affect countless close and key political races, such as the neck-and-neck Wisconsin gubernatorial battle between right wing anti-worker GOP Gov. Scott Walker and Democratic business executive Mary Burke.
Walker pushed the state's stringent voter ID law through the GOP-run legislature.
Such laws, and their impact, are also a big untold story of the 2014 election.
With less than a month to go before Election Day, a check with a sample of unionists and other sources shows hundreds of thousands of people – African-Americans, Latinos, the elderly or students – will be off the voting rolls thanks to so-called Voter ID laws and their restrictions on who can register, how to prove their eligibility to vote, and when they can vote.
Unionists, by and large, are not disenfranchised. But their kids and neighbors are.
"Folks in Southwest Virginia have identified it (voter ID) as an issue," says Phil Smith, the Mine Workers communications director. His union is a presence in several heavily GOP states and areas.
"But in Kentucky, it's not a problem. We have largely rural retirees there. They have to drive everywhere, so they have licenses" and can use them to prove their right to vote in the close contest between Senate Minority Leader Mitch McConnell, R-Kent., and Secretary of State Alison Lundergren Grimes (D).
People losing the right to vote range from a dozen men in Milwaukee's House of Corrections to former U.S. House Speaker Jim Wright, D-Texas, who is too old to drive and doesn't have a license. That's the only ID the Texas law, like other such statutes pushed through by a GOP governor and legislature, will accept. So Wright told the Washington Post he couldn't vote in the earlier Texas primary.
Hard numbers are hard to come by, except where legal groups or lawsuits disclose them. A lawsuit against Texas disclosed the 700,000 there. Barbara Irwine of the Lawyers Committee for Civil Rights Under Law identified at least 50,000 in Georgia. The Fair Elections Legal Network reported Wisconsin officials sent out 12,000 absentee ballots without proper ID instructions for voting, due to recent back-and-forth court rulings about Wisconsin's law.
A.J. Starling, Secretary-Treasurer of the Tennessee AFL-CIO, calculates 10,000-11,000 people – split between students and adults who lack state-issued ID – will be tossed off in Davidson County (Nashville) alone. Besides his fed post, Starling is an election commissioner.
"They're the students, the elderly, the minorities and the people who lack financial means of getting around" who don't have driver's licenses, he explains. There's a looming problem, too, on Election Day, Starling adds: "You've got many people eligible who don't know they need a photo ID" when they show up at the polls. "And how about the blind and handicapped?" he worries.
In one sense, the voter ID laws and their impact, especially on minority-group members, women, the elderly and college students, is not new. In a 2008 report, the Brennan Center for Justice compiled details of voter "purges." Almost all were misguided, many were inaccurate and all targeted those groups. They were politically motivated, racially motivated, or both.
"In 2007…election officials in Louisiana removed more than 21,000 people from the voter registration rolls, the majority from areas most devastated by Hurricane Katrina a year earlier. Almost a third of those removed were from Orleans Parish (New Orleans), which has a majority African- American population," its report said. And that was just one example.
"While we may be past the days in which election officials are complicit with those who inten­tionally seek to target persons of color for removal from the voter rolls, the way in which voter registration lists are main­tained in this country may sometimes have a similar effect."
And a special investigation by the Institute for Southern Studies – covering the region of the country with the worst history of voting discrimination – reported the lead sponsor of North Carolina's stringent Voter ID law is State Sen. E.S. "Buck" Newton III, R-Wilson County. He's a former top aide to the late Sen. Jesse Helms, R-N.C. That solon's 1980 campaign against African-American Democrat Harvey Gantt, then Charlotte's mayor, was notorious for illegally suppressing the African-American vote and for a racist "affirmative action job" ad, too.
"Newton was the primary sponsor of an omnibus elections bill that had a strict voter ID provision and disallowed the use of student IDs for voting. It also dramatically shortened early voting and eliminated same-day registration," the Institute says. All the restrictions could affect the tight race between Sen. Kay Hagan, D-N.C., and state House Speaker Thom Tillis (R).
And the laws have some unusual spins that make voting even tougher than people realize. Cochrane points out, for example, that the best place to get a photo ID under Wisconsin's law is a county Department of Motor Vehicles office. That's not a problem in Milwaukee, but the lawsuits over Wisconsin's statute show one rural county, Sauk, has a DMV office "open only three days a year."
Unions and their allies are doing their best to make sure their own people are registered, to register their neighbors – if they can – to keep up to date on states' varying registration requirements and to train people to report voting impediments from now through Election Day, and beyond. But there is one silver lining to all the controversy, Cochrane says.
"It's going to be messy, but it might excite our people to get their butts out and exercise their privileges" – their right to vote – she says.
Photo: Fair Elections Network.