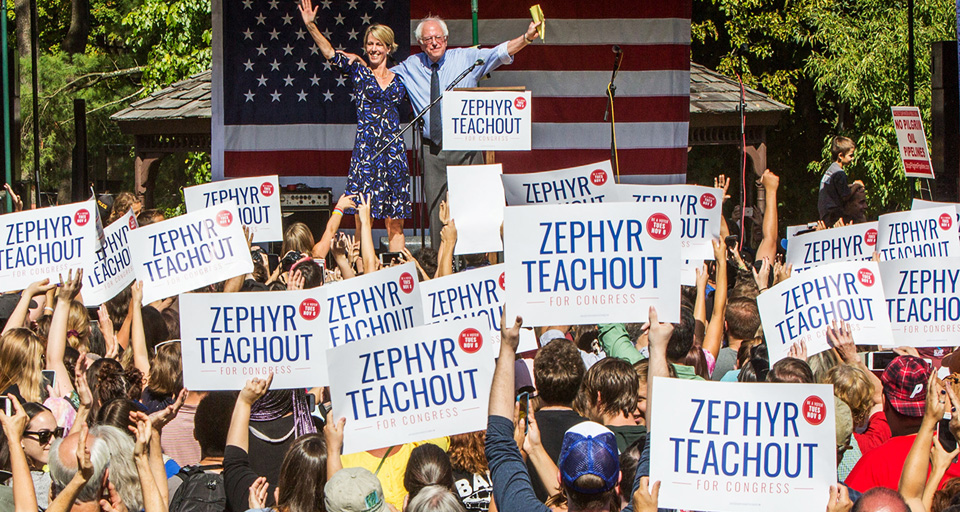 Like the fellow said, "It ain't over 'til it's over." At the moment, however, it looks as if Hillary Clinton will be our next president. Can we count on progressive laws and programs being adopted?
It depends.
To pass legislation that serves working people, President Clinton-to-be will need strong support in the House and Senate.
To gain a majority in the Senate, assuming Clinton wins, Democrats must win four more seats than they now hold. For the House to become majority Democratic, 30 seats must change from red to blue.
Electing pro-worker representatives and senators depends on progressives doing three things between now and Election Day: organizing, organizing, organizing.
They are.
Progressives across the country are joining the efforts of the Clinton campaign to narrow the gap between pro-worker Democratic challengers and incumbent Republican Senators, Representatives, governors and state legislators. Their chances of success are being helped by a growing awareness that the guy at the top of the Republican ticket, Donald Trump, is a menace.
Many Republican incumbents have lost credibility with voters who have seen them "distancing" themselves from Trump when his poll numbers were down, supporting him when his numbers rose and now distancing themselves again as he implodes.
The smartest Republican money men, such as the Koch brothers, never supported Trump in the first place. They poured their millions into down ballot races, recognizing that by keeping the House and Senate under their thumbs, they can continue to control the government, just as they have been doing for many years.
Senate races are razor thin
As a result, most Democratic candidates are finding it difficult to dislodge Republican incumbents even though they are tainted with Trump's pollution. Polls show that although Democratic challengers have caught up with many Republicans, and in some cases overtaken them by a point or two, most of the key Senate races could go either way on Election Day.
Furthermore, just because voters are saying they will cast their ballots for Clinton doesn't mean they will throw out their Republican senator or House member. Clinton has pulled ahead of Trump in Arizona and Ohio even though the latest polls show the incumbent Republican senators are safe in those states.
In Nevada, it's a virtual toss up for the seat being vacated by Harry Reid. The Democrat, Cortez Masto, is ahead by just 2 points, well within the margin of error. If the Democrats lose Nevada, they will need to win five seats to gain a Senate majority.
So far, there are only three states in which polls have consistently shown the Democratic challenger to be ahead of the Republican incumbent for any length of time: Illinois, Wisconsin and Indiana (which, ironically is a Trump state).
There are, however, five states in which Democratic challengers have come from behind to be within a hair's breadth of winning: Pennsylvania, North Carolina, New Hampshire, Missouri and Florida.
Progressives and right wingers running neck and neck.
As for the House, no observer expects Democrats to win the 30 seats needed to become the majority party, especially since many Republicans have cemented themselves in place through gerrymandering. However, if the Democrats pick up between 15 and 20 seats they would be in an excellent position to challenge the hegemony the right wing now holds over the U.S. government.
If energetic progressives are elected to the House and they revitalize the Congressional Progressive Caucus, groups fighting for equity, freedom and justice would get a huge boost.
First, though, progressive organizers are working to make sure Democrats don't lose any seats in the House. According to political observers, the right wing is gearing up to take seats away from Democrats in about seven districts.
For example, in Minnesota's 8th District, Democratic incumbent Rick Nolan has worked against disastrous trade deals and fought to protect and expand Social Security and Medicare. Nevertheless, he is just 1.3 points ahead of millionaire CEO Stewart Mills who is against proposed environmental regulations and is for killing ObamaCare.
Among the many House races in which Democrats are challenging right wing Republican incumbents, several stand out because the challengers have long histories as progressive activists and the incumbents have been slavishly following the right wing, tea party play book. Republican PACs have been pouring millions of dollars in these races, making them the most expensive Congressional races in history.
In every case, there is just a razor thin difference in polling numbers between the Democrats and Republicans. Grassroots, progressive activists are working hard to widen that gap in favor of the challengers.
These House races include:
Stark differences between right and left.
Furthermore, there are several House seats being vacated by retiring Republicans which might be won by Democrats. These include Wisconsin's 8th District, where Democrat Tom Nelson is running against Republican Mike Gallagher.
Nelson's campaign slogan is "people over politics." As the Executive of Outagamie County, Nelson fought against tax breaks for a paper mill that shut down and worked to get the workers re-hired. He's running on a platform of fighting for working families, fair pay, and stopping disastrous trade deals.
Gallagher says he is for limited government, and dubs himself the "private sector problem solver."
Perhaps nowhere in the nation is the difference between the candidates as stark as it is in New York's 19th District where progressive Democrat  Zephyr Teachout is running against Republican John J. Faso, a former lobbyist for a fracking pipeline who as a state assemblyman voted against equal pay for women four times.
The seat has been controlled by Republicans for years, but is now open because of the retirement of Chris Gibson.
District 19 covers 11 counties in rural upstate New York and Teachout, a law professor, wants to get big banks to start lending to farmers and small businesses again, and pledges to fight the effects of climate change. Her work on political corruption is nationally known.
"This is the marquee race, and if the Democrats are to make real gains in the House nationally this is the kind of seat that they need to pick up," said Bruce N. Gyory, a Democratic political consultant.
Teachout is being strongly supported by Our Revolution, the organization that grew out of the Bernie Sanders campaign.
She is also supported by the Hillary Clinton campaign.
Clinton campaign manager Robby Mook told the Washington Post, "Hillary recognizes, as we look at the past eight years, how important it is to have allies and like-minded elected officials who can just help get things done."