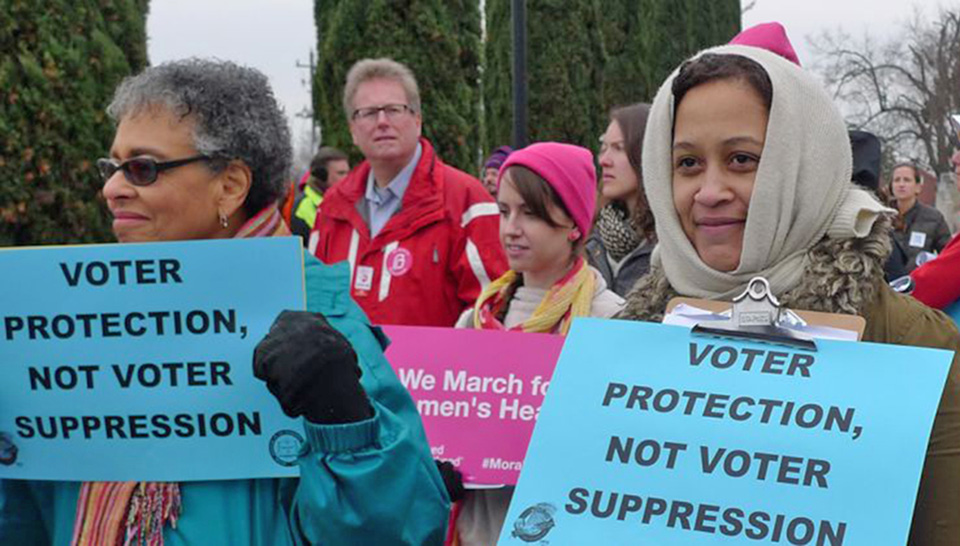 WASHINGTON — Speaking at a recent press conference to announce the launching of various programs to protect the rights of voters, Wade Henderson, president of the Leadership Conference on Human and Civil Rights, said there is a possibility voters will face a "perfect storm" of suppression when they cast their ballots Nov. 8.
Henderson explained this is the first presidential election since the Supreme Court gutted the Voting Rights Act in 2013. Since then, 22 states that have been captured by right wing Republicans have passed laws aimed at restricting the voting rights of minority and low-income voters. Although courts have blocked many provisions of these laws, poll watcher training has not kept pace. Despite this, because of the Supreme Court decision, the Department of Justice can send monitors and observers to only a very few voting sites.
Furthermore, Donald Trump's racist rhetoric could very well incite his followers to intimidate voters in precincts that are predominantly African American, Latino, or Muslim.
What's more, reports the Washington Post, as Republicans lose ground in states like Georgia, they are taking more steps to suppress the rights of voters who are likely to cast ballots for Democrats.
To counter potential voter intimidation or suppression of voter rights, the Lawyers' Committee for Civil Rights Under Law has launched the Election Protection project.
At the press conference, Kristen Clarke, executive director of the Lawyers' Committee, said the Election Protection project will cover 29 states with some 25 grassroots organizers and 4,500 attorneys and other legal experts.
Other organizations are also fielding polling place protection activities. For example, in Florida unions are getting together to make sure voters can exercise their rights. And Democracy North Carolina is recruiting volunteers to work outside polling places to ensure that the official poll watchers are adhering to the rules and that no one is trying to intimidate voters.
Democracy North Carolina volunteers are also helping staff a nationwide telephone hotline run by the Election Protection project.
Hotlines
Across the country, anyone who feels their voting rights have been compromised can call the Election Protection hotline at 866 OUR VOTE. People who have questions about voter registration or voting procedures can also call this hotline.
Clarke said that so far, during the period of early voting, the hotline has fielded 4,200 calls.
The Arab American Institute (AAI) has also set up a voter protection hotline as part of the YallaVote, or "let's vote" project. The number is: 1-844-418-1682.
Nadia Aziz, AAI's government relations manager, said that a recent poll shows that 91 percent of the Arab American community plan to vote; but she said, there is widespread fear.
Khaled Saffuri, spokesperson for the Arab American Anti-Discrimination Committee added "this has been the worst year ever for Muslims who want to be seen as Muslims. People are afraid that voting will be disrupted in predominantly Muslim areas."
Erin Hustings, a senior policy analyst for the National Association of Latino Elected Official (NALEO) Education Fund, announced at the press conference that her organization has also established a hotline: 1-888-VE-Y-VOTA (1-888-839-8682).
An additional national voter protection and information hotline is being set up by a partnership between the Asian and Pacific Islander American Vote-Michigan (APIAVote) and Asian Americans Advancing Justice. Hotline volunteers will give assistance in English, Mandarin, Cantonese, Korean, Vietnamese and Tagalog. The number for this hotline is: 1-888-API-VOTE
International Observers
Because the U.S. Justice Department will not be allowed to send many observers to polling sites, Henderson said, he Leadership Conference on Human and Civil Rights has arranged for observers to come from Europe and Latin America. Both the Organization for Security and Cooperation in Europe and the Organization of American States (OAS) will send observers trained to judge whether or not elections are fair.
Furthermore, 87 voting and civil rights groups have written to state election officials urging them to prevent voting discrimination and disruption.
The letter states "Since Congress has failed to pass a bill to restore the Voting Rights Act, which has resulted in the Department Of Justice's lacking authority over voting changes in places that Congress determined in 2006 should continue to have federal oversight, we are extremely concerned that there will be widespread voter discrimination in the upcoming presidential election."
The letter continues, "Voters have very little protection from local election changes, the misapplication and misunderstanding of new voting restrictions by poll workers, or threats of intimidation from polling place vigilantes.
"State election officials must address these unprecedented threats head on by creating and publicizing clear plans to prevent intimidation and discrimination."
Henderson stresses that while the various voter protection measures planned for November 8 might keep threats to voting rights contained, "ultimately, the only effective way to protect voters is for Congress to reinstate, and strengthen, the Voting Rights Act."
However, he says, "Congressional leaders will not even agree to hold hearings to investigate cases of voter intimidation, voting rights suppression and voter disenfranchisement."
He said that requests for such hearings have been turned down by Senate Majority Leader Mitch McConnell and Senate Judiciary Committee Chairman Chuck Grassley.
Likewise, House Speak Paul Ryan has refused to hold hearings as has House Judiciary Committee Chairman Bob Goodlatte.
Meanwhile, voting rights and civil rights leaders across the country have said everything that can be done to protect voting rights will be done.
For example, the Rev. William Barber, president of the North Carolina NAACP has issued a statement saying that "throughout the early voting period and on election day itself, on behalf of our membership, the NC NAACP and our partners will be investigating all complaints received by our members, and by voters our members are assisting …
"We are gravely serious at this time about protecting the voting rights of North Carolinians. No voter should feel intimidated in this election or concerned that your vote will not count. …
"We will not allow any rumors, confusion, or misguided forces of voter suppression to turn us around."