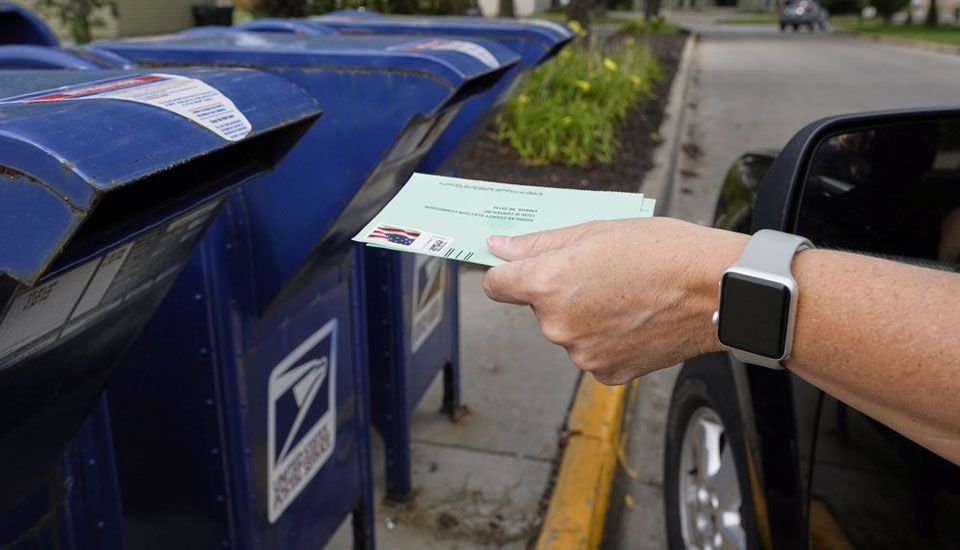 With less than two weeks to go until Election Day, Nov. 3, the 4th Circuit Court of Appeals gave North Carolina voters a much-needed win by allowing absentee ballots postmarked by Election Day to be accepted and counted by the N.C. elections board for a week afterward.
On Tuesday, Oct. 20, the appellate court declined to block an extension for accepting ballots that were announced in late September by the state elections board. The State Board of Elections decided in September to accept ballots until Nov. 12 as long as they were mailed by Election Day, extending the count time from three days to nine days—citing concerns with the COVID-19 pandemic and the U.S. Postal Service's ability to handle the surge of mailed ballots.
People's World Election Town Hall – Oct. 25th – Register here.
State Republican leaders, the national GOP, and the Trump campaign filed an emergency appeal to block an earlier lower federal court's mixed ruling last week.
The appellate court's majority opinion highlighted that "everyone must submit their ballot by the same date. The extension merely allows more lawfully cast ballots to be counted in the event there are any delays precipitated by an avalanche of mail-in ballots.
"North Carolina voters deserve clarity on whether they must rely on an overburdened Post Office to deliver their ballots within three days after Election Day," wrote the appellate court. "The need for clarity has become even more urgent in the last week, as in-person early voting started in North Carolina on October 15 and will end on October 31."
The ruling was decided 12-3. In a sign of the case's importance, all 15 of the court's active judges took part, rather than the typical three-judge panel.
"By a 12-3 margin, the Court rejects the Republican legislators' effort to disallow votes cast & mailed back on or before Election Day but received after 11/6," wrote North Carolina Attorney General Josh Stein. "The 'simple and commonsense change' approved by the state court to extend the deadline 3 days to 9 days does not change voters' obligations—all ballots must still be mailed on or before Election Day. But it recognizes the reality of an overburdened postal service."
THE COURTS AND THE ELECTIONS:

Coup by court: Republicans prepare legal challenges that echo 2000 fight

Wisconsin GOP loses legal bid to block absentee ballots

GOP voter suppression efforts pop up in Texas, Indiana, North Carolina courts

N.C. mail-in ballots case mixed ruling: Witness requirement remains, error fixes allowed
The N.C. AG's office and the State Board of Elections have been battling the state's Republican lawmakers to extend absentee ballot timelines due to delays with the U.S. Postal Service, an increase in voter turnout, and the coronavirus pandemic.
Last week, Judge William Osteen ruled the state couldn't accept absentee ballots that lacked a witness signature, forcing officials to rewrite some procedures for handling mail-in votes. But he declined to intervene on the deadline for accepting absentee ballots.
With this court decision, the competing lawsuits between state Democrats and Republicans have come to an end, unless the decision is appealed to the U.S. Supreme Court. It's a likely scenario, and a move supported by the three dissenting judges, J. Harvie Wilkinson, G. Steven Agee, and Paul V. Niemeyer. They urged the Republican plaintiffs to take the case to the high court.
"We urge plaintiffs to take this case up to the Supreme Court immediately," the judges wrote. "Not tomorrow. Not the next day. Now."
Over two million North Carolina voters have already cast their ballots in this year's presidential election so far, through mail-in ballots, and early voting. That number includes more than 1.3 million people at early voting sites across the state and more than 655,800 mail-in ballots, according to the State Board of Elections.