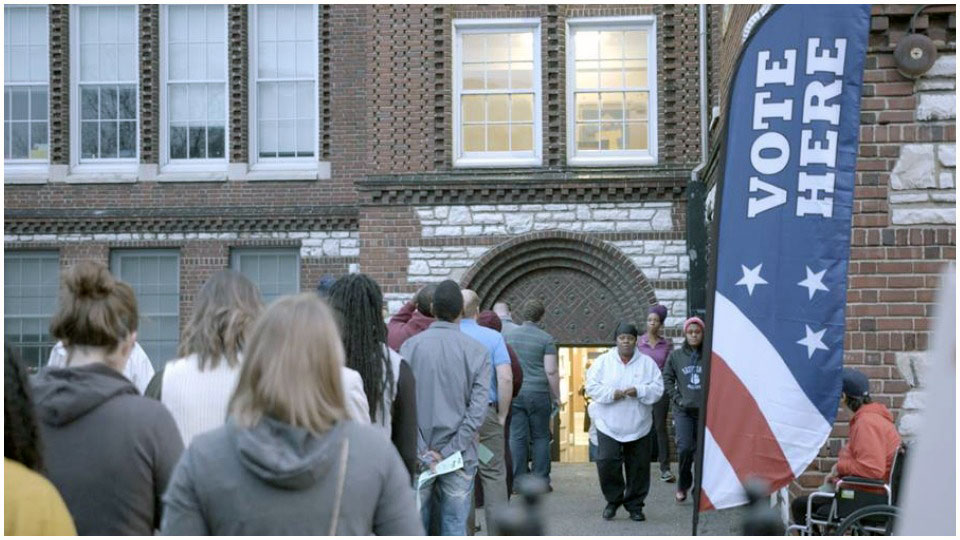 ROCKSPRINGS, Texas—Pam Elliott doesn't look like a villain. But to people concerned about the right to vote, the blonde, petite sheriff in a rural and deep-red Republican Edwards County, Texas, is.
That's because, in the documentary film Rigged, Elliott showcases just one of many tactics the right wing now uses to suppress the vote from people of color, women, students, the elderly and workers.
The film aired during the Congressional Black Caucus legislative conference and a prior panel discussed the issue, too, and how to combat it. The combat is necessary.
Millions of people of color, students, women, the old and workers were turned away from the polls on one technicality or another, or just plain intimidated into not voting, in 2016, Rigged explains.
Elliott's specialty: Finding one 40-year-old Hispanic-named man who, out on parole, should not have voted under Texas law in 2016. She locked him up "for impersonating his grandfather," she said. And she made sure the word got around, especially to other Hispanic-named people.
The man's name and that of his grandparent, who would be 100 if he were still alive, were identical. What the man didn't know was that Texas bars parolees from voting and that Texas voters must show matching voter ID, often unobtainable. "He's playing the victim," Elliott scoffs in Rigged.
In Edwards County, voter suppression just added to the GOP margins. Elliott won re-election that year with 62% of the vote. But in other states, voter suppression made the difference between who won and who lost, and who benefits.
And in Wisconsin, Pennsylvania, and Michigan (and possibly Florida, Ohio, and North Carolina, too), the number of people denied the right to vote exceeded GOP presidential nominee Donald Trump's margin over Democratic foe Hillary Clinton. Those states were key to Trump's Electoral College win.
Read Chauncey K. Robinson's review of Rigged in People's World.
Georgia's GOP Secretary of State threw 750,000 people, overwhelmingly people of color, off the rolls, for several years before he ran for governor in 2018. He beat African-American Democrat Stacey Abrams by far less than that.
The right-wing's suppressive tactics—besides the jail cell Elliott used—included "packing" of people of color into a few legislative districts, leaving the rest under white control, or "cracking" communities of color between two or more districts so they couldn't elect sympathetic lawmakers.
"It's hard for me to look at this," HB1631, the so-called "voter ID" law in Missouri, "and think it's just a coincidence" that the law arose after higher turnout from people of color, said one white state lawmaker who denounced the vote-rigging there. The GOP-run House passed that law, though, 115-41.
GOP-run Florida made it so hard for volunteers to register people to vote, including threatening people with jail terms for minor violations of registration rules, that the League of Women Voters, the leader in such registration drives nationwide, pulled out of the Sunshine State, Rigged notes.
Other tactics featured in Rigged included unproven allegations of voter fraud, shutting polling places in African-American communities and in college towns, cutting or eliminating early voting hours, and stationing so-called "voter eligibility" reps outside polls to both intimidate people of color and to enlist whites against non-existent fraud. Empirical studies show only 40 indictments for voter fraud nationwide from 1997-2005, out of a billion ballots cast.
And Ohio, among other states, instituted voter purges, where the Secretary of State, who runs voting there, sent letters to the last known address of anyone who had not voted in the last two general elections. If it didn't come back or came back "addressee unknown," that voter was purged.
The film points out that Ohio's purge was challenged in the courts, but not before it wiped tens of thousands of voters off the rolls in Cuyahoga County (Cleveland), all African-American, alone. Though Rigged did not identify them, the AFL-CIO's A. Philip Randolph Institute and community groups backed an African-American veteran from Cleveland who was purged.
The vet missed two elections while serving in Iraq and Afghanistan. APRI, the groups, and the veteran took the case all the way to the U.S. Supreme Court. He and they lost; Ohio won. Purges continue.
"The Republicans see an opportunity to get people afraid, and to create new laws to suppress voters—and not coincidentally people who vote against them," the film's narrator explains.
And when the GOP-gerrymandered North Carolina legislature passed the nation's most restrictive voter suppression law, the Rev. William Barber II started leading "Moral Monday" marches on the state capitol in Raleigh. Thousands of people, including Rosanelle Eaton, a 92-year-old African-American woman denied the right to vote in 2016 for the first time in 50 years, were arrested.
"I remember her telling me about the Klan burning crosses on her lawn," when Eaton campaigned in the 1960s for voting rights and civil rights, one North Carolina white pro-voter activist woman says. "She told me 'I didn't think I'd ever have to go through this again.'"
"You didn't have this clamor" for voter suppression "until African-Americans and Latinos started voting in record numbers," especially in and after 2008, Barber says in Rigged.
"You're not going to allow some kind of loudmouth bigot to intimidate you" from standing up for the right to vote, Barber adds. Federal judges later threw out the North Carolina legislative map as being gerrymandered, as the district court judge wrote "with surgical precision" against African-Americans.
Trump preaches the gospel of voter fraud and appointed a commission to try to find it. States refused to yield to its demands and the panel, run by the godfather of voter suppression—as well as anti-immigrant—legislation, former Kansas GOP Secretary of State Kris Kobach, fell apart.
African Americans, progressives, unionists, Latinos, and their allies are fighting back. Abrams now heads a national drive to protect and enhance the right to vote, and to register people when they get it.
But now, Rigged points out, voter suppression has another big tool: Trump. More specifically, his nomination of right-wing ideologues to federal judgeships from the Supreme Court on down to district courts—and GOP Senate Majority Leader Mitch McConnell's success at ramming them through.
Compared to his predecessor presidents at similar points in their first terms, Trump has already named record numbers of district court and appellate judges, plus U.S. Supreme Court Justices Neil Gorsuch and Brett Kavanaugh. McConnell trumpets those confirmations as Congress's top achievement during the last three years.
The judges, both believe, can be counted on to uphold voter suppression and decimate civil rights and workers' rights, among other policies. "Racism now is all about policy," Barber says in Rigged.
"Are they really trying to steal an entire election, rig the outcome in so many states that they can steal the presidency?" a white retired Air Force colonel asks. The film's answer is "yes."
Information about Rigged is at www.riggedthefilm.com.