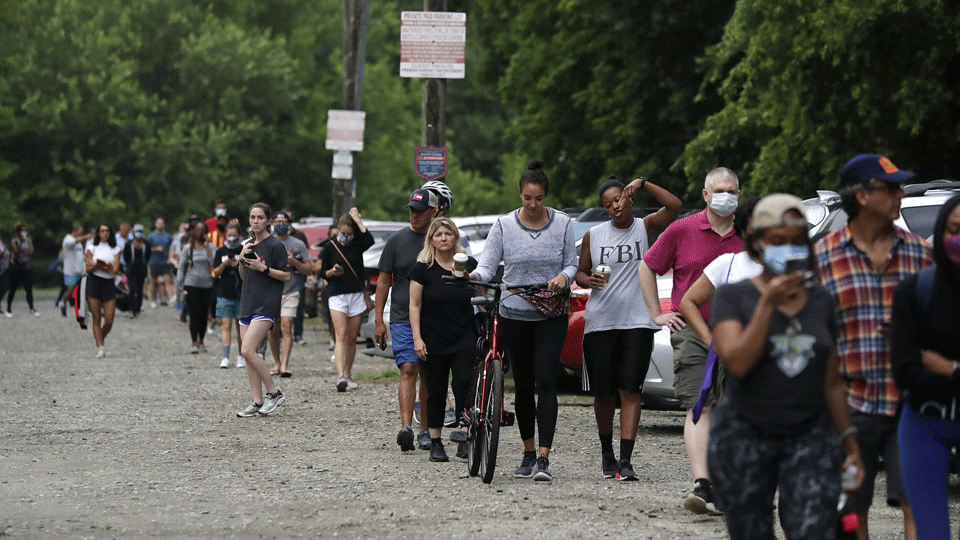 ATLANTA—You've heard or read about a wide range of ways the right wing is suppressing the votes of people it hates, but this takes the cake: Postage stamps, or lack of them, for absentee voters in the entire state of Georgia.
It's as bad as having one polling place for a county with 767,000 people – as Jefferson County, Ky., which includes Louisville, had for the June 23 Democratic U.S. Senate primary. And that's the case in every other Kentucky county, too. The city of Louisville is 20% Black and is home to the majority of Kentucky's African Americans.
Voting by mail in Iowa's June 9 primary brought out such a heavy turnout of people of color, workers and their allies that the GOP legislature is now trying to stop it for November.
Welcome to how red state GOP officials suppress the vote – and often get away with it.
Before this year's Georgia primary, which became a highly publicized disaster rife with efforts to suppress ballots of people of color in particular, right-wing GOP Secretary of State Brad Raffensperger, under pressure, sent absentee ballot applications statewide, due to the coronavirus pandemic.
In a typical scenario, the county, city or state official responsible for sending, and collecting, such applications also includes postage-paid envelopes for the voter to return the form. Ditto for the ballots themselves. Not in Georgia.
Raffensperger ordered voters to buy their own stamps…in the middle of the pandemic that forced absentee voting in the first place.
He also shut down polling places by the hundreds, especially in Atlanta areas dominated by voters of color. Nobody knows how many votes the lack of stamps suppressed in the Peach State. Long lines in Atlanta were obvious. Voters reported leaving polling places there as late as 12:36 a.m. the next day.
Voting rights groups, led by the Georgia ACLU, sued to get the state to send out stamps. One African-American group, Black Voters Matter, even offered to buy stamps in bulk and deliver them to voters. The federal judge hearing the case turned both plans down, at least for the primary. The case is still pending for the November election.
"In failing to provide prepaid postage for absentee ballots, Georgia is creating an unconstitutional obstacle to voting. We won't allow for a modern-day poll tax," ACLU Voting Rights Deputy Director Sophia Lin Lakin said.
The Georgia denial of stamps for voters shows key facets of a widespread problem voters already encounter. One is massive directed efforts to suppress the right to vote.
The other is who's carrying out the suppression – Republican right-wingers – and who their targets are: People of color, women, workers, college students, the poor and anyone else the GOP suspects of opposing the right-wing corporate agenda. In mid-June, the GOP doubled its national legal budget for fighting against voting rights lawsuits, to $20 million.
"Our democracy will face a profound test this November. In the face of this global pandemic, we can no longer tolerate 'business as usual' in our polling places," House Judiciary Committee Chairman Jerry Nadler, D-N.Y., said, opening a June 3 hearing on voting during a pandemic.
"Business as usual was already intolerable. The hours-long lines, purges of voter rolls, and red tape designed to suppress Americans' right to vote all strike at the heart of our system of self-government."
"Now these hurdles might even be deadly" due to the coronavirus. "And they raise the frightening and unavoidable question of whether we will even be able to call ourselves a democracy at all."
"What is a system of government that deliberately winnows out voters because of their race, or their income, or their disability, or because of where they live? What is a system of government in which politicians play games to keep away eligible voters who might threaten their hold on power? It is not a democracy. It is something else."
Democrats are not wholly blameless in voter suppression. Until recently many blue states strongly limited voter registration. Most states, red or blue – New Jersey is an exception — make it difficult or impossible for anyone other than nominees of the two big parties to run for office.
All this is familiar to voters of color, going all the way back to Jim Crow. Historical records show Southern states as a group had virtually equal numbers of Black and white voters in the first 15-20 years after the Civil War. In several states, notably Alabama and South Carolina, registered Black voters outnumbered whites.
But by 1900, Jim Crow laws, "whites-only" Democratic primaries – which the Supreme Court finally outlawed in 1944 – and onerous registration rules reduced Black registration to a few thousand per state. And those voters were intimidated and prevented from voting, or killed, by the KKK.
The Voting Rights Act of 1965 wiped out most legal voter suppression, until the Supreme Court, in Shelby County vs Holder, wiped out the act's key enforcement clause: Preclearance by the federal government of voting changes in states and counties with histories of voter suppression by race.
Shelby County turned the GOP loose. Its state governments raced to enact voter suppression laws as fast as possible. North Carolina's legislature "took 45 minutes," Rev. William Barber says. In the 21st century, the GOP extended legal voter suppression, as opposed to illegal voter intimidation, to others – not just Blacks — whom they deem enemies. It intends to keep suppression going. Intimidation, however, as documentaries show, may be local, and hard to stop.
So when the Democratic-run House passed a comprehensive election reform bill, HR1, Senate Majority Leader Mitch McConnell, R-Ky., responded by deep-sixing the legislation, snidely denouncing its pro-voter provisions.
"Just what America needs, another paid holiday and a bunch of government workers being paid to go out and work on  campaigns," he sneered. "This is the Democrat plan to restore democracy? A power grab."
McConnell is only one symptom of  GOP suppression. GOP President Donald Trump opposes vote-by-mail because he declares it would mean the end of GOP chances of holding power. On the flip side, the GOP Pennsylvania House Majority Leader said in 2012 their repression law would deliver the Quaker State for GOP presidential nominee George Romney. It didn't.
"You may get unfounded suggestions from some quarters that" vote-by-mail means voter manipulation, ACLU Voting Rights Director Dale Ho said in a June 9 Aspen Institute forum on the issue. It doesn't.
And vote-by-mail is less susceptible to manipulation added Washington Secretary of State Kim Wyman, a veteran local elections official whose state is totally vote-by-mail. A Republican, she's enthusiastic about it. Her state also has same-day registration for the 10% of voters who annually move.
Without vote-by-mail, which eliminates voter suppression, "What you saw happening in Georgia could repeat itself" this fall, Wyman warns.
Meanwhile, the pandemic, piled onto past repression, means the ACLU, Black Lives Matter, the Lawyers Committee for Civil Rights, the Southern Poverty Law Center and their allies have had to run around the country trying, sometimes successfully, to put out voter suppression fires.
North Carolina lawmakers virtually wiped out early voting there, which 70% of North Carolina's Black voters used to help Barack Obama in 2012. Easy registration and other measures went by the wayside in the Tar Heel State, too.  But the High Court, two months ago, upheld both lower court rulings tossing the North Carolina law.
That still leaves a horde of other voter repression examples and tactics, which everyone must watch out for and battle, including:
Voter ID laws
This voter suppression preceded Trump, and Shelby County.  The five-man GOP-named High Court majority gave the go-ahead to such "voter ID" laws in a case from Indiana almost a decade ago. The name now covers a host of statutes used to bar people from registering to vote.
Legislatures enacted onerous requirements, including document production, high fees and closure of motor vehicle voter registration stations in African-American and rural areas. Texas now permits forms of ID used by Republicans – such as gun permits – as evidence of state residence to register people, while banning those – such as college ID cards — used by non-Republicans.
Other states require birth certificates as ID, knowing a share of older Black voters lack them. Their births at home, by midwives, often went unrecorded. And an ACLU lawsuit challenging Kansas's "documentary proof of citizenship" voter ID law is still snaking its way through the courts.
North Dakota threw more than 7,000 Native Americans off its voter rolls in 2018 by requiring everyone to have a street address. But in April, the Standing Rock Sioux, the Spirit Lake Nation and the state agreed to let voters locate their homes on a map, get an address, and register.
Montana's GOP legislature, tried the same thing, with a twist. There, since mail boxes are rare in Native American areas, forcing collectors to travel from house to house, collecting absentee ballots and delivering them to counting sites. The legislature banned such "ballot harvesting," but a Native American-ACLU suit blocked the ban, just before the state's early-June primary this year.
Limiting registration campaigns
You can't vote if you're not registered. Several states, led by Florida, imposed such onerous requirements on registration volunteers, along with volunteers toting candidates' petitions – up to and including fines and jail terms – that leading non-partisan registration groups pulled out of those states rather than having volunteers face jail time.
Closing polling places
Kentucky is the latest example, with the GOP-run legislature citing the pandemic as a reason. The Bluegrass State had 2,700 polling places in its 120 counties in 2018. Now it has about 200. It allowed vote-by-mail in the June 23 primary, but is banning it, so far, in November.
The ACLU, the NAACP, the Louisville Urban League and voters are challenging that in court.
Ohio's right-wing GOP Secretary of State, Kenneth Blackwell, hit the Black community in Cleveland and Ohio State students in Columbus with closures in 2004. In both, people wound up walking away from long lines that took hours. Ohio narrowly went for Republican George W. Bush over Democrat John Kerry that year, and its electoral votes decided the presidency.
And a Dodge City, Kansas, man told the New Poor People's Campaign on June 20 how then-Secretary of State Kris Kobach – a notorious hater, though the speaker did not say so – closed all but one polling place in the 30,000-person city in 2018. "It was in one of the most-affluent, white areas of town," the speaker said. Though he didn't say so, the polling site  was also in a strip mall so far on the edge of town that Black voters, especially those without cars, couldn't get there.
Lawmakers pick their voters
 Even before the Shelby County decision computerized programs and election experts let GOP lawmakers pick their voters, rather than the other way around. North Carolina is the poster child for that, too. Its congressional redistricting plan was one reason the federal judge tossed the state's laws.
In one awful example, the remap split the largest historically black university in the U.S., 12,000-student North Carolina A&T, literally right down the middle, diluting its students' votes between two white-majority congressional districts. Another district, snaking across the state, packed Black voters all into one U.S. House seat, letting other seats stay GOP in a "purple" state. That's "packing and cracking."
In the first decade of the 21st century, Texas federal courts forced the GOP-laden state legislature to redraw its U.S. House districts after the Lone Star State's huge population growth, virtually all of it from Spanish-speakers, wasn't reflected in the initial map, drawn by then-U.S. House Majority Leader Tom DeLay. Hispanic-named voters picked up two congressional seats and should have had more.
Purging the voter rolls
Raffensperger's Georgia predecessor, current GOP Gov. Brian Kemp, purged 340,000 voters, 80% of them Black, in the four years before the 2018 election. Then he ran for governor, and beat Stacey Abrams (D) by fewer than 55,000 votes out of 3.94 million cast.
The High Court set the stage for the purges, too, ruling – again by the partisan 5-4 lineup – that Ohio could purge voters who missed two election cycles. The case was brought by a Cleveland African-American community group, the AFL-CIO's A. Phillip Randolph Institute and a black Clevelander who had missed two cycles because he was serving in Iraq and Afghanistan.
Pennsylvania's initial purge failed in state courts in 2016. So this year, the radical right-wing group Judicial Watch went to federal court in Harrisburg to try to force Bucks, Chester and Delaware Counties to purge their voter rolls of 800,000 names. The ACLU and the state are fighting that suit. Another unnamed right-wing group is trying the same tactic against Allegheny County (Pittsburgh).
If Judicial Watch wins, Blacks would be in danger in Delaware, where they're 22% of voting-age adults. The elderly would be in danger in all three, where they comprise about 17% of the counties' 1.72 million adults.
Imposing witness requirements
With the pandemic forcing millions of voters to seek absentee ballots, witness requirements 11 states impose on those applicants are drawing attention, too. The requirements basically say any voter seeking a ballot must have one witness – or sometimes two – swear he/she meets the rules for getting it.
The ACLU challenged witness requirements in at least four states before their primaries. It won a full victory in South Carolina, a victory letting voters who can't find a witness send in their ballot for counting, anyway, in Virginia and a delay in a state suit upholding such requirements in Texas. The lawsuit threat prompted Missouri to dump its witness requirement, Wyman said.
There is, however, one problem with vote-by-mail, which repression has nothing to do with, warns  Washington's Wyman. Vote-by-mail ballots take time to count and check, she told the Aspen seminar.
That means don't expect immediate confirmable results – despite pundits or exit polls or anything else – on Election Night. "We may not know the results of the presidential election till the end of November," she says.