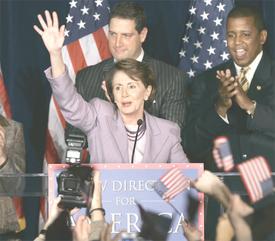 WASHINGTON — Fired by anger and disgust with George W. Bush, the Iraq war, corporate greed, corruption and human needs cutbacks, voters went to the polls Nov. 7 and terminated 12 years of Republican control of the U.S. House of Representatives. A switch to Democratic control of the Senate hinged on the undecided Virginia race, with the Democrat leading at press time.
The tidal wave against the Republican right swept every region of the country, including states long controlled or dominated by the Republicans. At press time, Democrats had won at least 229 House seats, guaranteeing them a majority in the 435-seat chamber.
Democrats picked up three House seats in Indiana, three in Pennsylvania, two in New Hampshire, at least one in Connecticut, one in North Carolina, two in Florida, one in Kansas, one in California, and more elsewhere. Several House races remained too close to call in Connecticut, Pennsylvania and New Mexico.
In the Senate, the Democrats held all their incumbent and open seats. Democratic pick-ups included Sheldon Whitehouse in Rhode Island, Bob Casey in Pennsylvania, Sherrod Brown in Ohio, Claire McCaskill of Missouri and Jon Tester in Montana. A victory for Jim Webb in Virginia, who held a razor-thin lead over Sen. George Allen, would strip the Republicans of control of the Senate.
The Democrats also captured a majority of governorships, an important advantage heading into the 2008 presidential season.
Rep. Nancy Pelosi (D-Calif.), set to become the first woman speaker of the House, told a cheering victory celebration here, "From sea to shining sea, the American people voted for change … to take America in a new direction … and nowhere did the American people make it clearer that we need a new direction than the war in Iraq. We cannot continue down this catastrophic path."
Pelosi underlined the role of women in this election. The women's equality movement poured into South Dakota and, by a 10-point margin, defeated a ballot question that would have imposed a draconian abortion ban. Women outvoted men in many races across the country, expressing higher levels of revulsion against Bush and the Republican right and stronger opposition to the war.
Overall turnout was over 40 percent, slightly higher than the last midterm election in 2002. Long lines were reported in many big-city polling places.
The labor movement unleashed a powerful get-out-the-vote drive with volunteers canvassing and phone-banking in 32 battleground states. The AFL-CIO reports that volunteers reached 13.4 million union households across the nation.
The African American vote was the key to victory in many races. In St. Louis, the Black vote was the margin of victory for McCaskill. In Maryland, a record 200,000 Baltimore votes, a majority African American, elected Martin O'Malley governor and Ben Cardin to the U.S. Senate. In Memphis, Black voters turned out in record numbers to make Harold Ford's Senate race competitive, although he did not win election. And in Massachusetts, where Deval Patrick will now become the state's first African American governor, the Black voter turnout was so huge that polling places ran out of ballots. Patrick, who won in a landslide, will also make history as the nation's second African American governor since Reconstruction.
Defeated were some of the most virulent ultra-rightists, including Sen. Rick Santorum of Pennsylvania, the third-ranking Republican in the Senate. In Arizona, Rep. J.D. Hayworth, sponsor of the most racist anti-immigrant legislation, was defeated.
Exit polls revealed that the Bush administration's effort to use the terrorism fear-factor clearly failed to override voters' concerns on the Iraq war, the economy and widespread corruption. With millions unable to make ends meet, voters rejected Republican claims that the economy is in good shape.
Robert McChesney, an expert on the media, compared Senator-elect Sherrod Brown of Ohio to the late Sen. Paul Wellstone of Minnesota. "Sherrod has worked quietly and effectively to earn the trust of Ohioans, especially poor and working-class Ohioans," McChesney said in a blog. Karl Rove orchestrated a "million dollar attack mudball" campaign to re-elect Republican Mike DeWine, but it did not dent Brown's surge, McChesney noted.
Also noteworthy was the election of Rep. Bernie Sanders of Vermont to the U.S. Senate. Sanders, a progressive independent who describes himself as a socialist, handily beat businessman Richard Tarrant for the seat vacated by James Jeffords.
Ballot questions, including six statewide initiatives to raise the minimum wage and a stem cell research initiative in Missouri, played a major role in turning out voters. All the minimum wage measures and the stem cell initiative were approved. Also on the ballot in 164 cities and towns across the nation were ballot measures calling for an immediate end to the Iraq war. Nearly all were overwhelmingly approved.
However, reactionary ballot questions were also approved, including several banning gay marriage, an "English-only" measure in Arizona, and a measure crippling affirmative action in Michigan.
The Republicans resorted to dirty tricks as they schemed to hold on to power. In Tennessee, Harold Ford narrowly lost in his bid to become the first African American elected from the South to the U.S. Senate since Reconstruction. A racist ad sponsored by the Republican National Committee played a key role in Ford's defeat. In Virginia, GOP callers posing as neutral pollsters steered potential voters to wrong polling places.
But voters saw through many GOP scams and dirty tricks and delivered a crushing national defeat to the Republicans.