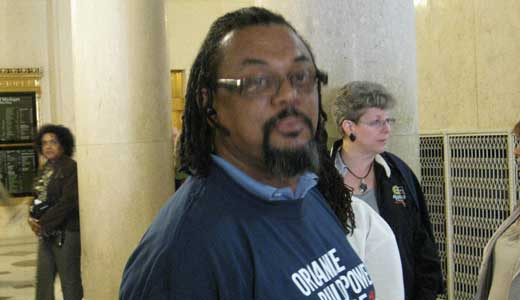 DETROIT – On Thursday the Michigan Court of Appeals heard arguments seeking to force the Secretary of State to place the voter generated repeal of Michigan's draconian Emergency Manager (EM) legislation on the November ballot. Attorneys representing Stand Up for Democracy, a broad coalition of labor and community groups, presented the case.
The EM legislation allows the Governor to appoint managers to govern cities in financial distress with the dictatorial powers to overrule council decisions and throw out previously negotiated union contracts. Its enactment generated a swift response as thousands of petitioners collected the necessary signatures to place the law's future before the voting public.
The appeal followed a shocking April 26th hearing where the Michigan Board of Canvassers deadlocked with a two – two vote to withhold certification of the petitions. Both Republicans voted to keep the measure off the ballot.
The excuse they gave showed their determination to block the referendum. The state Bureau of Elections, which staffs the Board of Canvassers, had concluded there were 203,238 valid voter signatures, 41,766 in excess of the minimum needed. However they declared the font size on the petition heading was not the correct "14 point" size.
They made that outrageous claim despite the sworn testimony of the petition's printer Bruce Hack, of Inland Printing, who confirmed the font size met all requirements.
Even more troubling is new evidence discovered that prior to the April Board of Canvassers hearing, the Secretary of State's office had consulted Michigan State Professor Chris Corneal, from the schools Graphic Arts Department. His conclusion that the petitions were printed with the correct font was never reported at the hearing.
As courtroom seats for yesterday's appeal quickly filled up, those not able to enter protested in the lobby of the courthouse.
"It's just so sad. Especially when you ask for 161,000 (signatures) and we get over 200,000," said UAW International Rep Oten Wyatt who was part of a large group of autoworkers who came to the appeal.
"It's voter suppression, they are trying to discourage people from coming out to vote in November," he said.
Today's appeal was heard by a three-member court. All three are Republicans with one being a member of the rightwing Federalist Society.
When asked what kind of democracy is this, Wyatt said, "It's the kind that says, I make the decisions and then everyone else do as I say."
A decision is expected next week.
Photo: Oten Wyatt of the UAW. John Rummel/PW