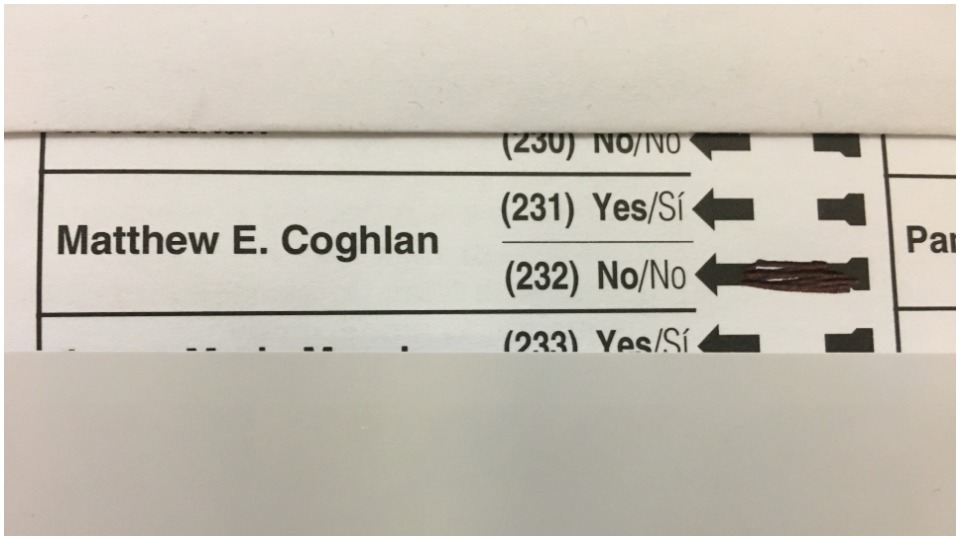 CHICAGO—For the first time in 28 years, citizens in Cook County have voted a judge off the bench. The involvement of Circuit Court Judge Matthew Coghlan, a former prosecutor, in the wrongful conviction of two Chicago men was the impetus for the campaign against his retention.
In order to keep his seat, Coghlan needed at least 60 percent of voters to support his bid for retention, but he fell short. Coghlan pulled only 52 percent of votes cast during the midterm election. Several Chicago-based organizing communities and grassroots collectives are taking credit for this electoral ousting.
Coghlan was first elected to the bench in 2000 after serving 13 years as a Cook County assistant state's attorney. He has faced heavy scrutiny in recent years for his involvement in the convictions of Armando Serrano and Jose Montanez in a 1993 murder case. According to the Judicial Accountability PAC, as a prosecutor Coghlan orchestrated the conviction of the two Humboldt Park residents for the murder of Rodrigo Vargas although there was no evidence linking either of them to the crime.
The sole testimony against Serrano and Montanez came from a witness who later admitted he gave false testimony after he was threatened, intimidated and abused by Chicago Police Det. Reynaldo Guevara. Lawyers for Serrano and Montanez say that Guevara coerced a witness, then arranged payments of cash and drugs and illegal conjugal visits. Coghlan was the leading prosecutor on the case at the time.
The two Chicago men were imprisoned for 23 years before being released in July of 2016 after the initial murder charges were dropped due to allegations of police and prosecutorial misconduct. The Illinois Appellate Court found that Serrano and Montanez's legal team presented evidence of "profoundly alarming acts of misconduct" and the two men were issued uncontested certificates of innocence.
Shortly after their release, the duo filed a joint lawsuit, alleging that Coghlan and Guevara fabricated evidence in the 1993 murder case. While Coghlan has denied involvement in the framing of Serrano and Montanez, mounting evidence against his credibility led several human rights organizations to oppose his retention. Progressive lawyers, community leaders, and activists formed the Coalition to Dump Matthew Coghlan.
The campaign was endorsed by a number of community-based organizing groups including Black Lives Matter Chicago, Chicago Votes, BYP100, and GoodKids MadCity.
In its first negative recommendation against a sitting judge in over 40 years, the Cook County Democratic Party encouraged citizens to vote NO on Coghlan's retention in its annual voter guide and in a 30-second video it circulated.
Injustice Watch's voter guide similarly pointed out that Coghlan is historically known for his harsh sentencing procedures and has received negative ratings from the Chicago Council of Lawyers. The guide, while making no recommendations of its own, focuses specifically on judicial seats. It highlighted the fact that several attorneys of color described Coghlan as "condescending and otherwise disrespectful toward non-white lawyers and defendants in his courtroom."
The mobilization of young voters in Cook County is creating a shift in electoral politics; many are denouncing the unconditional party loyalty of partisan politics. While Coghlan's particular history of corruption as an assistant state's attorney and biased sentencing as a judge made him unfit to sit on the bench, many other current judges on the ballot have coasted by unchallenged until now.
Both Serrano and Montanez have lost decades of their lives locked up in Illinois's prison system due to the wrongful convictions, due in large part to Coghlan's misconduct. They are determined to obtain justice.
Leading up to the midterm elections, Serrano spoke publicly about the need to enact meaningful criminal justice reform. "I hope that there is a change within the judicial system," he said. "These judges need to be held accountable, otherwise this will continue to happen."