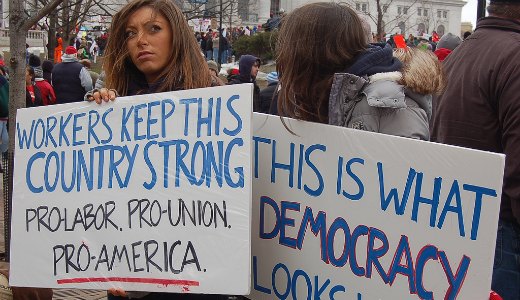 A recent string of special election losses may signal a warning to the GOP, which only last year swept into power in a massive surge. From New York to Florida there have been big upsets by Democratic candidates.
These elections, the first since the GOP victories in 2010, may serve as a warning to Republicans that voters aren't appreciative of their agenda, including Paul Ryan's (R-WI) plan to fundamentally alter Medicare.
On May 24th, Democrat Kathy Hochul scored a major upset in a special election for New York's 26th district, a traditionally Republican stronghold. Hochul beat out Republican Jane Corwin by a margin of 48 to 42 percent, with a tea party candidate garnering nine percent. Just last November, the Republican holding the seat won with 68 percent of the vote, and the seat has for the most part been a Republican bastion since the Civil War.
This special election, which was called after former Rep. Chris Lee resigned after shirtless pictures of him on Craigslist.com surfaced, seemed to center on the Republican Party's recent vote in the House of Representatives to turn Medicare into a voucher program. The Republican candidate stated that she would have voted for the Republican plan, a position that Hochul capitalized on: "We can balance our budget the right way and not on the backs of our seniors," she told the Wall Street Journal.
A New Hampshire special election brought another upset victory for a Democrat in a heavily Republican area. Democrat Jennifer Daler handily defeated her Republican opponent, Peter Kucmas, in what the New Hampshire Sentinel Source described as a "landslide victory." Daler captured 58 percent of the votes cast, and carried all five towns that comprise her district- despite the fact that the district has given the GOP a seven point edge since 2004.
Granite State Democrats say that this victory shows that the state's voters are unhappy with the GOP majority. In a statement, state Democratic Party Chairman Raymond Buckley claimed, "In one of the most Republican districts in the entire state, New Hampshire voters turned out in historic numbers to oppose this new out-of -control Republican majority." The GOP's agenda in the state includes bills to eliminate compulsory education (HB 542) and passing a House (HB 133) measure to repeal the minimum wage, among others.
In Maine, Cynthia Dill (D) crushed her Republican opponent Louis Maietta by a margin of 2-1 (5,056 to 2,405) in a May 10th special election to fill the Maine District 7 Senate seat of resigning state senator Larry Bliss. The margin of victory of this election is impressive when compared to 2010 when Bliss won by only 75 votes. This may be due in part to the Republican majority's plan to roll back several child labor protections.
On May 3rd, in the 94th Assembly District in Wisconsin, Democrat Steve Doyle beat Republican John Lautz 54 to 46 percent in a district that has been Republican for 16 years. Doyle made Gov. Scott Walker's successful push to strip public employee unions of their collective bargaining rights a big part of his campaign. "I've heard a lot of comments at the door with regard to Gov. Walker… They're looking for bipartisanship, not dictatorship" Doyle said, according to the Associated Press.
This race may give Democrats hope for the upcoming Wisconsin senate recall elections that are coming this summer in response to the union-stripping legislation. In fact, the 94th District sits entirely within the 32nd senate district, which is up for recall this summer.
In Florida, Democrats have seized victories in the Mayoral races of Jacksonville and Tampa.
In Jacksonville, Democrat Alvin Brown is the first Democrat to be elected in the city since 1991, and the first African American mayor in the municipality's history. Elected on May 17th, he narrowly defeated his opponent by a margin of little over 1,000 votes.
Democrat Bob Buckhorn captured the April 1st Tampa mayoral runoff race with a commanding 63 percent of the vote in a race with an unusually high voter turn-out- 600 more than in the original March 1st vote according to the Tampa Tribune. Buckhorn was sworn in Friday as the city's 58th mayor, replacing outgoing mayor Pam Iorio. To combat the city's $20 million deficit, Buckhorn plans to balance the budget using a combination of cost controlling measures, as well as expanding the tax revenue base.
The losses in Florida may be due in part to the extreme unpopularity of their new Republican governor, Rick Scott. According to a May 25th Quinnipiac University poll, 57 percent of Floridians disapprove of his performance so far, the worst score of any governor in the nation.
Florida's is a retirement spot for many seniors who are worried about all 19 of Florida's GOP House members having voted with the Ryan plan that turns Medicare into a voucher program.
Overall, it would seem that voters are displeased with the agenda that they have seen so far with the Republican Party that they brought back to life in 2010. Whether or not the Democrats can continue this trend through 2012 will be remain to be seen.
Image: People's World