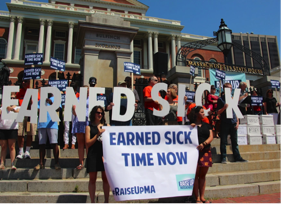 As pundits begin to analyze the 2014 midterm election results, there will likely be as many questions as answers. But on one issue – paid sick days – the lesson from Tuesday could not be clearer: No worker should have to choose between missing a day's pay and caring for their health or the health of a family member. In the biggest election for paid sick days in history, voters in four locations – Massachusetts; Montclair and Trenton, N. J.; and Oakland, Cal. – all passed ballot initiatives guaranteeing paid sick days to a million additional workers. The victories cap a historic year in which the number of locations and workers with access to paid sick days has nearly tripled. With Tuesday's victories at the ballot box, three U.S. states and sixteen cities have passed paid sick days legislation – including two states and ten cities in 2014 alone. And additional wins are on the horizon, including in Chicago and Tacoma, Wash., and a number of states.
Behind every win Tuesday, a broad and diverse coalition of workers, community groups, small businesses and faith allies made an unbeatable argument for paid sick days. Workers in New Jersey shared heartbreaking stories of having to miss work to care for a sick child. Oakland small business owners explained how offering paid sick days reduced turnover and boosted their bottom line. Health care practitioners in Massachusetts highlighted the numerous public health benefits of the policy.
While industry-backed lobbyists took to the airwaves to spread misinformation, Family Values at Work partner coalitions took to the ground, building unprecedented education and turnout campaigns. Activists gathered hundreds of thousands of petitions and contacted more than one million voters. In short, voters didn't just support paid sick days, they demanded them. And they won them. There is political power in paid sick days.
Massachusetts
Paid sick days was a leading story throughout the Massachusetts election, with one Boston Globe columnist noting that the "campaign seemed to be generating more enthusiasm than either candidate topping their party ticket." In fact, voters' consistent and strong support for the measure – polls showed a 25-point plus margin – even led Republican gubernatorial candidate Charlie Baker, initially opposed to paid sick days, to introduce his own alternative proposal in September.
The groundwork for the victory began in 2013, when the Raise Up Massachusetts coalition collected a record-breaking 250,000 signatures to put a higher minimum wage and earned sick time on the 2014 ballot. The campaign continued throughout the year and into the fall, gaining the attention of the Associated Press and Boston Globe, among others, for its extensive organizing work. Just days before the election, the coalition announced it would reach 1.5 million Massachusetts voters about Question 4 by election day – the largest effort for a ballot referendum in the state's history.
New Jersey
Two New Jersey cities – Montclair and Trenton – passed ballot initiatives allowing workers who provide food service, child care or home health care, or who work for companies with 10 or more employees, to earn up to 40 hours of paid sick leave each year. All other employees would have access to up to 24 hours. The victories follow a historic streak of wins in New Jersey – called the "biggest wave of paid sick days victories ever" by one national media outlet – that includes Paterson, Irvington, East Orange and Passaic.
In October, the New Jersey coalition launched public education and get out the vote campaigns in Trenton and Montclair. Several prominent national figures weighed in supporting their efforts, including Anne-Marie Slaughter, who wrote an October column in the Star-Ledger "encouraging all residents in Montclair and Trenton to vote 'yes' on paid sick days." Last week, momentum at the local level spurred the state Assembly to advance the legislation, setting up a potential facedown with Governor and possible 2016 presidential candidate Chris Christie. In total, more than 100,000 New Jersey workers have gained coverage under local paid sick days laws passed in recent weeks, and success in Montclair and Trenton adds another 20,200 workers.
Oakland
Oakland residents passed a ballot initiative – proposition FF – that will increase the city's minimum wage to $12.25 and ensure that workers can earn paid sick days, either nine or five depending on the size of their employer. The measure, modeled on the successful policy in San Francisco, would help 56,000 private sector workers who currently don't have access to a single paid sick day. And it goes well above the minimum number of paid sick days recently passed by the State of California.
Lift Up Oakland, the diverse local coalition, led a widespread voter outreach effort, gathering more than 33,000 signatures, successfully stopping a competing measure, and knocking on thousands of doors in the final days of the campaign. Throughout the election, polling showed strong support from Bay-area voters for the proposal, which was backed by the United Way of Bay Area, and dozens of small businesses and community organizations. Research from the University of California Berkeley finds that the measure will put $120 million in workers' pockets, benefit the local economy, and have no negative impact on employment.
For further information, see: http://familyvaluesatwork.org/