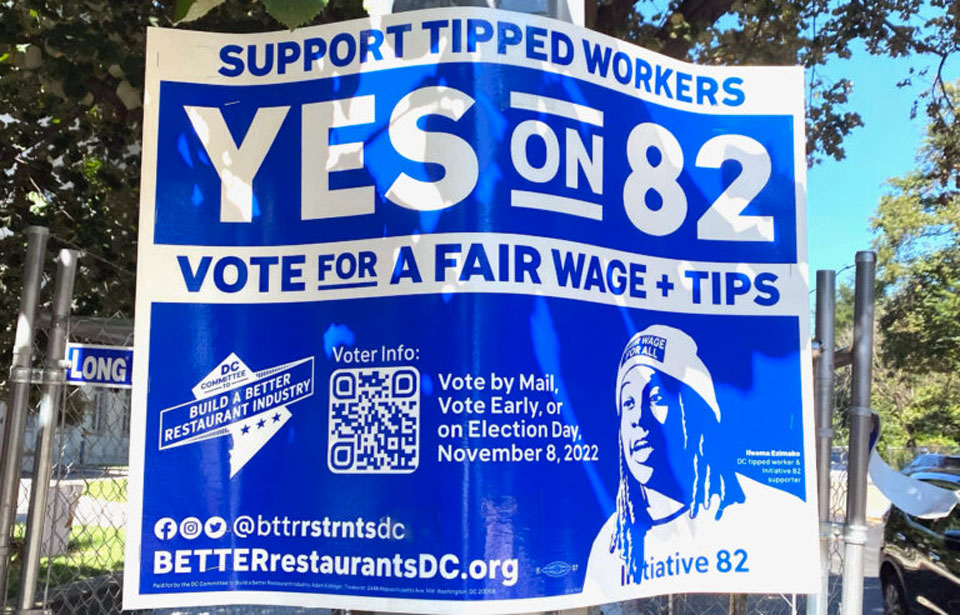 WASHINGTON—On Nov. 8th, voters in the District of Columbia will have the opportunity to vote "yes" or "no" on whether tipped workers (such as restaurant servers, bartenders, nail salon workers, and parking attendants) who currently earn $5.35 per hour can have their wages increased to the current minimum wage in D.C. of $16.10 an hour.
This is not the first time this issue has been voted on as Initiative 77 was on the ballot on June 19, 2018, and would have raised the minimum wage for tipped workers to match the citywide minimum wage. It was approved by a vote of 55% in favor and 45% opposed with overwhelming support in every ward but one throughout the city, with the highest support in predominantly Black wards.
The Washington, D.C., Council voted 8-5 in favor of legislation to overturn Initiative 77 on October 2, 2018.
Council Chair Phil Mendelson made the following statement about repealing Initiative 77 after voters approved it in June of 2018: "The Council amends laws all the time. And if a law is a bad law it should be amended or repealed. It doesn't matter if the law was adopted by Congress, the voters, or ourselves." Council sponsors of the bill to overturn the scheduled wage increases for tipped employees under Initiative 77 were:
Voters should keep this list in mind when they cast their votes on November 8 for races on the ballot, particularly the Council-At-large race which is one of the most competitive.
Now the supporting organizations of Initiative 82 believe that there are more pro-worker members on the City Council and do not expect a majority electorate vote in favor will be overturned.
To obtain a worker perspective we reached out to Ryan O'Leary who is responsible for seeing that Initiative 82 reached ballot status. Ryan has lived in D.C. for 12 of the last 13 years and has experience as a restaurant server in D.C. and elsewhere. (This interview is edited for clarity and length).
PW: Do you think the pandemic has had an impact on the support for this measure by restaurant workers?
Ryan O'Leary: COVID changed things. I worked at the Hamilton, owned by Clyde's and was the second highest grossing restaurant in D.C. I was laid off with everyone else – no severance, no health benefits. I found out that the bussers and dishwashers, many of whom were immigrants, were told by management when they asked, that they were not entitled to Unemployment Compensation because of their immigrant status. Since I knew this was wrong, I contacted many of these employees and helped them through the application process.
When workers went back to work they expected to be paid a livable salary, particularly when they received unemployment when they were not working that was often more than they were earning when working.
Restaurant workers are in a constant state of worry – not knowing from week to week what they will be earning. One week can be great and another poor so you don't know whether you will have enough to pay rent. They are always living on the edge.
Management has total control so if you piss them off or are considered a difficult employee you can have shifts cut and not be able to do anything about it.
I think there has been a shift with how workers view their job and more are supportive of Initiative 82 than when the issue was on the ballot before. Also, D.C. has moved more to the center left than a few years ago and particularly with younger people moving in that direction and them being the largest pool of restaurant workers.
In addition to wages, are there other working conditions that restaurant workers are concerned about?
The restaurant industry has the highest rate of sexual harassment of any industry in the country. An indirect benefit of the passage of tipped worker legislation is that in places where it has already passed sexual harassment is half of what it is in other places. While there are a lot of serious working conditions that need to be addressed the first and foremost are wages.
There are, as we have discussed, some unique aspects of being a tipped worker.  Do you see this as a working-class issue?
IWW (Industrial Workers of the World) has said that restaurant workers, incarcerated workers, and sex workers are the hardest to organize. Interesting that restaurant workers are included here. There is no protection from an employer firing you.
What other information do you think is important for people to know about Initiative 82 and how can folks help in the last days before the election?
In places where similar laws have passed there has not been much (if any) of an increase in menu prices and I know friends of mine who were opposed to this legislation in the past who moved to LA and have found that people continue to tip, which had been their fear. There is no evidence that the scary things that the National Restaurant Association has been publicizing will happen.
The Metro D.C. Central Labor Council (AFL-CIO) has endorsed and agreed to knock on 15,000 doors; Unite Here has endorsed. (According to the website of the D.C. Campaign to Build a Better Restaurant Industry the following are a few of the organizations that have endorsed: Claudia Jones School for Political Education; Jews United For Justice; Coalition of Labor Union Women, Metro D.C. Chapter; Communist Party USA, District of Columbia Club; Democratic Socialists of America; Gay and Lesbian Activists Alliance; Asian Pacific American Labor Alliance; One Fair Wage; SEIU 1199; National Domestic Workers Alliance, National Consumers League). If you can work with your union, you should and the Metro D.C. Democratic Socialists of America are doing canvassing every weekend. You can also donate to the campaign.
You can find more information here on how to donate and volunteer: https://betterrestaurantsdc.org/