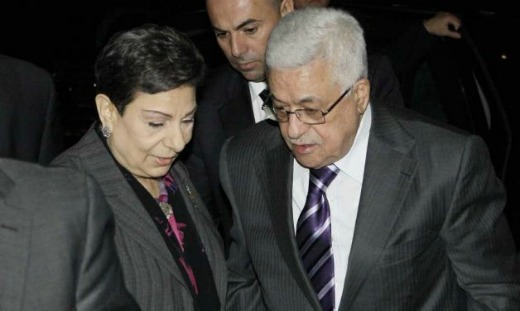 This week, Palestinian President Mahmoud Abbas is taking the Palestinian people's case for statehood to the United Nations.
The UN granted Palestine non-voting observer status as a non-state entity in 1974. Palestine has been recognized as a state by 122 UN member nations. In the 1993 Oslo Accords, Israel recognized the Palestine Liberation Organization, which Abbas heads, as "representing the Palestinian people" in exchange for the PLO's recognition of Israel.
Now, on behalf of the Palestinian people, Abbas will be requesting full UN membership. The action has spurred a flurry of backdoor diplomatic efforts by Israel, the U.S. and some others to prevent Abbas from making the request.
The Obama administration has said it will veto the initiative in the Security Council, and some in Congress have threatened to cut off aid money to the Palestinian Authority – aid that was initiated by none other than President George W. Bush. Israel has threatened to disrupt the Palestinian Authority by withholding Palestinian tax money that it collects as the occupying power.
Why?
Numerous polls have shown that a majority of Israelis, Palestinians, and American Jews as well, favor a two-state solution to resolve the longstanding Israeli-Palestinian conflict with peace, justice and security for all.
Yes, a UN vote to grant full member status for Palestine would be only a symbolic move. Serious negotiations are necessary in order to make that state a reality. But after repeated Israeli sabotage of recent negotiating efforts by both the U.S. government and the Palestinians, including open snubs to both President Obama and Vice President Joe Biden, who can criticize the Palestinians for taking their case to the international community?
For 20 years, since the Oslo Accords, Israel has taken unilateral actions in building settlements in the Palestinian West Bank and East Jerusalem, blockading Gaza and erecting an apartheid so-called security wall that has disrupted Palestinians' lives and livelihoods. These actions have provoked violence on the part of fringe Palestinian groups, which the Israeli government has then used to justify further provocative steps. And these actions create "facts on the ground" making a viable Palestinian state virtually impossible.
This gives a hollow ring to the Israeli right-wing government's charges of Palestinian "unilateralism" at the UN.
Looming large in all the sound and fury over the UN vote on Palestine is the 2012 U.S. presidential election. The Obama administration is under heavy pressure from an unholy alliance between right-wing Israeli leaders led by Prime Minister Benjamin Netanyahu, their supporters in the U.S., and right-wing Republicans. It's a disgusting sight to see U.S. Republicans, who whipped up the Nazi-like tea-party movement, now opportunistically portraying themselves as "friends" of Israel and Jews. It's sad to see some ordinary Americans misled by such posturing. It's sad to see the White House and Congress cowed by this far-right drive, so harmful to Mideast peace and to the interests of Americans, Israelis, Palestinians and people everywhere.
But the reality is, there is a well-funded right-wing offensive to retake the White House and lock in control of Congress in 2012. As part of this offensive, the Republicans and their anti-Obama allies are seeking to attract Jewish American voters, who supported Obama in 2008 by 78 percent. The right-wing cabal is now latching onto to the obviously false claim that Obama is guilty of "soft" support for Israel. Just look at how right-wingers, including former New York Mayor Ed Koch, a Democrat, worked to use the recent special congressional election in Brooklyn and Queens to "teach President Obama a lesson on Israel."
Earlier this year, Netanyahu rebuffed President Obama's attempts to restart negotiations, his urging to stop new settlement building and most recently, his statement that 1967 borders are a starting point in negotiations, a long-standing U.S. foreign policy position and one broadly accepted in the international community.
In a public swipe at the president, the GOP-dominated House of Representatives invited Netanyahu to give a speech on Israel and the 1967 borders, which Netanyahu obliged willingly.
As the NY Times puts it, there is an "ever-tightening relationship between the Israeli government and the Republican Party that now controls the House."
Republican presidential candidates are getting into the act. This week, Rick Perry stood with advocates for Israeli annexation of the West Bank. Michele Bachmann said Israel should never give up any land on the West Bank.
Yes, the Obama administration is in a tough spot on the Palestinians' move for full UN recognition. A Palestinian state and the chance for peace in the Middle East are long past due. Yes, ultimately real negotiations are necessary to achieve peace. But a veto of the Palestinians' UN effort would further damage U.S. standing in the world, especially in the Middle East tinderbox. It would reduce our ability to help bring about a just and peaceful solution, and possible inflame violence instead.
Our country needs to stand for peace, security and justice for all people. And ultimately, it's up to us, the American people, to build a strong and broad movement to expose and defeat the right wing in all its manifestations.
Photo: Palestinian President Mahmoud Abbas, right, is greeted by Hanan Ashrawi, left, Palestinian legislator and activist, as he arrives in New York, Sept. 19, to attend the 66th General Assembly session of United Nations, where he will make the case for Palestine's membership in the international body. (David Karp / AP)