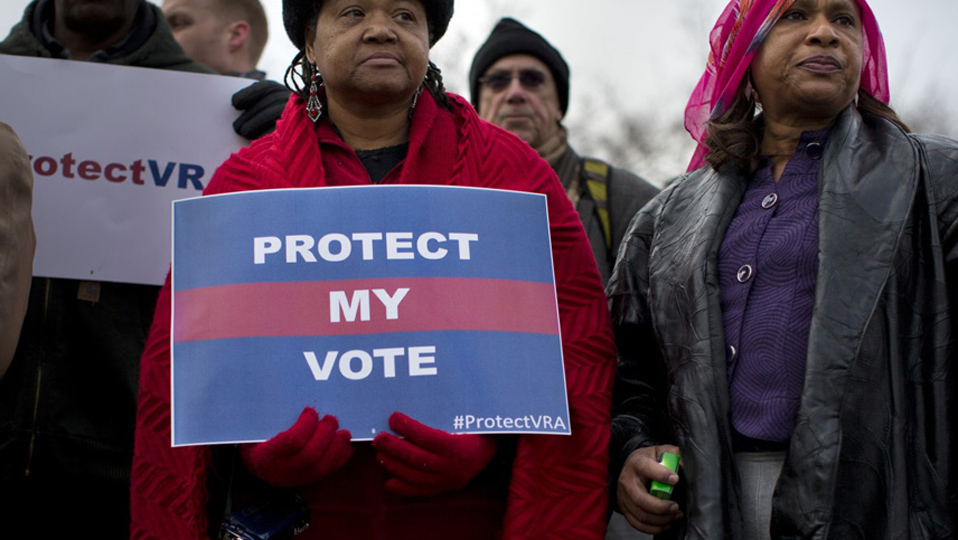 WASHINGTON (PAI) — Advocates of enforcing and advancing voting rights for minorities, women, students, the elderly and the poor, faced with an incoming hostile GOP government, are pondering strategies to defend and add voters nationwide.
And whether they succeed, even without the federal Justice Department on their side, will be important for workers, said one top advocate, the Rev. Jesse Jackson.
"It's not just civil rights" that are in danger by lack of voting rights, the veteran civil rights leader told the crowd at the Brookings Institution forum on Jan. 11. "It's Roe v Wade"—the Supreme Court ruling legalizing women's reproductive rights—"and workers' right to organize."
That all three are in danger is a demonstration of "how deep and profound Confederate ideology is" with Trump in the Oval Office and Sen. Jeff Sessions, R-Ala., as his attorney general, Jackson said.
Speakers at the forum reviewed the history of the Voting Rights Act, originally passed in 1965. The 5-man GOP-named U.S. Supreme Court majority in a case from Shelby County, Ala., gutted a key enforcement provision several years ago.
That case tossed the law's "pre-clearance" section. Pre-clearance forced governments—most but not all in the South—with histories of past discrimination to get prior federal OK of changes in election laws and conditions that affect minorities and their rights to vote.
The Shelby County ruling left the Justice Department only with the option of attacking the most blatant discrimination, illegal under a broader VRA section. That section forces DOJ and civil rights groups to prove discrimination, rather than forcing the governments involved to prove that they don't.
Panelists said after Shelby County, GOP-run states, using the excuse of "preventing" vote fraud, passed a horde of so-called "Voter ID" laws. The secretive pro-business right-wing American Legislative Exchange Council drafted many of those statutes.
The "voter ID" laws set strict requirements that voters show specific government-issued identification in order to vote, while barring other IDs. The laws let governments make voting precincts inaccessible, redraw congressional and legislative district, cut early voting, and take other measures to eliminate voting by minorities, women, workers, the elderly and students, panelists said.
"We had poll taxes," said Hilary Shelton, Washington director of the NAACP, referring to high fees to get drivers' licenses, often the only recognized ID. There was "even a count-the-jellybeans test…Every time we did it, we got it wrong. Every time they did it, they got it right."
The Obama administration's Justice Department challenged several of the voter ID laws under the broader VRA section. It got the North Carolina law tossed after uncovering evidence of specific anti-black targeting, and it convinced courts to overturn Virginia's redistricting.
Parts of the Texas law, making it harder to register, were also tossed. A federal court in Wisconsin threw out its law, though its decision was later reversed. And civil rights groups convinced Pennsylvania's Supreme Court to kill its GOP-run legislature's "voter ID" law.
The panelists do not expect the same voting rights advocacy from a Sessions-run Trump administration Justice Department. So they advocated lobbying, mobilization, marches and politics.
"In 2017-18, we have 38 governors' races, so getting voters prepared" for them "is very important," said Stefanie Brown-James, a top Obama 2012 campaign official. Governors and state lawmakers will draw new legislative districts after 2020, determining who represents you in state houses and Congress.
Brown-James also suggested voting rights advocates should run as Republicans, too, to break that party's right-wing tilt. "I live in Ohio and we can't just spend money on mobilization and marching," she added.