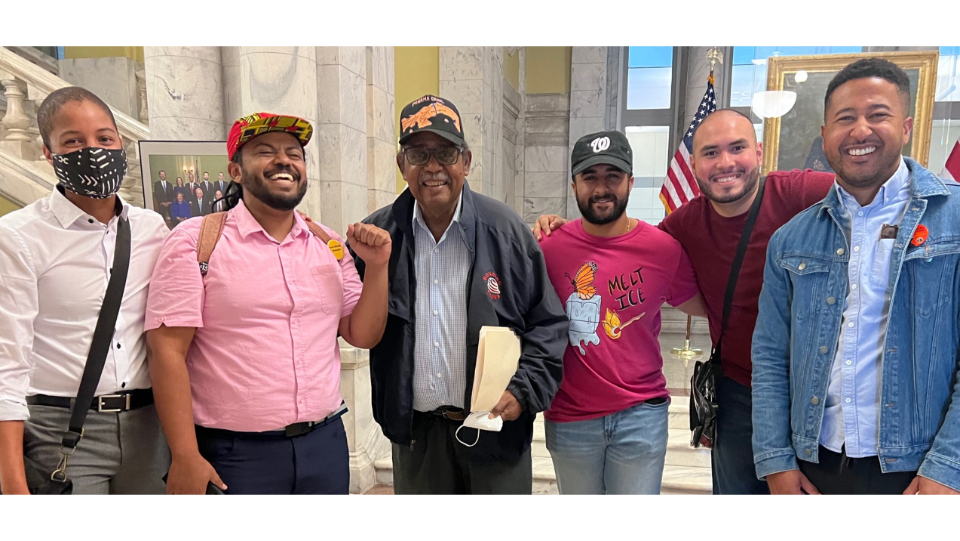 WASHINGTON—Last week, D.C. councilmembers voted 12-1 in favor of the Local Voting Rights Amendment Act, which will expand local elections to all residents of D.C. regardless of citizenship status. Only outgoing Ward 3 Councilmember Mary Cheh voted against the bill, using anti-migrant rhetoric in her reasoning and pointing to the bused migrant crisis. She tried to raise the fear that bused-in immigrants will be able to vote in elections after 30 days if they settle in D.C.
The bill faces one final council vote in early November before hopefully heading to the mayor's desk for signature. People's World met with Kush Karod, a leading organizer of the D.C. Local Voting Rights Coalition, to discuss the bill and its potential impact. Karod has been fighting for this legislation along with other allied organizations and organizers in the community.
People's World: Could you tell us a little bit about the background of the Local Voting Rights Amendment Act in D.C., its history, and its main proponents?
Kush Karod: The Local Residents Voting Rights Act has been debated for close to a decade! A version of this bill was first introduced in December 2013 by Muriel Bowser, the current mayor, when she was the Ward 4 councilmember. The bill was introduced again in January 2015, January 2017, October 2019, and June 2021.
The lead sponsors went from Councilmember (CM) Bowser to CM Grosso to CM Nadeau and had solid support from others every time, but never enough to pass. Throughout all these efforts, the bill has never made it past the committee vote. In June 2021, Nadeau became the new lead sponsor and introduced the bill again with CMs R. White, Allen, Pinto, Lewis George, Henderson, and Silverman.
Back in 2013, our movement was not as strong as it is today…not enough pressure to pass. Anti-immigrant sentiment was still strong, and this policy was considered too radical. There was solid opposition to this fight every single time, resulting in councilmembers not progressing the bill forward. However, so many organizers worked tirelessly to make this a topic for so many council sessions until 2021. It took ten years for our long-term strategy to finally pay off.
What will this law do if passed, and what communities will it affect?
Once enacted, this law will drastically change the power structures in the city. For generations, Black and brown people, especially immigrants, have been ignored by politicians across the country. Immigrants tend to be a part of the same communities that are hurt the most by climate change, police brutality, workplace harassment, and the housing crisis due to racist and xenophobic public policy. This law seeks to finally repair those harms.
The Local Residents Voting Rights Act will grant the opportunity to vote in local elections to ALL residents, including green card holders, TPS, DACA, and undocumented neighbors. We think it's simple, if you live here and go to work, go to school, use our parks, ride the bus, enjoy local festivals and events, start businesses, and pay your fair share of taxes, you deserve a say in what your community looks like—regardless of what your legal status is.
One in every seven D.C. residents is an immigrant, so this bill will have a big impact on thousands who previously did not have a say in our political process. We can elect an immigrant to the council or the mayor's office, as we don't [currently] have that representation. We could pass more pro-immigrant policies through the council using our growing people power. We have a true opportunity to shift who has power in this city from the rich to immigrants and working-class people.
Will the recent New York State Supreme Court decision overruling Our City, Our Vote's historic win on a similar bill in New York City affect implementation of this bill in D.C.?
The decision in New York is disappointing. Just like D.C., New York is home to so many immigrants and Our City, Our Vote's historic win was an inspiration to so many of us who sought the same for our cities.
However, we plan to not face the same outcome. Because we are not a state, it is difficult for the opposition to use the same methods they did in New York. The legislation was drafted knowing that such a legal fight may happen, so the language is very intentional to make sure we don't contradict previous law or give space to the opposition to repeal such a historic win.
We will work tirelessly to prevent such an outcome from happening because the immigrants of D.C. and all over the nation deserve better. We lost the battle in New York, but we keep fighting.
What is the status of the law right now? And what can progressive forces do to make sure it gets enacted as law and enforced?
Before July, this legislation said that only green card holders would be allowed to vote alongside citizens. We, the organizers, from the beginning, wanted this bill to include all legal statuses. We started a campaign where we advocated including everyone and passing it by the end of the year. In July, we mobilized people for a hearing where close to 50 people testified in support of the legislation, all demanding the same things we did.
This September, our organizing worked. The legislation was put up for a vote and expanded to all residents. This was an incredible win, not just for the organizers who worked on this, but for the immigrant community as a whole. On Sept. 27, we had our first vote in the Judiciary and Public Safety Committee, and it passed unanimously—after ten years of failing! On Oct. 4, we had the first whole council vote (out of two), and despite a push by a councilmember to hurt the bill arguing immigrants may not have a "connection on a cultural level," we persevered, and the vote passed 12-1.
We are beyond proud of the work all of us have done together to push this bill to where we are right now. We all gave a lot of energy to mobilize support and pressure politicians, so it is incredibly heartwarming to see love pour out for our immigrants, as this historic bill is overwhelmingly supported by the Council.
However, we are not done. The second whole council vote is Oct. 18, and we need as many people as possible to email and call councilmembers before the vote. If this bill teaches us anything, it's that each of our voices is powerful and should be used in fights like these.
If it is enacted, could D.C. be a model for communities elsewhere to fight for municipal voting rights?
When enacted, we hope D.C. can be a model for communities all over the world to continue fighting for voting rights in their neighborhoods. Everyone deserves a say in their local matters, and we strive to make D.C. an example for so many who want the same for their communities.
We must add that the fight is just beginning. We are seeing a rise in anti-immigrant sentiment, and if certain politicians have their way, we will see even more harmful policies that will hurt our neighbors. If we care about our immigrant neighbors, we must be just as aggressive to fight for affordable housing, safe streets, and better wages as we are for granting the right to vote to all legal statuses.
We must support migrants with resources as they are bused by Republican governors to various parts of the country as a political stunt. We must seek a tomorrow that is focused on care and love, rather than policing and punishment, where all of our needs are met, not only for the ones at the top.
We hope people can draw inspiration from D.C. to demand voting rights for all their neighbors, but we dream that they use our success as a building block to create an even more beautiful future for their community.