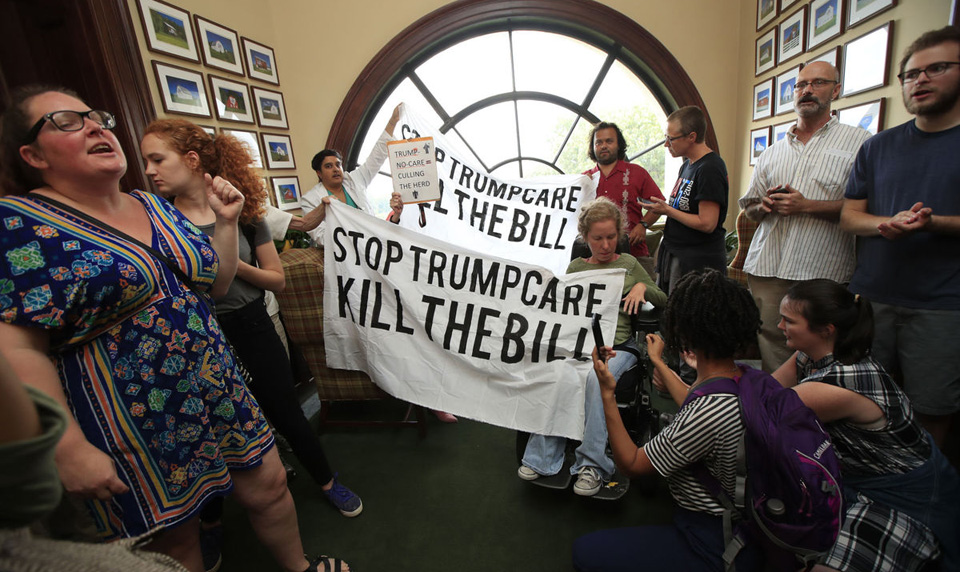 Some Republican senators are facing criticism for sending mixed messages with their votes during last week's rapid-fire, three-vote attempt to dismantle the Affordable Care Act.
Sen. Shelley Moore-Capito, R – W.Va., has upset some of her constituents by voting for the "skinny repeal" of the Affordable Care Act that would have left up to 16 million without health insurance after saying "I did not come to Washington to hurt people… I cannot vote to repeal Obamacare without a replacement plan that addresses my concerns and the needs of West Virginians."
Monday, Communications Workers of America (CWA) sent out a letter written by Elaine Harris, international staff representative of CWA District 2-13, which includes West Virginia, reacting to the vote.
"Unfortunately, it's hard to reconcile her important goal with [her] vote last week in support of the Health Care Freedom Act," reads the statement. Her colleague, Sen. Joe Manchin, D – W. Va., voted against the Health Care Freedom act saying, "The only way to fix what is wrong with the Affordable Care Act is to work together in a bipartisan way to improve the system for all Americans."
Echoing the sentiment, Harris' statement goes on to say, "We hope that Sen. Capito will work with Sen. Manchin in a new and bipartisan fashion to promote constructive improvements to the ACA and to earn back the trust of her constituents in the process."
With the future of health care policy still uncertain, Sen. Moore-Capito is just beginning to feel the heat of a rising fire that may engulf her party come the 2018-midterm elections.
Sen. Rob Portman, R-Ohio, voted for the "skinny repeal" after voting for Repeal and Replace and against the partial repeal.
"If it is a bill that simply repeals Obamacare, I believe it will add more uncertainty and the potential for Ohioans to pay even higher premiums, higher deductibles," he said on MSNBC. The "skinny repeal" bill was estimated to cause premiums to increase by 20 percent.
Portman, a supposed "moderate," stood up for Ohio Gov. John Kasich when he expanded Medicaid under the Affordable Care Act (something Republican governors across the country rejected for ideological reasons).
"Portman's two 'yes' votes this week – first, to open debate on a Republican bill to repeal and replace Obamacare and, later, to pass a "skinny" repeal of Obamacare… were disappointing," reads an editorial from the Cincinnati Enquirer (a conservative-leaning newspaper).
"This could have been an opportunity for Portman to stand out by pushing for a bipartisan solution. Instead, he only managed to undermine the bold stance he'd taken earlier on Medicaid expansion."
Sen. Dean Heller, R – Nev., is considered the most vulnerable Senate Republican and his decision to vote to open debate on the Senate's healthcare bill drew a firestorm on social media, resulting in over 6,000 responses to date.
John Ralston, editor of The Nevada Independent, explained Heller's reputation and some of the problems he'll face in November of 2018 to Nevada Public Radio, saying Heller had "managed to do the impossible."
"He has infuriated people on the right by not voting for the full repeal or even the partial repeal that came before the 'skinny repeal' but the left… is absolutely apoplectic about him voting yes at the end. Remember, he cast the initial vote to proceed to debate. If he had voted no, none of this would have ever happened."