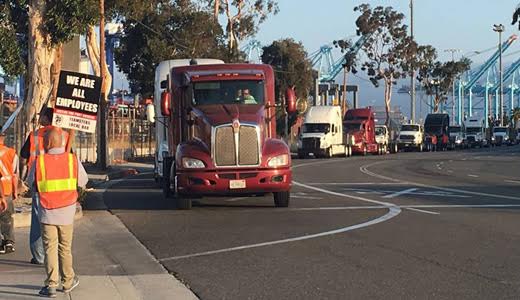 LOS ANGELES-LONG BEACH, Calif. (PAI) – Can you imagine working five weeks in a row and earning nothing?
That's what happened to Humberto Canales, one of several hundred Los Angeles-Long Beach port truckers forced to strike – again – in early June. Their 6-day walkout, spearheaded by the union they want to join, Teamsters Local 848, ended June 6.
The L.A.-Long Beach truckers are part of the nationwide mass movement of low-paid workers, including restaurant workers, fast food workers, retail workers and Walmart workers, who have had it and have taken to the streets to demand decent wages and the right to organize without illegal employer interference, harassment, intimidation and firings.
"I haul cargo from the Ports of L.A. and Long Beach to the warehouses of America's largest retailers," Canales explained in an open message to Internet users, urging them to sign a protest petition to both local officials and the firms involved.
"Recently I worked five full weeks in a row but took home exactly $0 each of these five weeks because my employer-XPO Cartage-falsely labels me as 'self-employed' so they can deduct the cost of diesel fuel, truck maintenance, insurance, and lease payments from my paycheck," he added.
The cartage firms have been misclassifying their drivers as "independent contractors" for years, despite driver protests and California court and state rulings against the practice.
Misclassifying truckers as "independent contractors" not only lets the company get away with forcing them to pay for their own fuel, maintenance and insurance, but also lets the firms get away with not paying Social Security and Medicare withholding taxes, unemployment insurance and workers comp.
And "independent contractors" don't have the right to organize and join a union, either.
But it's not just the truckers who were forced to walk out from May 31-June 6. Cal Cartage fired warehouse worker Fusto Torres on May 2, along with 100 other workers, "for demanding our rights and an end to wage theft." Before, he moved goods for Amazon.com. "The Port of L.A. must ensure that Cal Cartage follows the law on port property" – the port owns the land under the warehouse-or bring in a warehouse operator who will," Torres says.
The latest campaign, also run by the Change To Win organizing center, culminated with a June 6 march through south Los Angeles to the Cal Cartage warehouse. Besides Cal Cartage and XPO, the workers also were forced to strike Intermodal Transport, another cartage firm.
The latest forced strike, the 13th in the past two years, has produced results as other cartage firms in the L.A.-Long Beach area have come to agreements with the Teamsters, recognizing the truckers and warehouse workers as "employees" with the right to organize and join unions, said Fred Potter, director of the Teamsters' port division.
Potter told the American Journal of Transportation that more than 40 percent of Los Angeles-Long Beach harbor trucking companies now treat their drivers as employees, provide them with regular W-2 income forms, pay them negotiated wages and benefits and provide workers' comp.
Photo: Port of Los Angeles picket lines expanded and strike organizers say trucks filled with imported cargo were backed up from the L.A. and San Diego ports to the Mexican border. Justice for Port Drivers, Facebook