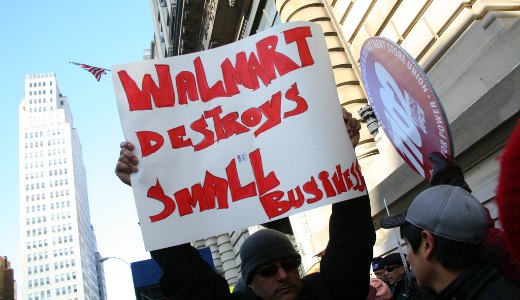 Wal-Mart conducted a massive, illegal, $24 million bribery campaign in Mexico to aggressively expand its operations there, and then, when presented with the evidence, moved to cover up its actions, the New York Times reported April 22.
But even as the company was conducting phony internal investigations and citing its record of corporate ethical responsibility, it was conducting a similar campaign, involving lavish use of funds, to force itself into another untapped market: Chicago and in particular its African American communities.
In the Mexico bribery scandal, the Justice Department is looking at charging Wal-Mart with violation of the Foreign Corrupt Practices Act, which makes it a crime for American corporations and their subsidiaries to bribe foreign officials.
But in this country, says Chicago labor activist James Thindwa, there are no laws to criminalize Wal-Mart's practice of "open bribery," often targeting key community groups and state and local legislators with "donations," to help the company advance its agenda.
In 2006 it set up "Working Families for Wal-Mart," hiring civil rights legend Andrew Young at a reported $1 million a year, to press support for Wal-Mart and opposition to living wage ordinances and unions in low-income communities. Participants recruited by the group, the New York Times reported at the time, "have, among other things, spoken in favor of Wal-Mart at zoning meetings and testified before a federal agency reviewing Wal-Mart's application to open a bank."
Thindwa says Young "moved around the country neutralizing African American organizations" who might have supported labor-backed "living wage" bills aimed to protect the community against Wal-Mart's notorious low-wage practices. In Chicago, Young hosted a lavish "clergy luncheon" to help enlist black ministers to Wal-Mart's side.
On July 20, 2006, prominent South Side black pastor Leon Finney turned out 1,000 community members to rally against a City Council living-wage bill. The Chicago activists say Finney and/or his organizations received $50,000 worth of donations from Wal-Mart. In fiscal year 20007-8, Charles Holley, a Wal-Mart executive vice president, wrote Finney's community service group the Woodlawn Organization a company check for $25,000, the Chicago Reader reported.
Eventually, backed by then-Mayor Richard M. Daley and other powerful forces, and some of those same clergy, Wal-Mart succeeded in opening its first Chicago store. Subsequently, in opening another store in the Lakeview neighborhood, home to a large gay and lesbian population, the company bestowed donations on a number of well known gay and lesbian community organizations. It has moved as aggressively to expand in the city as it did in Mexico, with plans to open some 100 stores in Chicago.
In Mexico, says the Times, "They targeted mayors and city council members, obscure urban planners, low-level bureaucrats who issued permits – anyone with the power to thwart Wal-Mart's growth." The bribes, a former Wal-Mart de Mexico executive told the Times, "bought zoning approvals, reductions in environmental impact fees and the allegiance of neighborhood leaders."
Janel Bailey, campaign coordinator for Chicago Neighborhoods First, said in response to the Mexico bribery allegations against Wal-Mart, "When we see the means by which they are getting that done, it is raising questions about what is being done in Chicago."
Chicago Neighborhoods First is a labor, community and small business coalition seeking to "preserve and amplify neighborhood voices in how economic development proceeds in their communities."
The group says, "Neighborhoods need to be proactive in ensuring their community reflects their needs, rather than the wishes of outside corporations. One of the biggest threats to local living economies is the entry of global retail corporations."
On April 25, coalition members and Wal-Mart workers went to the office of local Wal-Mart board member Linda Wolf to present her with a "D-Day" disciplinary action slip for her negligence as a board member. The group says Wal-Mart's cover-up actions, even promoting the man who was the ringleader of the Mexico bribery, "shows that Wal-Mart doesn't care if its actions are ethically or legally wrong – as long as there are profits."
Bailey called Wal-Mart's approach "predatory capitalism," undermining workers' living standards and putting small businesses out of business in pursuit of ever-higher stock prices.
Bloomberg/AP notes that Wal-Mart's Mexico scandal "follows more than a decade of allegations that the company violated laws on illegal immigrant workers, overtime, gender bias and preservation of evidence in pursuit of larger profits."
In Congress, Reps. Elijah Cummings, D-Md., and Henry Waxman, D-Calif., are investigating Wal-Mart's bribery scandal and the company's possible role in trying to weaken the Foreign Corrupt Practices Act. With public pressure, perhaps they will also turn their attention to Wal-Mart's seemingly legal "donations" and influence-purchasing here in the U.S.
Photo: Brennan Cavanaugh // CC BY-NC 2.0