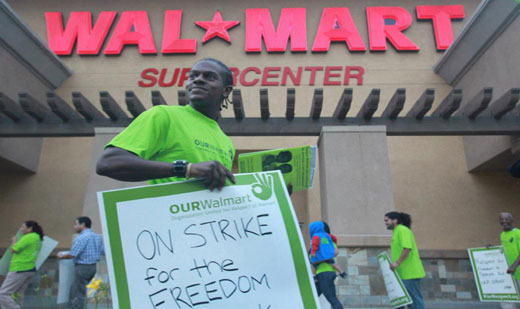 MEMPHIS, Tenn. – This Black Friday, Wal-Mart associates plan to hold a series of actions at 1,000 Wal-Mart locations nationwide. These actions are designed to communicate their demands for better working conditions, an end to poverty wages, and affordable benefits not only to management but to the millions of shoppers expected to visit Wal-Mart stores this Friday.
Wal-Mart has consistently retaliated against workers who have attempted to organize and continues to intimidate, harass, and demean employees who have organized for constructive change within the company. For instance, when Wal-Mart meat cutters voted to unionize in a single Texas supercenter in 2000 Wal-Mart responded by eliminating meat departments nationwide.
Most recently, in an attempt to silence workers and community members, Wal-Mart filed an unfair labor practice charge against the United Food and Commercial Workers with the National Labor Relations Board last week.
According to Shannon Salend, a 31-year-old mother of two and seven-year Wal-Mart veteran in Greenville, Tenn., "Associates are treated with complete disrespect" on a daily basis. Salend says the Wal-Mart culture is one of pervasive fear. Workers are "afraid to speak up… [or appear to] rock the boat" over the simplest of issues.
Workers who do speak up can expect to have their shifts changed, their hours cut, and pay slashed. When Salend found out she was pregnant she requested to be moved from floor stocking and into a cashier position but Wal-Mart "was unwilling to accommodate anything I needed."
Salend was adamant about changing her position within the company due to a miscarriage she had two months earlier. She attributes her miscarriage to the hard physical labor required of her. "Some of the cases you have to lift off of the pallets that are taller than you," she said, adding cases with "mens' jeans are over 50 lbs."
Stocking the children's department required her to unload pallets of "furniture like cribs and changing tables." Salend said, "I was in such bad shape from that miscarriage, I lost a lot of blood."
When her supervisor finally relented and moved her to the front end, in an attempt to get her back stocking, she said, "They refused to give me hours and kept me off the schedule for three weeks even though I had seniority." Already dropped from full to part-time (which caused her to lose health insurance) Salend was forced to get a second job working the front desk at a hotel. Shortly thereafter, she gave her two-week notice.
Salend's husband, a twelve-year veteran, still works as a stocker for a Wal-Mart almost two hours away despite requests to be transferred to the supercenter four miles from their home.
Speaking frankly about her seven years working for world's largest employer Shannon Salend's voice takes on an iron tone, "They are going to get you to do what they want you to do by any means necessary: either by bullying, intimidation, or by cutting your hours."
When asked what it is like to work at Wal-Mart on Black Friday, Salend exclaims, "Oh my goodness, it is chaos!" Many times management would force associates to "guard pallets" from frenzied customers who "try and rip things out of your hands."
One Black Friday, she says, "a customer pulled a knife on my husband." According to Salend, the customer menaced her husband saying "if you won't open that pallet I will, and if you get in my way you're going to get cut."
This Black Friday, Salend is organizing "a breakfast in support of the associates… to show them that the community is behind them." The Black Friday breakfast is to be held in front of the Johnson City Wal-Mart and will be "simple and very peaceful [because] we know the associates are afraid." So far, 15 members of the community have volunteered to help make the breakfast a success.
Salend encourages supporters to visit OurWalmart where, "People can find out about and join with one of the 1,000 local events near them" on Black Friday. She also asks everyone who can to donate to the Walmart Strikers Food Fund in order to provide food and basic items to striking workers.
Photo: Organization United for Respect/Aurelio Jose Barrera