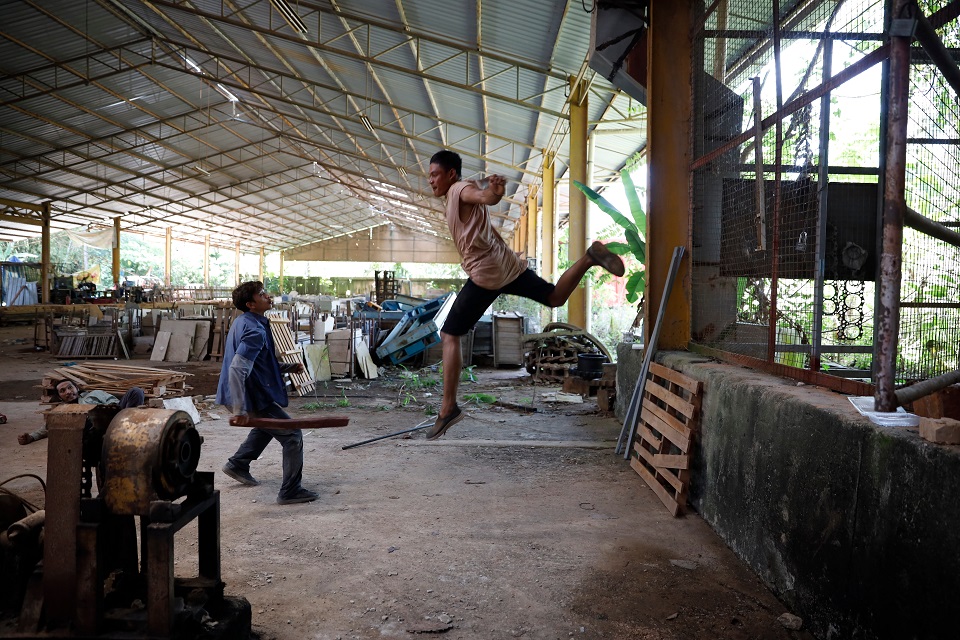 Movie mogul Samuel Goldwyn reputedly once snarked: "If you want to send a message, use Western Union!" But one way socially conscious filmmakers can cleverly "sneak" messages into movies is by sandwiching their ideas into popular genres that audiences are familiar with. Film Noir and murder mysteries are good examples: Author Dashiell Hammett was a Communist Party member who put anti-capitalist notions about greed and obsession with money into works such as The Maltese Falcon. While the content of leftist filmmaker Costa-Gavras' 1969 Oscar- winning Z depicts political assassination and the colonels' coup in Greece, it is in form a whodunit: Who killed the Greek peace candidate?
In a similar way, inspired by news reports about child trafficking, award-winning Malaysian co- writer/co-producer/director Areel Abu Bakar has created a 110-minute work about a child abduction ring and border issues in Malaysia under the guise of being a martial arts movie. The first half of the almost two-hour Walid is a drama, with only a few brief fight scenes. The titular character teaches informal classes in northern Malaysia near the border with Thailand. Walid (Megat Sharizal, a veteran actor with many screen credits) notices a shy, poor but pretty little girl named Aisha (Putri Qaseh, who has been acting since 2019) hanging around his informal classroom. As Aisha clearly has a thirst for knowledge, Walid—whose son has disappeared— takes the impoverished lass under his wing.
After Aisha also vanishes, Walid intrepidly embarks on a search for his pupil and the "Silat" hits the fan when the martial arts literally kicks in. Joined by police also hot on the trail of the traffickers, an hour-long frenzy of fisticuffs, chops, leaps, violent footwork, axes, long machetes, tosses, turns and some gunplay erupts as Walid and his allies track down the kidnappers who imprison Aisha and other children in squalid conditions, as the black market syndicate seeks to sell them, possibly abroad, into servitude. Most of the epic combat between the good guys (plus a gal or two) and child snatchers is fought using Silat, the traditional Malaysian self-defense technique.
According to Areel Abu Bakar, who spoke in a Q&A after the L.A. premiere of Walid with star Megat Sharizal translating from Malay into English, the director allowed the cast members, who were mostly versed in martial arts, to improvise and be spontaneous while their fight sequences (which are often intercut with other pairs of fighters) were being shot. This in part accounts for why the donnybrook lasts so long on the screen. Areel's reel is really graphic and the director hopes his battle royale will inspire action-loving theatergoers to buy tickets to a movie about child trafficking they might otherwise not go see.
Areel said he expects his film to be "controversial" in Malaysia when it is released there next month. Some of the flick's traffickers speak Thai, as Walid raises questions about Kuala Lumpur's international relations, especially at the northern border region, which is a touchy subject.
The filmmaker's previous action-packed movie, 2019's Silat Warriors: Deed of Death, won an "Excellence in Action Cinema Award" at the New York Asian Film Festival and a Special Jury Award at the Malaysian Film Festival, where it was also nominated for Best Film and in three other categories. Areel, who has been in Malaysia's motion picture industry since at least 2011, has said: "As action films have become a favorite genre of viewers not only in Malaysia, but worldwide, this is one of the ways to introduce our culture and heritage to the international level. We are trying to provide an opportunity for martial arts activists to join the film industry."
Walid is being billed as a "Social Action Thriller." The first hour emphasizes the importance of education and thoughtfully dramatizes the problem of the commodification of children and their abductions in the Third World. Those concerned with the issues of trafficking and immigration will likely find it to be of interest. The film is well-acted and offers glimpses of what life is like in the southeast Asian nation of Malaysia. Viewers who are fights fans—in particular, martial arts aficionados—will probably relish and hoot and holler for the heroes during the extended ultra- violent Silat struggle for survival of the fittest, although this endless bloody brawl lasting around an hour isn't exactly the cup of tea for pacifists.
Walid is in Malay with some Thai and in English subtitles and was theatrically released July 28 at the Cinema Village in N.Y. and on August 11 at the Laemmle Glendale in L.A. In the fall Walid will be available on VOD. The trailer can be viewed here.
We hope you appreciated this article. At 

People's World

, we believe news and information should be free and accessible to all, but we need your help. Our journalism is free of corporate influence and paywalls because we are totally reader-supported. Only you, our readers and supporters, make this possible. If you enjoy reading 

People's World

 and the stories we bring you, please 

support our work by donating or becoming a monthly sustainer today

. Thank you!