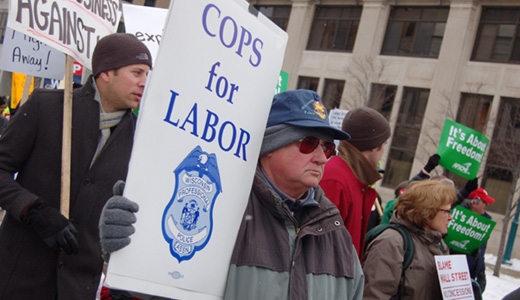 MADISON, Wis. – A judge's order yesterday requiring Wisconsin Gov. Scott Walker to allow full public access to the Capitol here is being ignored by the governor and the state's Republicans.
After letting in only a few protesters Tuesday to take the place of others who had left, officials have kept thousands of Wisconsin workers outside, in violation of the court order.
Walker's spokespeople claim he is not in violation of the order because public officials, staff and scheduled visitors are being allowed to enter.
There is evidence that the governor may have ordered the Madison police to assist him in violating the court ruling.
At a court hearing today Peggy Lautenschlager, attorney for the Wisconsin State Employees Union, AFSCME Council 24, called on the governor's office to honor the court's restraining order and grant full public access.
The court ruling came after Walker first ordered the Capitol closed to the public, put protesters out, telling them they could come back, and then refused to ease restrictions on access.
At the hearing today, many witnesses testified to the orderly and peaceful nature of the protests and the commitment of demonstrators to respect police and keep the Capitol clean.
Steven Means, lawyer for the governor, said the court order opening the Capitol carried no weight because it was "vaguely written." He said case law allowed the governor to make reasonable limitations on the time, manner and place in which citizens can access the Capitol.
But there was sworn testimony in the court that Gov. Walker sneaked supporters of his union-busting into the Capitol through a tunnel even as he was blocking entry to protesters.
The unions here say the court ruling means the governor is required to allow full and open access to the building and that his move to ban opponents is in defiance of the law.
As police outside the Capitol barred access today, protesters chanted, "We want our democracy back."
Unions and rights activists are expected to continue the legal battle in the courts, as the mass demonstrations continue here the state capital.
Observers note that the governor is interpreting state law to mean he has the authority to single-handedly bar access by the public to the state legislature. Wisconsinites who have for many decades taken access to the Capitol as a basic right seem to disagree.
Photo: Rallying in Madison, Feb. 26. PW/Blake Deppe