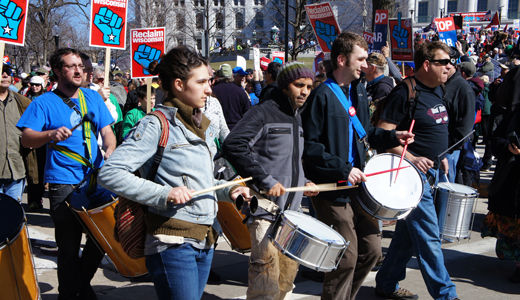 Labor and many of its allies wasted no time yesterday saying that the announcement by Republican Wisconsin Gov. Scott Walker that he was pulling out of the race for president shows the folly of trying to build a political career by attacking workers rights.
"As he limps out of the race at zero percent in the national polls," said Brad Woodhouse, president of Americans United for Change, "Scott Walker was a one-trick labor bashing pony and the novelty seems to have worn off even among Republican primary voters. And not even the Koch brothers could save him from his money problems. But really, what was Walker running on to begin with? All Walker had to show for stripping away thousands of Wisconsin workers' collective bargaining rights was turning one of the best state jobs records into one of the worst in the Midwest, while the Badger state led the nation in families falling out of the middle class. Governor Walker has the reverse-Midas touch. Everything he touches economically turns to dairy cow flop. Let Walker's early collapse be a lesson to the other Republicans who might be considering taking up the Right-to-Work (For 3 percent Less) mantle. Assaulting the labor movement isn't just a loser economically, it's a loser politically, with polls showing that nearly 60 percent of Americans and a greater majority of millennials, regardless of political affiliation, support unions. Don't let the door hit you on the way out, Scott."
"You can't build a campaign by tearing working people down and attacking their aspirations for a better life," said American Federation of Teachers President Randi Weingarten. "Real change starts with bringing people together to find a common ground and boost everyone's American Dream. Not to divide and conquer or make a reputation by stripping workers rights, as Walker so often boasted."
AFL-CIO President Richard Trumka made news when Walker first announced when he, Trumka, reacted with the terse declaration that "Scott Walker is a national disgrace."
"Scott Walker is still a disgrace," Trumka said yesterday, "just no longer a national one."
Photo: March 10, 2012, tens of thousands march to recall Wisconsin Gov. Scott Walker, Recall Walker demo in Madison, Wisconsin. PW.