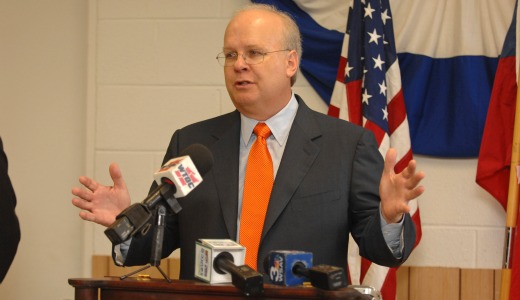 A small circle of Wall Street hedge fund moguls and other super-rich donors played a key role in Republican election victories last week. They did it by contributing heavily and anonymously to Karl Rove's election front group Crossroads Grassroots Policy Strategies, NBC reported last week.
"A substantial portion of Crossroads GPS' money came from a small circle of extremely wealthy Wall Street hedge fund and private equity moguls, according to GOP fundraising sources who spoke with NBC News on condition of anonymity," NBC's Michael Isikoff and Rich Gardella reported. "These donors have been bitterly opposed to a proposal by congressional Democrats – and endorsed by the Obama administration – to increase the tax rates on compensation that hedge funds pay their partners, the sources said."
Crossroads GPS and its companion far-right group American Crossroads, also set up by Rove, were the biggest outside spenders of the 2010 election campaign. Together they spent more than $38 million on attack ads and campaign mailings against Democrats, according to the nonpartisan Sunlight Foundation.
Crossroads GPS was set up as a nonprofit "advocacy" organization so it does not have to disclose its donors' identity – courtesy of the controversial Supreme Court Citizens United ruling issued in January.
In fact, the shadowy group's website is completely anonymous. Aside from an inside-the-Beltway office address, there is no identification of any kind – no board of directors, staff listing, advisory group – no names at all.
According to the Sunlight Foundation, it spent at least $16.6 million to boost Republican candidates in last week's election.
Crossroads GPS spokesman Jonathan Collegio, responding to an inquiry from Salon reporter Justin Elliott, would neither confirm nor deny the NBC report:
"As a matter of policy, Crossroads GPS does not comment about its donors," Collegio wrote in an e-mail to Salon. "No one with firsthand knowledge of Crossroads GPS donors spoke to Mr. Isikoff for his article."
Perhaps the white-glove Wall Street types want to preserve their moderate images by hiding behind Crossroads GPS anonymity.
Perhaps their Texas extremist friends have no such concerns. According to The Florida Independent, Federal Election Commission reports filed last month by sister organization American Crossroads show the largest donor to the far-right group was Texas home builder Bob Perry, who helped fund the notorious Swift Boat Veterans for Truth that slimed presidential candidate John Kerry in 2004. Perry contributed 47 percent of the total money reported by American Crossroads in its October 20 filing – $5 million in October and $2 million in September.
The second-largest individual American Crossroads donor was Robert Rowling, CEO of TRT Holdings, an Irving, Texas, energy company. Personally, he gave $1.5 million to Crossroads as of the October filing, bringing his year-to-date donation total to $2.5 million. TRT Holdings also donated $1.5 million to Crossroads as a corporation. Rowling is number 64 in the Forbes 400 List of Richest Americans, with a net worth of $4.2 billion.
B. Wayne Hughes, chairman of Public Storage, the largest self-storage company in the United States, contributed $1 million to American Crossroads on Sept. 15, bringing his year-to-date contributions as of October to $2.3 million. He was number 85 on the Forbes List of Richest Americans in 2009, having a net worth of $3.5 billion.
Alliance Resource Partners, a Tulsa-based coal producer, donated $2 million to American Crossroads as of October. A roof in an Alliance-owned mine in Kentucky collapsed on April 28, killing two miners, the Florida Independent article notes. The mine had been cited for 214 safety violations. The Mine Safety and Health Administration issued a citation to Alliance for the accident on Oct. 8.
Photo: Karl Rove speaks to reporters at the Chatham County Republican Party headquarters in Savannah, Ga., in August. (AP/Savannah Morning News, John Carrington)