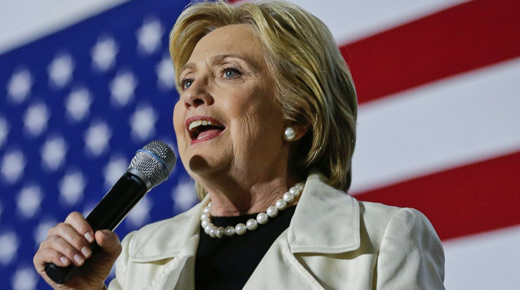 WASHINGTON – In choosing between Hillary Clinton and Donald Trump for President, Wall Street movers and shakers don't know whether to spit or turn blue. Wall Street's considerations illustrate how little major financial institutions care about the American public.
"Wall Street … fears a surprise presidential win for the upstart Trump," Adam Shell writes in USA Today, "due to his unpredictability. But it worries even more about the prospect of the former first lady winning by a landslide and paving the way for the Democrats to regain full control of Congress."
On balance, many on Wall Street are backing Clinton – but not for the reason you might think. They're backing Clinton, according to Shell, because they're betting that even if Democrats gain control of the Senate, Republicans will continue to control the House.
Shell quotes Greg Valliere, chief strategist at Horizon Investments, as saying "[Clinton's] agenda will hit a brick wall with the GOP. … That's the kind of gridlock markets can live with."
Wall Street's biggest problems with Trump are that he is "unpredictable" and might do something to create chaos no matter which party holds the majority in the House or the Senate.
Also, financial experts worry that he doesn't understand how the world works. For example, he recently suggested that one way to bring down the national debt would be to declare a kind of partial bankruptcy, similar to what he's done several times in business.
Doing so could very well cause a worldwide depression/inflation.
Nevertheless, Wall Street Journal reporters Brody Mullins and Rebecca Ballhaus write that "some Wall Street donors have said they plan to back Trump, including billionaire investor Ken Langone and hedge-fund founder Anthony Scaramucci. Last week, Mr. Trump named as his national finance chairman Steven Mnuchin, a former Goldman Sachs employee who now serves as CEO of hedge fund Dune Capital Management."
Also, billionaire gambling king Sheldon Adelson has announced he will help bankroll Trump.
However, so far most of the political action on Wall Street is revolving around Clinton. Mullins and Balhaus report that "Hillary Clinton is consolidating her support among Wall Street donors." She has raised $4.2 million in total from Wall Street, $344,000 of which was contributed in March alone."
According to the Center for Responsive Politics, Clinton received 53 percent of the donations from Wall Street in March, up from 32 percent last year and 33 percent in January through February.
On the other hand, Trump has received less than one percent of any Wall Street contributions in any month through March.
However, observers are quick to point out that Trump hasn't yet mounted a campaign to get funding from the finance sector. He self-financed about three-quarters of his primary campaign and said last week that he planned to more actively solicit donations for the general election.
But Clinton clearly has the jump on Trump when it comes to Wall Street money.
A super PAC backing Clinton, Priorities USA Action, is heavily backed by Wall Street donors, who gave $18.7 million to the group through March.
Some Wall Street donors in recent months have shifted their financial support to Clinton from Republican candidates who dropped out of the race.
For example, Mario Paredes is now backing Clinton. Until recently he was an investment professional at Merrill Lynch and had been an ardent supporter of Republican contender George Pataki.
Paredes is a lifelong donor to Republican candidates and has never before backed a Democrat.
"I have changed my mind," Paredes said, "I cannot accept some of the statements of Mr. Trump, especially related to Hispanic Americans." Paredes recently left his job as head of Hispanic outreach at Merrill Lynch.
"Business interests are generally not sold on the notion that Trump will be a more business-friendly candidate; there's a lot about Trump they don't know," said Ed Rogers, a Republican lobbyist. "They know Hillary. And they know that she is not anti-business."
Photo: Democratic presidential candidate Hillary Clinton speaks to supporters, April 14, in New York. Frank Franklin | AP